The cost of buying a home in Canada has hit record highs, and so has the country's reliance on housing construction to drive the economy.
Bank of Montreal chief economist Douglas Porter published a chart Tuesday showing a massive divergence in the U.S.'s and Canada's reliance on home construction, following the burst of the U.S. housing bubble a decade ago.
Residential construction in Canada has hit an all-time high above 7.5 per cent of GDP. That's a greater dependency than during the housing bubble of the late 1980s. In the U.S., that number is just below 4 per cent.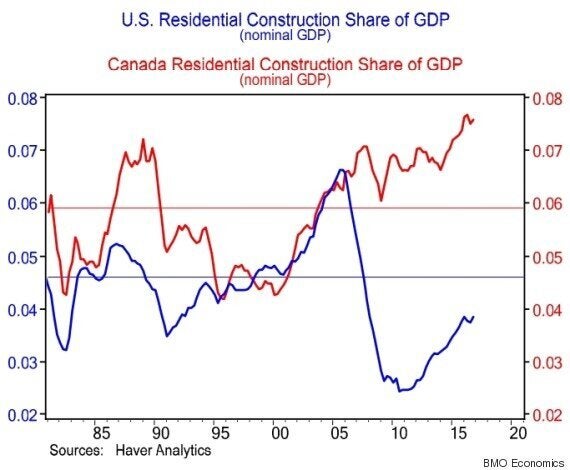 "Both the gap with the U.S. and the level of activity are loud alarm bells for Canada's market," Porter wrote in a client note.
While some others disagree, the number of industry insiders concerned about a correction in the city's housing market has been growing as rapidly as home prices, which soared by 27.7 per cent in the past year to an average of $875,983 for all housing types.
"The real estate industry represents 14 per cent of the economy for Ontario. Kill the new condo market, kill the Ontario economy."

— Toronto real estate developer Brad Lamb
A growing number of experts fear that a housing correction, particularly in Toronto's large market, could do serious damage to the economy.
Brad Lamb, one of Toronto's most prominent developers, warned last week that implementing a Vancouver-style tax on foreign buyers could result in a nationwide recession.
Declining home affordability has prompted Ontario's policymakers to look at measures to cool the housing market, including the possibility of a foreign buyer tax, similar to the one British Columbia put in place in Vancouver in 2016.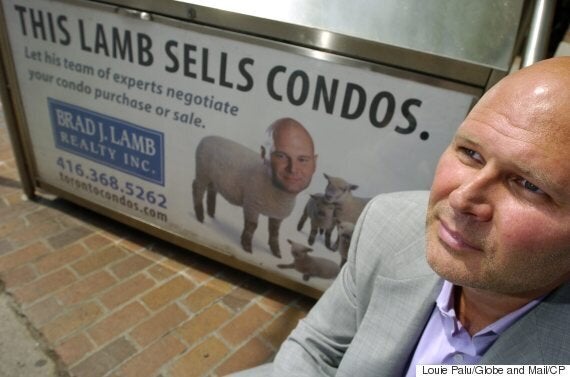 Lamb said foreign buyers represent a "significant percentage" of people buying homes above $4 million, and people buying new condos bought off floor plans.
Foreign buyers a major part of condo boom?
"Without foreign investors to buy new condos from floor plans, many new buildings will not be able to move forward," Lamb wrote.
"The real estate industry represents 14 per cent of the economy for Ontario. Kill the new condo market, kill the Ontario economy. Kill the Ontario economy and Canada falls too."
TREB also opposes a foreign buyer tax, arguing that Ontario should instead loosen development rules to allow more home construction, in order to bring prices down.
But a recent study from Ryerson University's City Building Institute concluded that new home construction in Toronto is "well above historical norms."
Ontario's finance minister, Charles Sousa, said this week there will be measures in the upcoming provincial budget to address housing affordability. Premier Kathleen Wynne said that this will not involve shrinking the greenbelt surrounding Greater Toronto to allow more construction.
— With files from The Canadian Press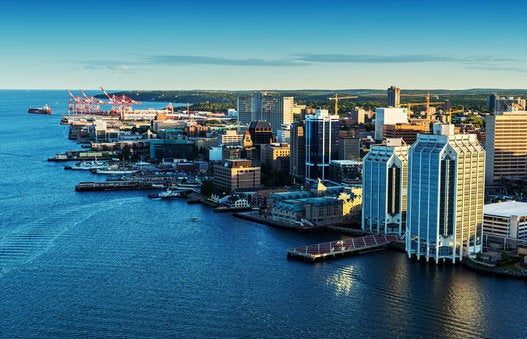 Canada's Best Cities With Houses Under $400K
Popular in the Community