Canada's job market is killing it these days. The country has churned out a magnificent 350,000 net new jobs over the past year, and the unemployment rate fell to 6.5 per cent in June — its lowest level since 2008.
With that kind of demand for labour, it might be time for employees to take advantage of the situation, and start looking to improve their job prospects.
To that end, job search indexing site Indeed.com has ranked the 25 best employers in Canada. The survey is based on 600,000 employee reviews posted to the site by Canadians between June 2015 and May 2017.
Turns out the best company to work for, as reviewed by its employees, is Royal Bank of Canada (RBC).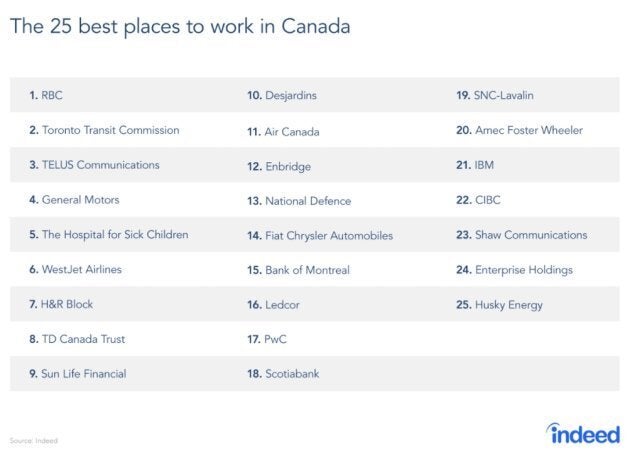 Financial institutions placed particularly well in the survey, taking five of the top 10 spots.
RBC got top marks for its corporate culture, Indeed says. The bank has a "great overall company culture that continuously strives for success," one reviewer wrote. Indeed noted that the word "friendly" came up repeatedly in employees' reviews.
Only companies that had at least 50 reviews online were considered in the survey, so small and medium-sized businesses were largely excluded. Categories include work-life balance, pay and benefits, job security and advancement, as well as management and culture.
Culture, in particular, is becoming a more important aspect of business for employers and employees, Indeed said in its report.
"Increasingly we see that the modern workforce optimizes for happiness," Indeed Managing Director Jodi Kasten said in a statement.
"Companies that are willing to evolve and invest in their workforce will continue to attract and retain top talent."