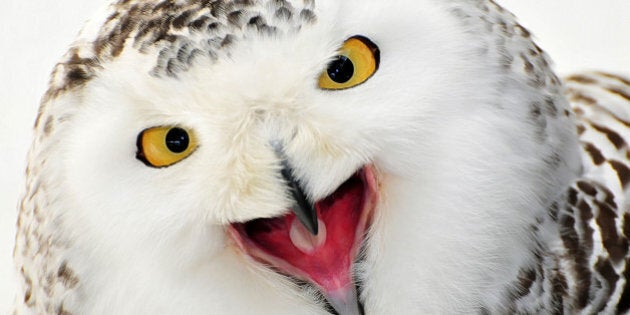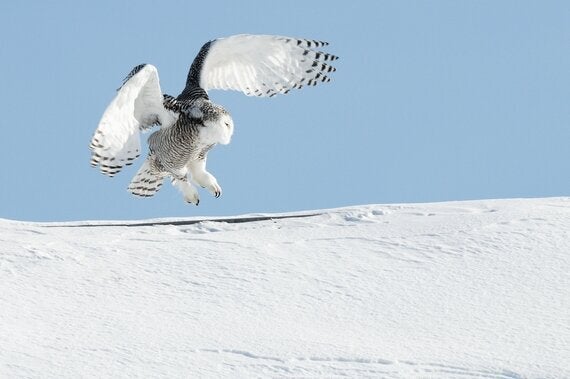 Snowy Owl. Photo: Bert de Tilly/Wikimedia Commons (CC BY-SA 4.0)
Ask any American what their national bird is and they'll be sure to tell you it's the Bald Eagle. Ask a Canadian the same question and they're likely to shift the conversation to the weather or last night's hockey game. Why? Because Canada doesn't have a national bird.
That's about to change. And unlike in the United States, everyday Canadians are playing a role in the selection.
Canadians cast their votes in a recent public poll asking which bird would best represent the nation. On November 16th, the Royal Canadian Geographical Society will announce their official recommendation for the national bird, based on the public poll, an expert panel and other input.
It's too soon to declare a winner, but three birds have emerged as frontrunners. No surprise, all three are deeply connected to the Boreal Forest -- that remarkable crown of wild nature spanning from the Yukon to Labrador.
Check out all of the top 5 vote-getters in this slideshow:
This vast and still largely untouched expanse of green has been dubbed "North America's bird nursery" because nearly half of all North American bird species breed in Canada's Boreal Forest, and because of the astounding quantity of birds it produces each summer breeding season--3 billion to 5 billion individuals once the young have hatched and fledged.
Choosing a national bird linked to the Boreal Forest underscores the vital role the Boreal plays in avian life across the hemisphere. It also says something about Canada's unique character.
While many think of it as 'the bush', there is no denying that the Boreal taps deeply into Canadian history and pride. It has sustained humans for more than 10,000 years, and descendents of those original inhabitants continue to care for the land. The forest's pristine rivers and abundant wildlife drew fur traders and settlers, and these boreal wonders remain at the heart of Canada's natural heritage.
But with this land also comes responsibility. The world's forests are being decimated, and parts of Canada's Boreal have similarly fallen victim. Around eighty percent of it still remains intact, however--unparalleled anywhere in the world, outside of perhaps the Amazon.
Canada is taking bold steps to conserve the Boreal Forest--becoming a world leader in sustaining bird and wildlife habitat. Indigenous communities, for example, are putting forth some of the world's most innovative conservation strategies through land-use planning.
All of the front-runners for Canada's national bird can serve to celebrate this conservation leadership and remind Canadians of their great northern treasure -- and the way this rugged, beautiful and sweeping forest has shaped their country.
This black and white water lover makes ample use of Canada's boreal region, which harbors the planet's largest expanse of wetlands, lakes, and rivers. Around 75% of the Common Loon's total population nests in the Boreal each summer, and its overall breeding range graces every Canadian province and territory. Its goose bump-inducing cries can be heard echoing across lakes throughout the summer. It is one of Canada's more symbolic ecological 'exports', connecting Canada with the United States, where the majority of the species spends its winters.
Perhaps the most iconic raptor of the far north, the Snowy Owl's striking white sheen is emblematic of the sheets of snow that blanket much of Canada's Boreal Forest during the winter. It is an unusual boreal migrant in the sense that the majority migrate to the Boreal Forest each winter instead of from it. Although only 11% of its population nests in the Boreal Forest region, the vast majority of Snowy Owls tough out the cold winters in the region and elsewhere in southern Canada.
The Gray Jay (sometimes called the Canada Jay) is one of the very rare boreal-breeding species that sticks around during the dark and chilly winters. More than 70% of the world population of Gray Jay nests in the Boreal and rely on the Boreal's mature forest habitat, including mixed aspen, white birch, balsam fir, and white spruce.
They will often collect and store meat (and other food) to help get through the winter, much like what many Canadian hunters do with game or fowl. It is a highly recognizable boreal species given it frequently and boldly show up at Canadian campsites and can be spotted all year round. The Gray Jay is known in Indigenous cultures by various versions of the name "Whiskey-Jack" but spelled in different Indigenous languages as "wiskedjak, whiskachon, wisakadjak" and other ways.
Which of these boreal birds should become the symbol of Canada? Perhaps the country will choose a bird that's hardy enough to slog through Canada's tough winter months. Perhaps it will favor a migratory 'ambassador' that represents Canada abroad for part of the year. Regardless of which candidate is selected, Canada and its remarkable Boreal Forest 'bird nursery' will be well represented.
Follow HuffPost Canada Blogs on Facebook