Despite having a feminist prime minister at its helm, the federal government has yet to translate its rhetoric into policy when it comes to gender parity, according to a report from Oxfam Canada.
Two days before International Women's Day, Oxfam released a "Feminist Scorecard" to show the actions the Liberal government has taken, and what still needs to be done, when it comes to gender parity. The organization said the scorecard will be the first in an annual series.
"Prime Minister Trudeau sent a powerful signal in 2015 when he appointed the first gender-balanced cabinet in Canadian history and named women to key ministerial portfolios," reads the report.
"Status of Women remains sorely underfunded and Canada's international aid budget is at a near record-low, even as the government seeks to demonstrate global leadership on women's rights. The area where the government has made the least progress is towards its promise of inclusive growth, having taken no tangible steps to close the gender wage gap or to ensure living wages for the working poor, the majority of whom are women."
The scorecard looked at the Liberal government's policies and spending in eight categories:
Investing in women's leadership
Investing in child and elder care
Building a progressive tax system
Ending violence against women and girls
Global leadership on women's rights
Responding to humanitarian crises
Tackling climate change
And addressing the unequal economics of women's work
Canada got a passing grade when it came to representation and leadership, but the report noted there had been little progress on six other categories, including affordable child care and ending violence against women.
The government was awarded the worst score for jobs and pay equity. The Oxfam report noted that while the Liberal Party campaigned on a promise of inclusive growth, it has taken few meaningful steps towards pay equity, living wages, or supporting domestic workers, who are primarily women.
Take a look at the scorecard: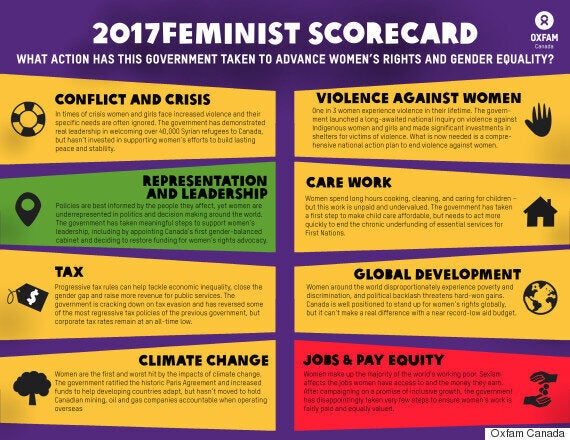 "In an era of political backlash when hard-won rights are being clawed back, there is no better time for Canada to demonstrate its commitment to advancing women's rights and gender equality," said Lauren Ravon, Oxfam Canada's director of policy and campaigns, in a release.
In February, Trudeau met with U.S. President Donald Trump to announce a joint initiative to support female entrepreneurs. The partnership netted him criticism from the NDP, which blasted him for not being openly critical of a man who has bragged about being able to grab women's genitals because he was famous.
"How could the prime minister possibly sit down and discuss women in the workforce with President Trump without first denouncing his misogynist comments?'' said Sheila Malcolmson, the NDP critic for status of women, at the time.
Canadians think there are enough women in politics: survey
The Oxfam scorecard coincided with the release of a report on how Canadians feel about women in politics.
A national survey from Abacus Data and Equal Voice found that 58 per cent of Canadians think there are "too many" or "the right number" of women in politics, despite estimating that women occupy 31 per cent of the seats in the House of Commons.
Four per cent think women are overrepresented, while 54 per cent think there are enough women in Parliament.
"Since in fact women occupy only 28 per cent of the seats in Parliament, clearly there's still work to do educating Canadians on the issue of underrepresentation of women in Parliament, as well as other levels of government," said Nancy Peckford, Equal Voice's executive director, in a release.
Only three premiers are women, and only 18 per cent of mayors in Canada.
The survey also found 46 per cent of respondents think it will take 14 years to achieve gender parity in the House, while 25 per cent said they think that it will never happen.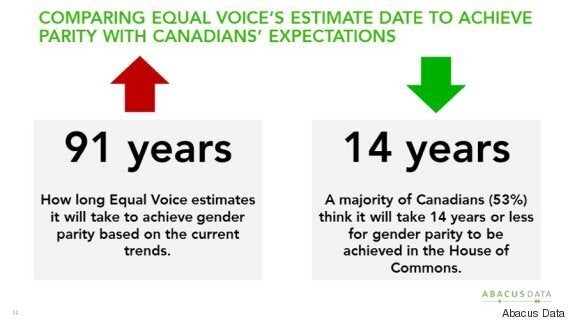 Men were more likely than women to think parity would be achieved sooner.
The survey was conducted online with 2,125 Canadians, and the data was weighted according to Canada's census. It has a margin of error of plus or minus 2.2 per cent, 19 times out of 20.
With files from The Canadian Press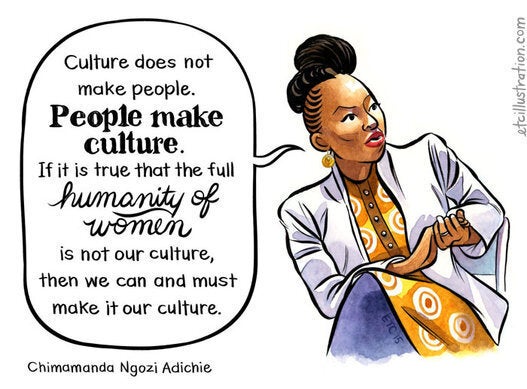 10 women on why feminism still matters