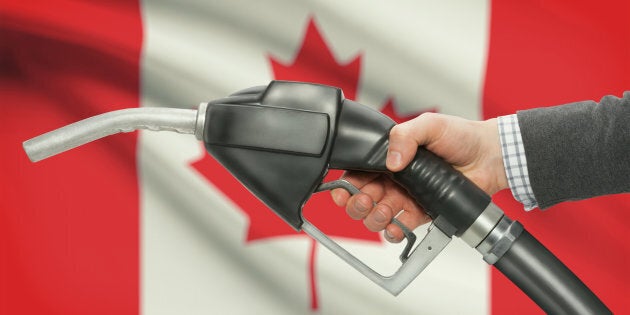 Gas prices in Canada have reached their highest levels since 2014, hitting an average of $1.38 per litre in major cities, according to analysts.
Jason Parent, vice-president of consulting at petroleum insights firm Kent Group Ltd., says it's "hard to say where prices are going to go from here."
Weak loonie, crude prices to blame
Parent told HuffPost Canada that, in addition to seasonal demands for fuel, crude price increases are also driving up the cost of gas.
"And then we've also seen the Canadian dollar has performed pretty poorly. ... When the Canadian dollar isn't doing very well, it pushes our wholesale refined product price up in Canada," he said.
"So we're currently paying the 15 or 16 cents more than we would if the dollar were at par" with the U.S. dollar, Parent added.
Today's average price is still lower than the record average of $1.41, set in June 2014. At that time, oil prices were around US$100 a barrel.
Although some forecasts have predicted North American oil prices will rise from their current US$71, Parent said he doesn't expect prices to fluctuate significantly. As a result, he said we could be looking at the $1.38 range until the end of the summer, when prices traditionally fall a bit with declining demand.
Gas prices are significantly higher in Vancouver than in the rest of Canada right now, which is being driven by some "logistical problems right now," Parent said.
He said the existing Trans Mountain pipeline is full, and due to increased demand for gas, the province has been forced to bring in more and more higher-priced imported refined petroleum products.
Fuel tax rates in B.C. are also higher than anywhere else in North America, and they've risen recently, Parent said.
"It's kind of a perfect storm of issues that's driven prices incredibly high in Lower Mainland B.C.," he said.
The average gas price in Vancouver on Monday was 160.2 cents per litre, according to crowdsourced data from GasBuddy.com.