Many would-be homebuyers in Canada's hottest urban markets are rushing in to buy homes without knowing whether their finances can handle it, a new survey suggests.
Nearly one in five respondents in the survey from TD Canada Trust showed signs of "FOMO," or "fear of missing out" on the large price gains seen particularly in Greater Vancouver and Greater Toronto.
Twenty per cent said they were worried they rushed the buying process in order to secure a home, while 13 per cent said they rushed out of fear they would get priced out of the market.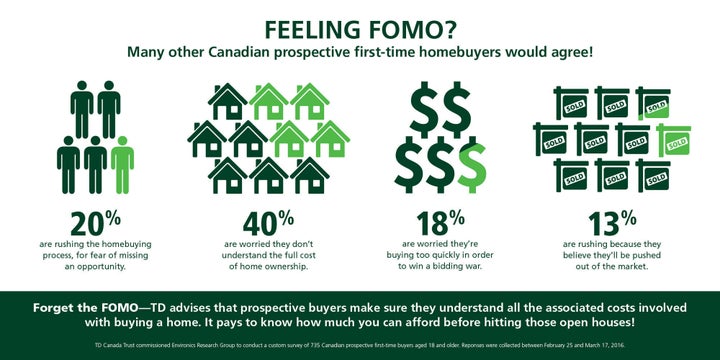 Those fears could be creating a feedback loop for house prices, with home buyers rushing in ahead of further price hikes, thus putting more demand on the market and creating more upward price pressure.
In that time, the home price index shot up 11.6 per cent for Toronto and 23.2 per cent for Vancouver.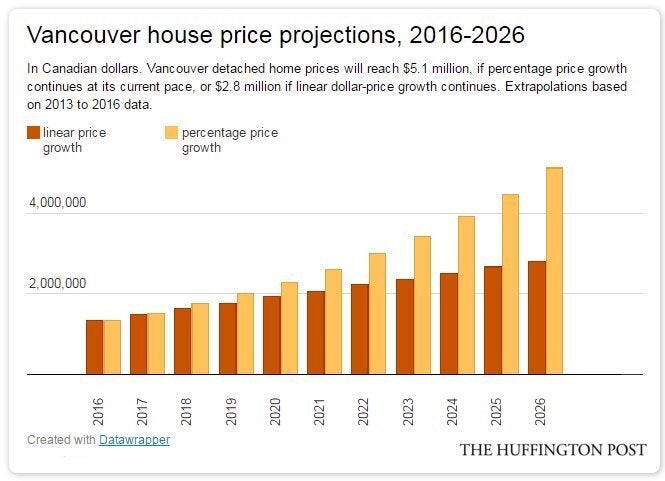 Don't panic — and keep saving
Despite the constantly higher prices, TD Canada Trust recommends homebuyers pull back, take a deep breath, and assess their finances.
"It's understandable that house hunters don't want to miss out on buying their dream home, but that shouldn't come at a cost they can't really afford," said Marc Kulak, associate VP for real estate secured lending at TD Canada Trust.
The survey found 40 per cent of respondents were worried they didn't fully understand the full cost of homeownership.
Don't just look at the size of the mortgage you've been pre-approved for, look at your entire budget and figure out what you can actually afford, Kulak says. If prices are too high, don't jump into the market — hold off, and save up a larger down payment.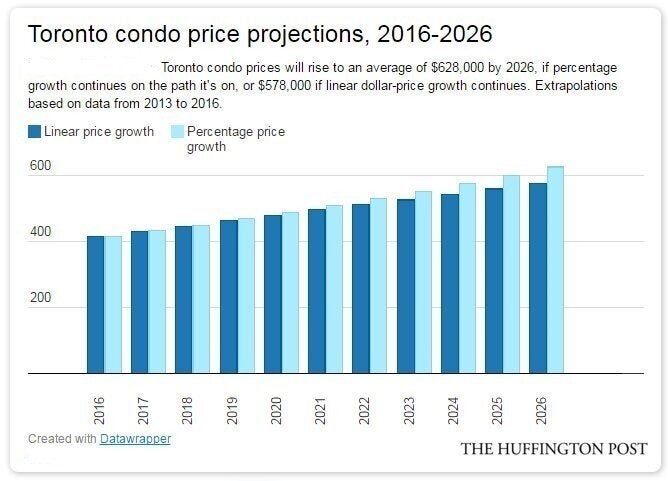 "We recommend that first-time homebuyers save for the largest down payment they can afford, even if that means waiting a bit longer to buy. … The larger the down payment, the less you will need to borrow, which ultimately saves you money in interest payments long term."
Kulak notes that homebuyers can also save money on mortgage insurance premiums, if they put down 20 per cent.
"With careful planning and a good savings plan for a down payment, it is possible to get a property that works for them without ending up with buyers' remorse after they've closed the deal," he said in a statement.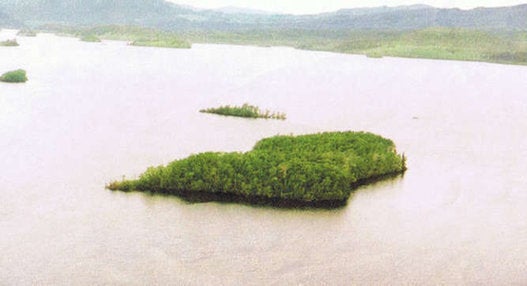 Canadian Islands That Cost Less Than A Vancouver Condo
Popular in the Community