Double-digit house price gains may be great for boomers whose retirement looms, but for younger generations, they are becoming an impediment to starting a family.
Some 56 per cent of respondents in a new survey from RateSupermarket said their ability to start or expand their family has been impacted by house prices in their region. Among millennials, that rises to more than 72 per cent.
"The pitter patter of little feet around the family home is becoming a financial luxury," the survey's authors wrote.
They note that more than half (52.8 per cent) of respondents said they couldn't expand their family in their current home. And nearly half (49.4 per cent) said the costs involved have caused them to change their minds about the size of their family.
"While it's no surprise that kids are hard on the wallet ... it is disheartening Canadians increasingly feel they must choose between home ownership and their desire to be parents," RateSupermarket editor Penelope Graham said in a statement.
"Rising home prices, especially in Canada's urban centres, are making it tougher for millennials to follow their family dreams."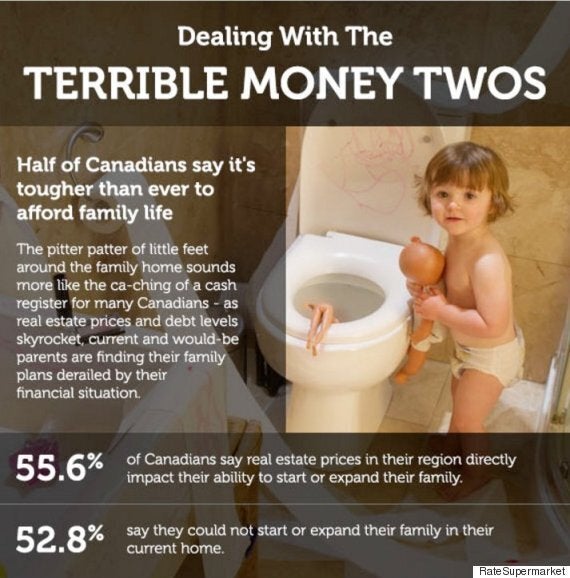 But much of that growth was due to two markets, Toronto and Vancouver, where home prices have been particularly heated over the past year. Prices are up 15.33 per cent in Greater Vancouver, and up 10.33 per cent in Toronto, over the past year.
With the average single-family home in both Toronto and Vancouver above $1 million, many young families are opting for the condo life.
Toronto's condo-heavy waterfront communities have seen some of the largest increases in child population in the city, with numbers up 60 per cent just between 2008 and 2011. The condos along Bay Street are seeing their child population grow faster than the neighbourhood's overall population.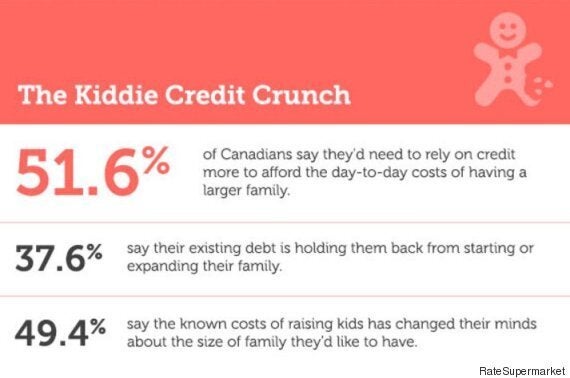 But the RateSupermarket survey finds housing costs aren't the only thing putting pressure on young parents. Lack of affordable child care was cited as a top concern, and only some 15 per cent said affordable child care is available in their area.
Among millennials, nearly 42 per cent said they would have to rely on one parent staying home in order to afford child care.
Popular in the Community