Last year, Vancouverites fed up with the cost of housing banded together as part of the #donthave1million campaign.
In 10 years' time, they could find themselves rallying around the fact that they don't have $5 million to buy a single-family home.
HuffPost Canada has put together projections of house prices in Canada's largest cities, based on the trends seen over the past three years. The prognosis? Things are going to be really, really expensive, if this keeps up.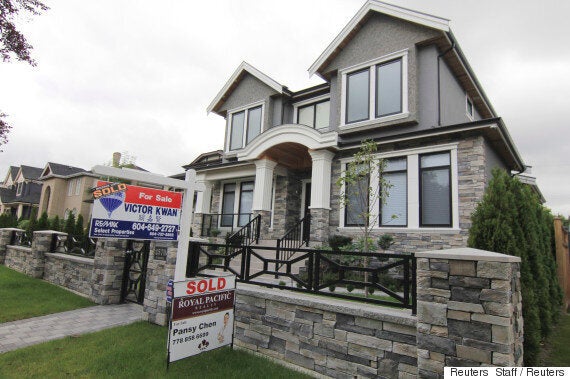 A single-family home in Toronto will run between $2.26 million and $3.582 million by 2026, by our projections. In Vancouver, a single-family home will run you $2.8 million to $5.1 million by then.
But the bad news doesn't just affect people who haven't bought yet. Upgrading from a condo to a house in these cities would become a mere fantasy for many in the middle class under these scenarios.
In Toronto today, upgrading from an average condo to an average house costs $758,000. By 2026, it will cost between $1.68 million and $2.95 million. Good luck.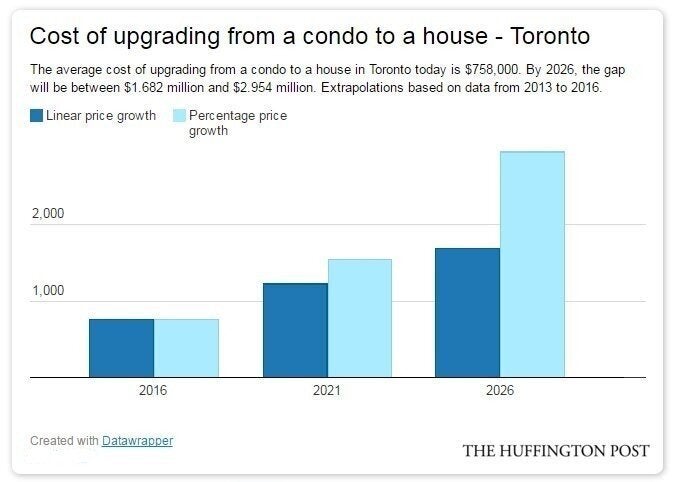 In Vancouver, it takes $879,000 to upgrade from an average condo to a house today, but 10 years from now it will cost between $1.99 million and $4.05 million.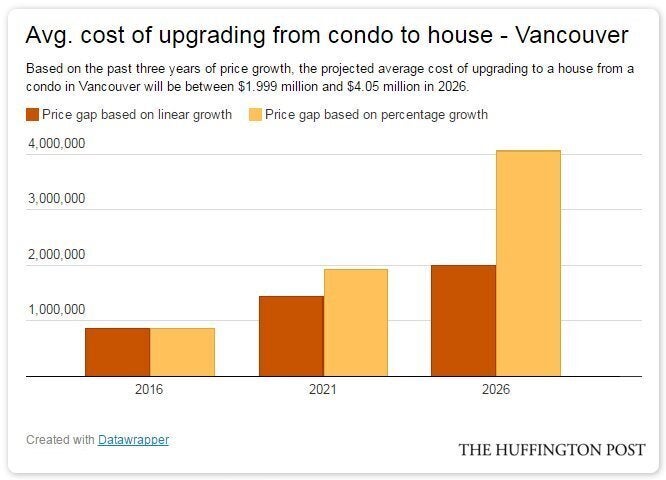 If you think these numbers are insane, you're right. The point of this is not to scare you into rushing out and getting a huge mortgage before prices get any worse, it's to illustrate that what's going on in Toronto and Vancouver today can't go on. If it did, things would get downright stupid.
We extrapolated prices using two different measures: One assumed "linear growth" — prices will rise by the same amount, on average, as they have over the past three years. The second assumed percentage growth — prices will rise by the same percentage every year.
Predicting the cost of real estate is a flawed practice — market conditions change without notice. The forecast for Calgary shows condo prices will be lower there 10 years from now than they are today. But Alberta's oil recession is unlikely to last a decade.
Here's what house prices could look like in six major cities 10 years from now: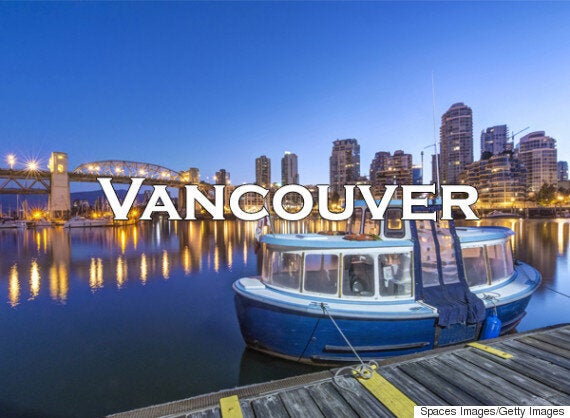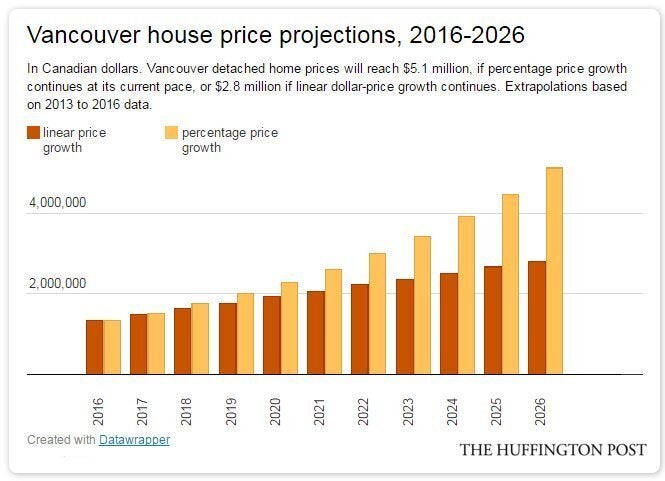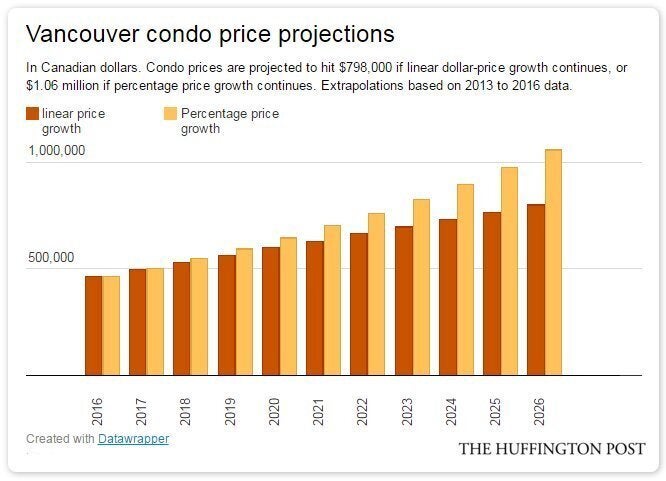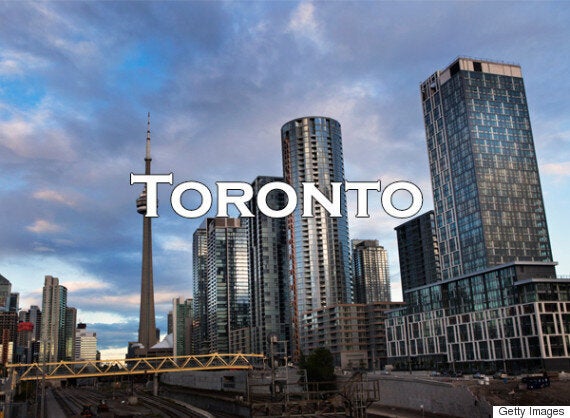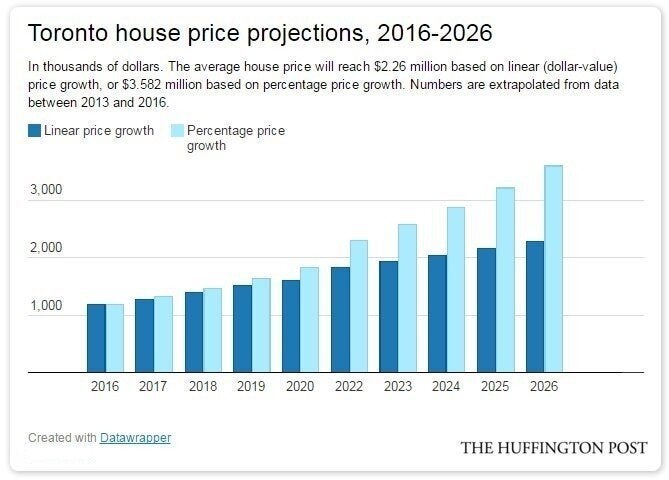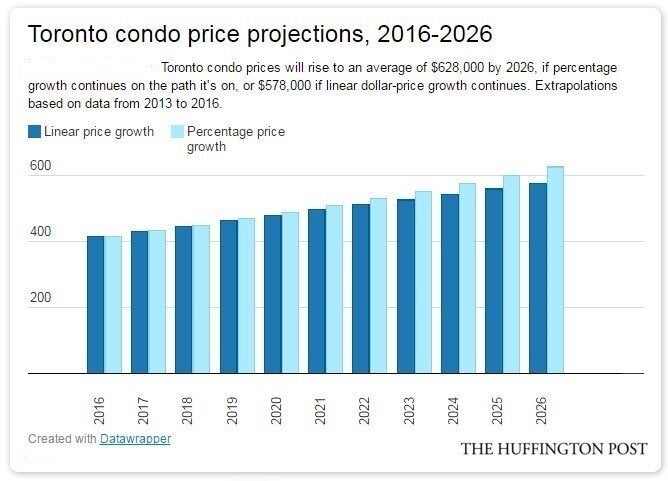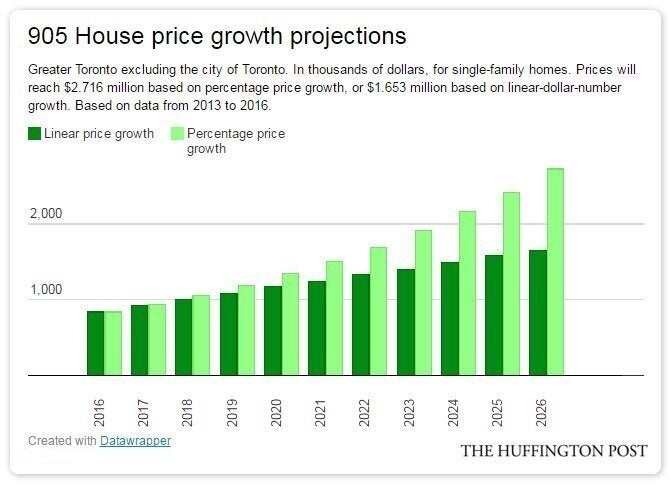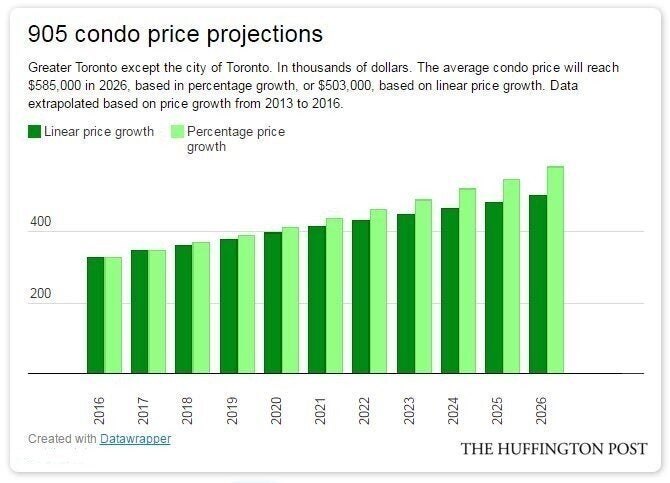 Other Canadian cities won't see nearly the same sort of price growth...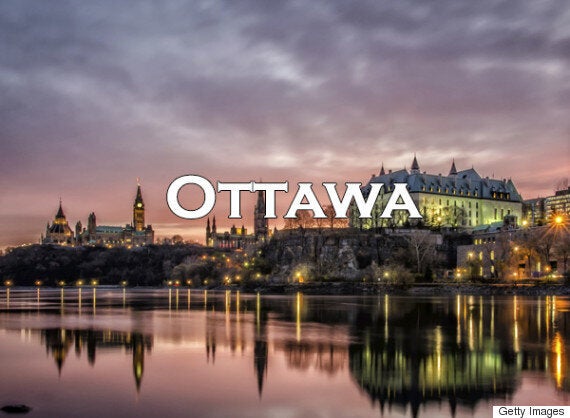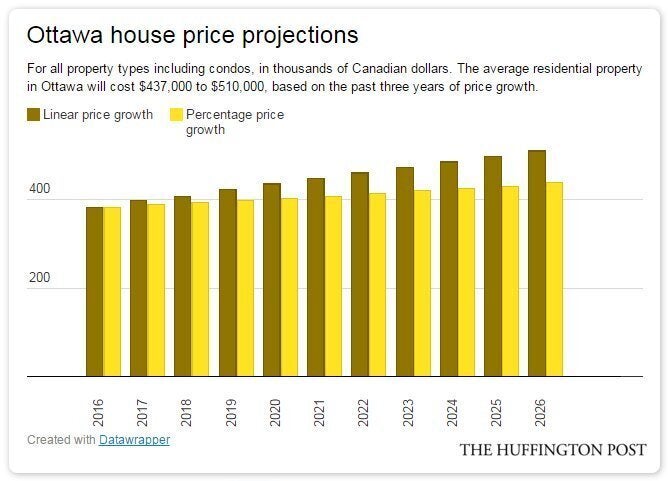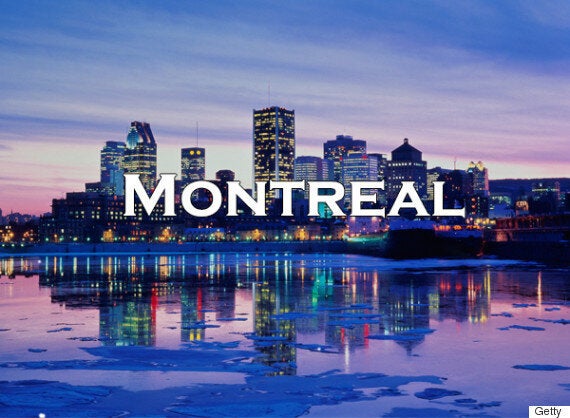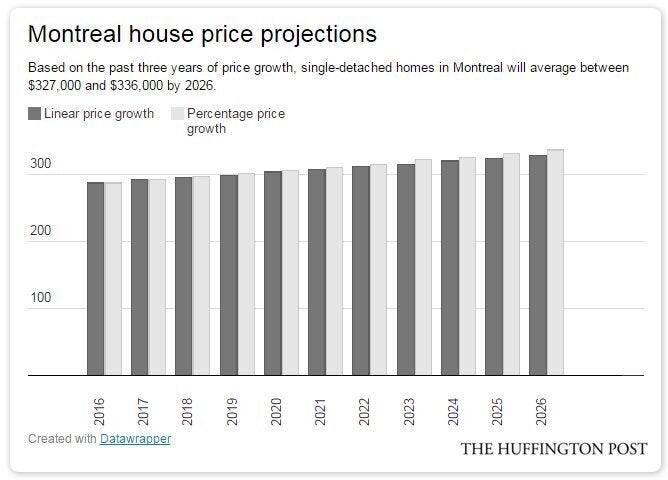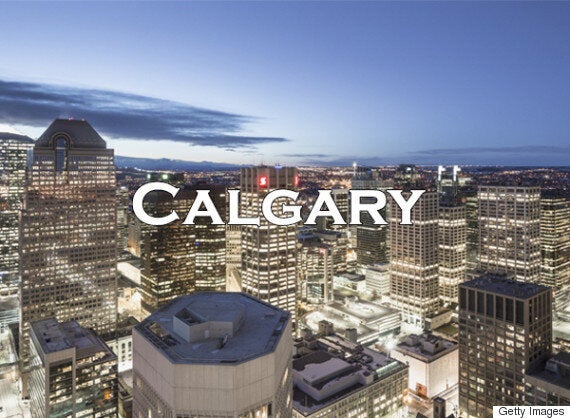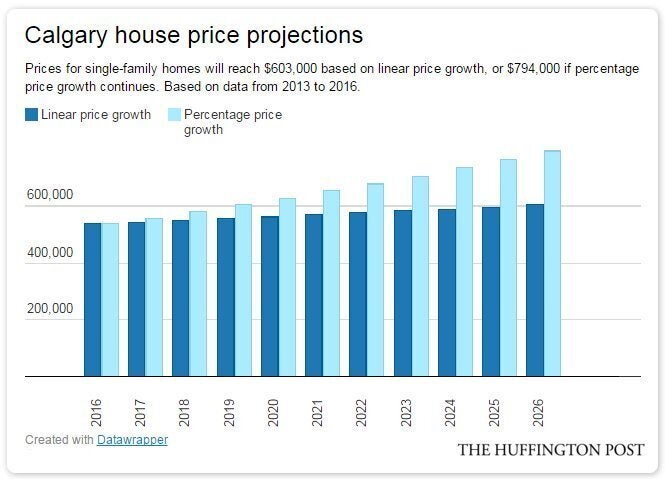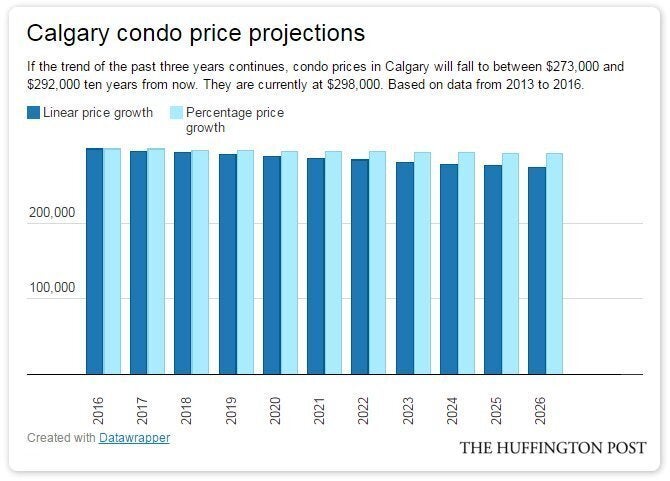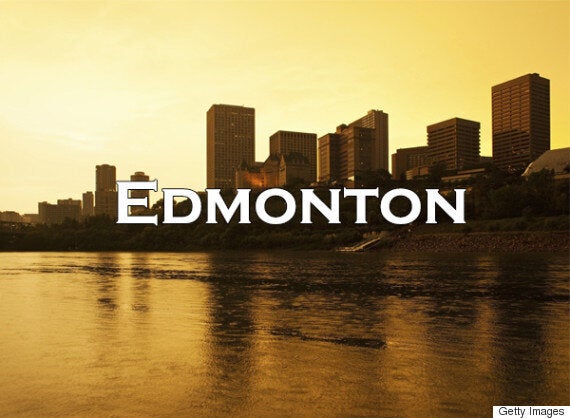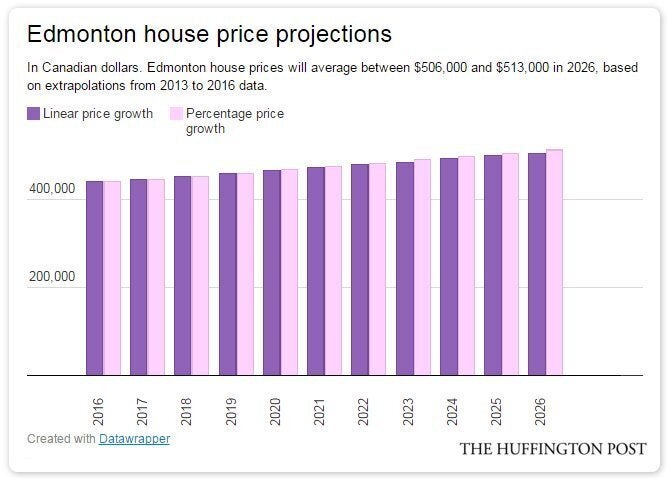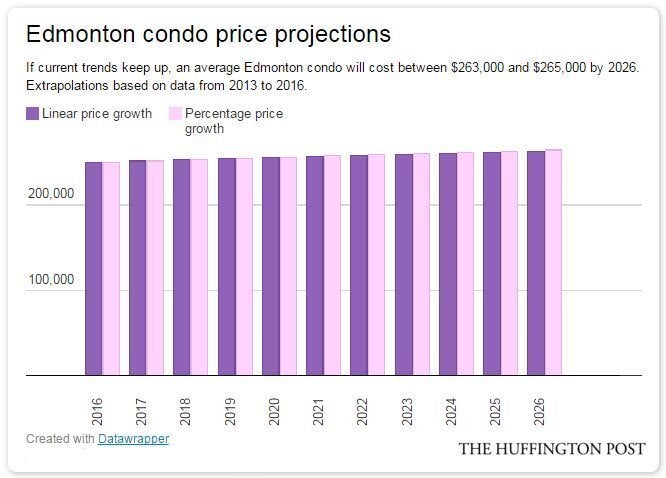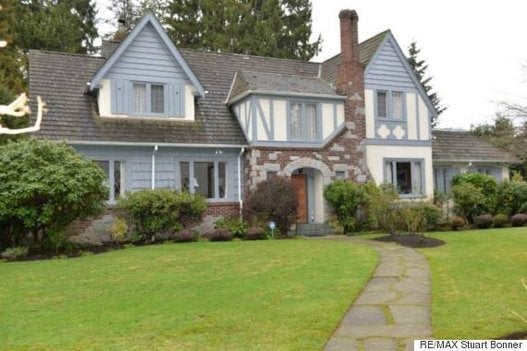 Craziest Vancouver Real Estate Stories Of 2015