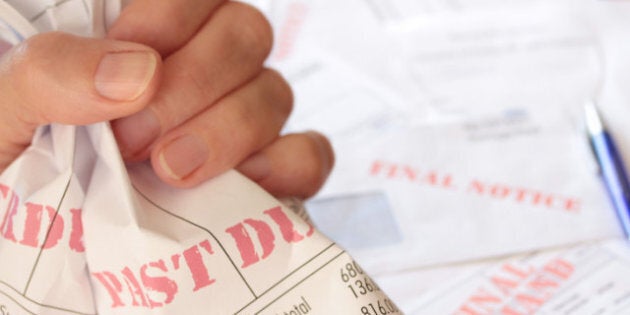 Household debt levels have reached a new high, increasing the vulnerability of average Canadians to unexpected economic shocks just at a time when uncertainty is mounting.
Driven mostly by an uptick in consumer credit and mortgage borrowing amidst bargain basement interest rates, economists say the increase could have significant consequences for the household balance sheet no matter which way the economic winds blow.
"Anytime the [debt-to-income] ratio rises -- and I think there's full recognition that it's already very high -- that increases the vulnerability to the household from a medium-term perspective to unanticipated surprises, like an interest rate hike or weakness on the job market," says Derek Burleton, deputy chief economist for TD Bank.
But with record-low interest rates expected to persist for some time to come, Burleton says it's likely that Canadians will continue to spend beyond their means.
"When I look ahead, I do think the ratio is going to move higher before it goes lower," says Burleton.
Adding to the concern is the extent to which the arguably overvalued housing market is making consumers feel wealthier than they truly are.
"It may well be that the housing price bubble continues to be fueled by low interest rates, but those low interest rates are being driven by poor economics," says David Macdonald, a research associate at the Canadian Centre for Policy Alternatives. "So consumers are digging a bigger hole for themselves at the same time as their employment prospects are weaker."
According to Statistics Canada, among "non-financial assets," residential real estate accounted for over half of the 1.2 per cent increase in national net worth during this period.
And as Canadians sink ever deeper into debt, their ability to pay their bills is becoming more strained. Per capita household net worth -- the value of households' assets minus their debt -- fell from $185,500 in the first quarter to $184,300, the first drop since the second quarter of 2010.
Statscan attributed that drop to the falling stock market, which has shaved some 5.9 per cent off household equity.
Not everyone, however, is sounding the alarm bells. Characterizing the housing market as "fundamentally sound," Royal Bank of Canada economist David Onyett-Jeffries told The Wall Street Journal that Canadians have accumulated debt much more gradually than in the U.S. Though he concedes that growing debt levels should "definitely remain on the risk radar," he says, "We're not in the mindset that it's a perilous position."
But as Macdonald sees it, artificially inflated housing prices are currently masking the severity of the debt problem.
"It's like you have one disease that causes you to lose too much weight, but you have another disease that causes you too gain to much weight, so you're sort of OK," he says. "But in the end, you have these two diseases."
The day of reckoning, he says, will come when recovery resumes in earnest.
"If and when the economy in Canada does start to pick up and starts to put pressure on interest rates, then we'll see personal debt -- most of that being housing debt through mortgages -- be a real drag on economic growth," he says. "Long term, it's not a stable situation."
Popular in the Community