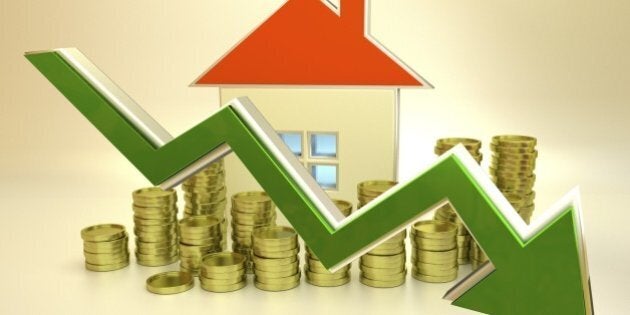 The headlines are clear: Canada's long-running housing boom shows no signs of ending, with sales rising yet again, by 1.8 per cent, in August.
The average house price is up 5.3 per cent in the past year, according to self-reported numbers from the real estate industry, and that's well above wage growth and inflation.
But beneath the surface lies another story — one of two divergent housing markets. On one side is, basically, Toronto and everything west of it, markets which have been seeing strong price and sales growth. On the other side is everything east of Toronto — where the housing market has cooled considerably. (There are some exceptions.)
In a client note Tuesday, BMO economist Robert Kavcic pointed out that house price growth has largely been driven by three cities where prices, some argue, are getting out of control: Calgary, Toronto and Vancouver. Kavcic published a chart showing some alarming house price drops in a few cities — including in one city in booming Saskatchewan: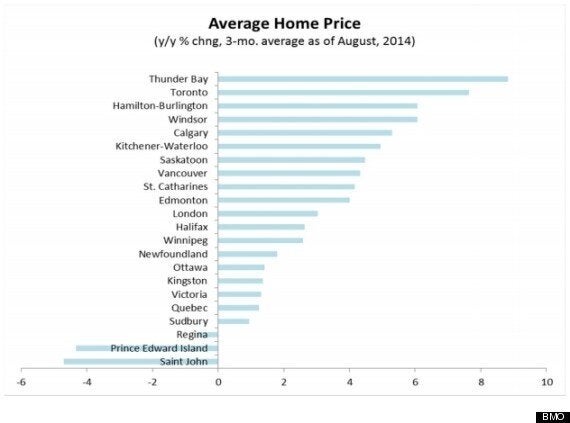 Calgary, Toronto and Vancouver are seeing something of a resurgence of their housing booms — that is, if the boom ever really went away. Home prices in these cities are seeing growth rates well above wage growth and inflation, a situation most economists say is unsustainable.
Single-family homes in Calgary are up more than 10 per cent over the past year; average house prices in Toronto, including condos, are up 8.9 per cent over the past year. Vancouver saw the most moderate growth of the three, at 5 per cent.
Outside of those three cities, the housing market looks much cooler than the national numbers suggest.
Home sales in Ottawa, for instance, dropped 1.1 per cent even as prices rose 3.4 per cent. Home prices in Kingston, Ont., are down about 2 per cent.
This disparity in housing markets is making it difficult for policy makers. TD Bank CEO Ed Clark this week called for tighter mortgage regulations, to ensure Canadians aren't getting themselves into too much debt.
But given the weakness in some markets, making mortgages harder to get — whether through tougher rules or higher interest rates — could backfire in some parts of the country.
"I'm not sure [any] markets are so hot they need dousing," BMO chief economist Doug Porter told the Financial Post. "If you hit the market with something like tighter mortgage rules, that could send some already weak markets into a tailspin. Policy makers are in a tough bind."
Parts of the country where prices have fallen, according to the industry:
— Northumberland County, Ont.