Canada's housing is the most overvalued in the world when compared to rental rates, and the third-most overvalued when compared to incomes, according to The Economist.
In a survey published this weekend, the magazine identifies Canada and Australia as the two countries "where prices seem most out of kilter."
The survey of residential real estate has ranked Canada near the top for years, but never at the top, thanks to bubbly house prices in Australia and some northern European countries.
But in the latest edition of its survey, The Economist found house prices are 89-per-cent overvalued in Canada when compared to rents, the largest overvaluation among the 26 housing markets measured. That's up from 73 per cent two years ago.
The survey also compares house prices against incomes, and on that front, Canada's house prices are 35 per cent too high, The Economist found. That's the third highest percentage, behind Belgium (50 per cent) and Australia (39 per cent).
National Bank Financial published this chart on Monday showing house prices compare in the U.S. and Canada: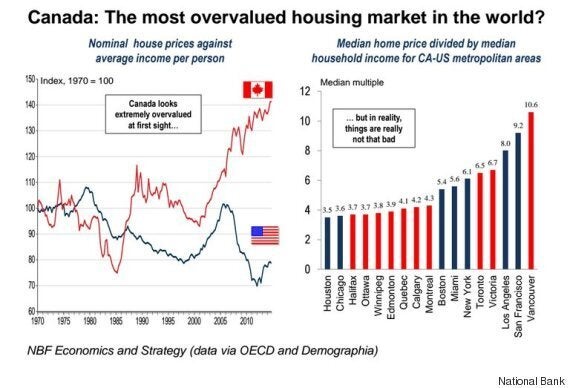 "In their efforts to support weak global demand, central bankers have kept monetary policy ultra-loose. That has left mortgage rates at historic lows."
That certainly is true in Canada, where household debt levels have risen above 163 per cent of household income, near record highs, while mortgage rates are hitting rock-bottom, with one lender introducing a fixed-rate mortgage for 1.49 per cent earlier this month.
The result has been rising home prices, even amid an economy that has slowed down thanks to low oil prices. The average house price in Canada hit $439,000 last month, up 9 per cent in a year.
Economists continue to debate whether Canada's high house prices are sustainable in the long run or a sign of a housing bubble.
Analysts at the big banks say they don't see a bubble, but many have been saying for years that house prices can't continue growing at their current pace for much longer, and the market is due for a correction or at least a "soft landing."
But the overall numbers continue to be pulled up by quickly-rising home prices and sales in Toronto and Vancouver.
According to the Toronto Real Estate Board, the average price of a single-family home exceeded $1 million for the first time this year, a sign of continued high demand for residential properties in the city.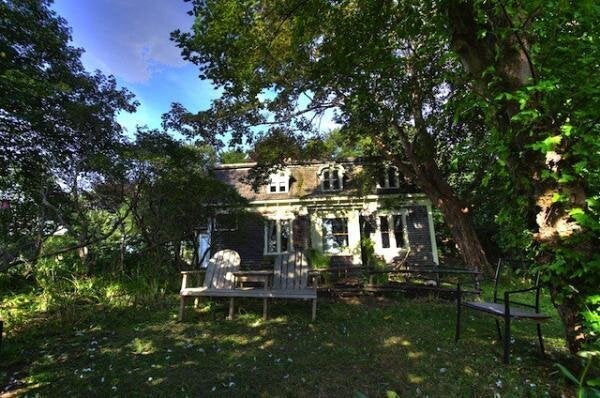 Most Expensive Houses For Sale In Canada
Popular in the Community