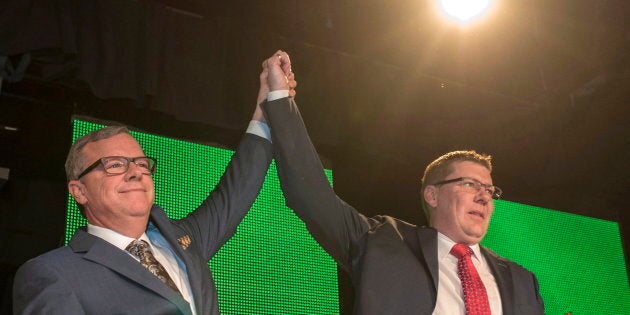 It's a good time to be a rookie premier, apparently.
According to the latest quarterly survey from the Angus Reid Institute, Canada's two most popular provincial leaders are also its newest.
Saskatchewan Premier Scott Moe and his B.C. counterpart John Horgan are tied at the top of the pack with an approval rating of 52 per cent.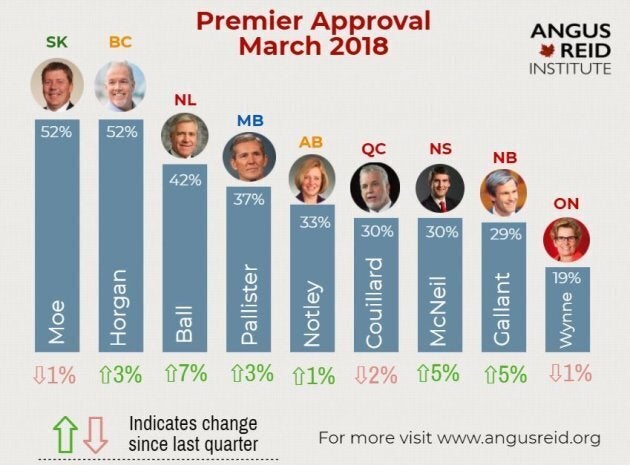 Moe, who took over from Brad Wall earlier this year, appears to be holding on to his predecessor's popularity, the polling firm noted. Wall regularly came in first place in ARI's previous polls. He announced he was resigning last summer, after almost a decade at the province's helm, saying he wanted to see "renewal" for the Saskatchewan Party and the government.
24 per cent of respondents said they disapproved of Moe's performance so far, while 23 per cent said they were unsure — perhaps unsurprising given he has been on the job for less than two months.
Horgan, meanwhile, has seen his approval rating hop 3 points since the firm's last poll. ARI noted that his spat over the Trans Mountain pipeline with Alberta's Rachel Notley, which culminated in a wine war, doesn't seem to have dinged him in the popularity department.
Check out the results of ARI's latest poll in the slideshow below: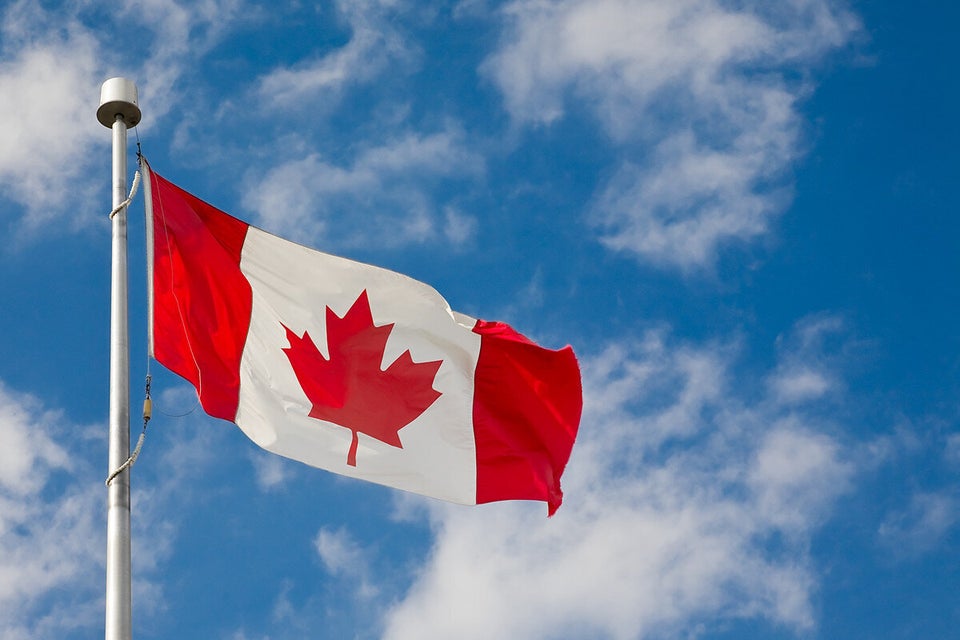 Canada's Least, Most Popular Premiers (March 2018)
The picture is a bit less rosy for some of Canada's Liberal premiers. With the exception of Newfoundland and Labrador's Dwight Ball, whose approval rating has only risen since September 2017, the four bottom spots in ARI's polling are occupied by Grit leaders.
Quebec Premier Philippe Couillard's approval rating dropped two points from last December to 30 per cent, while his counterparts in New Brunswick and Nova Scotia, Brian Gallant and Stephen McNeil, saw their ratings rise by 5 points.
Dead last is Ontario Premier Kathleen Wynne, who has come in as Canada's least popular premier in ARI's surveys since September 2016. The Liberal leader's approval rating has steadily risen since it hit a record-low of 12 per cent last March, but it took a one-point dip over the last quarter.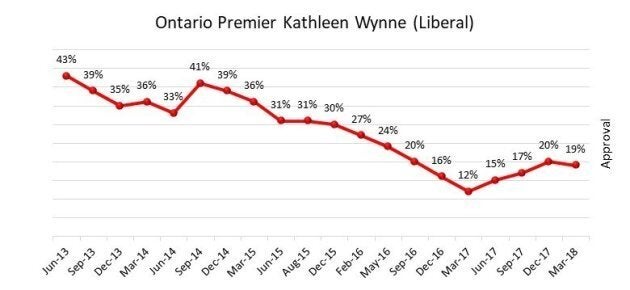 Wynne has brushed off her low approval ratings in the past, telling CTV in December that whether people like her or not is "kind of beside the point."
"It is not really about popularity. It is about making sure that we have the supports in place that people need. At the end of the day if people have those supports then they will make their decision about who they are going to vote for," she said.
Wynne and her party are gearing up for a provincial election slated for June 7. In a speech from the throne on Monday, the Liberal government announced its upcoming budget will include measures to improve hospital wait times and boost mental health services, as well as cutting child-care costs. The government did not offer specific funding details for those initiatives, however.
<>>
Her main rivals, newly-elected PC Leader Doug Ford and NDP Leader Andrea Horwath, are also getting battle-ready.
Over the weekend, Horwath gave voters a glimpse into the NDP's platform, which she says will include universal drug and dental coverage for workers that will be paid for by raising taxes on corporations and the wealthy.
Ford's PCs, who are leading the Liberals according to several recent polls, have not revealed specifics for a platform. At a rally in Toronto this week, the leader told the crowd that his party will "take back the province" from the Liberals, who he said were "worried."
"They are terrified when they see a united party like the PC party," Ford said.
With files from The Canadian Press