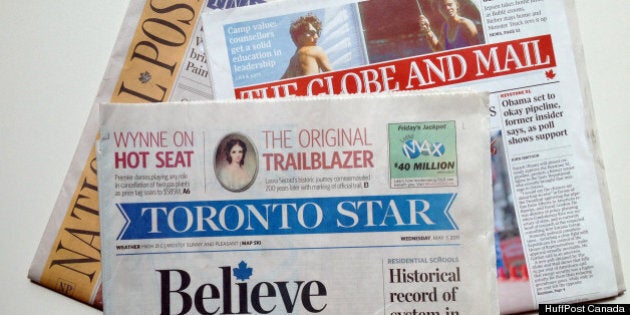 Job cuts, outsourcing, and a paywall push in the face of plunging advertising sales at Canada's largest-circulation newspaper epitomize the latest tactics employed by publishers in the battle to survive a predicted industry shakeout that could see some papers shutter and others thrive.
Following a particularly tumultuous decade for newspapers, 2013 may prove to be the breaking point for some Canadian operations scrambling to find new streams of revenue and overhaul their business models as traditional print advertising dries up.
The decline of newspapers is old news.
Many Canadian news operations, slammed by the same forces that led to bloodletting in U.S. newsrooms, have already undergone rounds of buyouts and layoffs, leaving newsrooms depleted and journalists decrying a decline in quality.
But a new silver lining is emerging amid the gloom – there are indications readers may finally be ready to pay for online content.
By the end of this year, a majority of Canadian dailies are expected to have embarked on the great paywall experiment. Most are opting for the less restrictive metered model, which allows non-paying readers limited free articles each month and some access through social media or search engines.
Torstar Corp. said Wednesday that it is counting on the Toronto Star's forthcoming digital paywall to offset shrinking print advertising revenue, which fell 16 per cent in the first three months of 2013, a drop of nearly $11-million. The parent company of the Toronto Star and other dailies reported first-quarter profits fell 76 per cent to $4.2 million compared to the same period last year.
The Toronto Star reaffirmed that it will lay off 55 editorial and advertising employees and outsource editorial jobs to Pagemasters North America, a fledgling copy-editing and page-design shop whose employees earn about half the money that an equivalent editor at the Star would make. The Star has rejected a proposal by the union that would keep those jobs in house.
The job cuts are part of industry-wide budget slashing that appears to have reached a fevered pace in the past six months.
Postmedia Network Inc. abolished regional publishers and asked West Coast staff to take buyouts last month after announcing dismal first-quarter results that included a 10 per cent decline in revenue. Sun Media announced late last year the layoff of some 500 employees. Even The Globe And Mail – arguably Canada's best example of a functioning paywall – recently offered buyouts to editorial staff.
(The Huffington Post Canada, which has no paywall, competes for digital advertising and audience with newspapers named in this story.)
Toronto Star publisher John Cruickshank believes dramatic cost-cutting will continue as news organizations transition to online subscriptions. Some Canadian dailies, the news veteran predicts, will not survive the transformation. Still, he is optimistic that a new model is emerging.
"We're working away at it, and I think we can find one where we continue to have professional journalists, as well as make use of bloggers," he said in an interview with The Huffington Post Canada.
Story continues below slideshow
Newspapers had for decades relied on the 80-20 business model in which 80 per cent of revenues were derived from print advertising – including classifieds – with subscription revenues making up the rest. The strategy was upended by the Internet, to which readers have turned for free sources of news and where advertisers pay a fraction of the price of print campaigns.
As Canadian newspapers come to grips with the fact that their business model is undergoing not a recessionary blip but a permanent structural change, publishers are moving toward leaner organizations.
Unless drastic measures are taken, the existing business model will not be sustainable, the publisher of the Vancouver Sun and The Province said in a bluntly worded memo last month that asked staff to accept a buyout.
"Over the last few years, The Vancouver Sun and The Province have seen alarming and unprecedented revenue declines, the majority of that from traditional print advertising," the memo from Gordon Fisher said.
"Over that same period, we have seen growth in our digital revenues, but not nearly enough to close the gap. That trend is not abating. It is accelerating."
Phillip Crawley, publisher of The Globe and Mail, said the paper has signed up some 90,000 digital subscribers during its first six months operating a metered paywall (he would not say how many of those are existing print subscribers). Still, he added, publishers are feeling pressure to cut expenses amid a sluggish economy and advertisers' growing interest in online.
"We obviously are caught in that same pattern that everybody else is, and I don't think anyone else is telling a different story. ... It's a case of how well you can monetize the digital side."
Canadian publishers feel the moment is ripe to take the paywall plunge.
"We hadn't done very much to train people to think that everything on the Internet wasn't going to be free, but since then we've seen the evolution of a tremendous amount of digital commerce," Cruickshank said.
"There's been a rapid, rapid shift, there is now an acceptance of the notion that this information has some value and it needs to be paid for. … I think some people will be willing to pay something, and I think that number will continue to grow."
Paywalls will not save the newspaper industry, Cruickshank said, but they do represent the next step toward recovery.
"To sustain the big commitment to newsrooms," he said, "we have to get paid for content, and this is the next point of evolution in the business model. Is it perfect? No. They're actually kind of limited in respects.
"Clearly, we're not going to achieve the same kind of business results in digital that we did over many years in print – not through paywalls and digital display ads – so we're going to have to think very broadly about other ways to give service to readers and advertisers and find new sources of financing."
Newspapers have recently accelerated the push both to cut jobs and to erect paywalls,
said Paul Morse, president of the Southern Ontario News Media Guild, which represents employees at the Toronto Star, The Globe and Mail and Sun Media papers.
"They paid the price for turning a blind eye to it before, and now there's a rush to deliver the new models," he said.
"Paywalls are going to create revenue, and that is what's going to pay for the jobs, so it's clearly the way that they have to go," he said, adding that they will work only if newsrooms are willing to invest in the quality of the product behind them.
Some critics argue that hiding some content risks losing website traffic from readers unwilling to pay and advertising dollars from marketers flocking to sites with an optimal number of eyeballs on their ads.
Results from Canadian newspapers that have already gone behind metered paywalls suggest that, while readers still visit paywalled sites, they spend less time on them and click through to fewer stories, reducing their likelihood of viewing numerous ads.
An analysis of four newspapers – one from each of Canada's major publishers – that have gone behind paywalls in the past year finds that, on average, unique visitors were up four per cent year-over-year in the opening months of 2013 when all four papers were behind a paywall, according to data from comScore, a digital analytics company.
But compared with the first quarter of 2012, when none of these papers was behind a paywall, total pages viewed fell an average of 43 per cent, average minutes per visitor declined 40 per cent and average pages per visitor were down 43 per cent, the comScore figures reveal.
Paywalls can serve to turn off advertisers searching for high-efficiency and high-volume in their ad spending, said Kris Davis, senior vice-president of customer service at Media Experts, a Canadian media planning and buying company.
"Some of the sites that are pioneers in the paywall space and have done fairly well, are having to to retrench a little bit because it is a challenge, there is so much free content out there," he said.
Papers that erect paywalls but lack in high engagement or reader loyalty may see a boost in revenue from the finite number of readers willing to pay, but they also risk turning off readers and advertisers, he said.
"They're going to lose the ability to monetize that audience – if they lose a third of their audience, they're going to lose revenue on the other side of it [the paywall]."
Post-recession advertising budgets have bounced back, but cost-conscious marketers still prefer to spend online, where they will see the most traction, accountability and return on their investment, Davis said.
Advertisers like online advertising better not only because it is cheaper but because they can see when, where and how many people click on their ads. Those intent on garnering as many viewers as possible have more options than ever, including alternative news sites, search engines or social media sites, he added.
But other advertisers, like those that Crawley said the Globe is attracting, are willing to pay top dollar for the chance at reaching a highly engaged, higher value audience that fits into their target demographic.
Traffic figures do not concern Crawley. He said that the paper's paywall is geared toward offering paid subscribers premium content unavailable from free news sources and that advertisers have been willing to pay to target such an audience.
The Globe and Mail has created an interdepartmental committee composed of editorial and non-editorial staff that monitors, 24 hours a day, which content clicks best.
Studying the content that makes people willing to pass through a paywall gives the paper information about how to bump subscriptions, while analyzing which stories stimulate the most traffic helps attract advertisers seeking a targeted audience, Crawley said.
The Globe has "absolutely not" seen a decline in ad revenue, he said, citing a 14 per cent increase in digital ad revenue this year. He would not produce a figure for print advertising revenue, the segment its competitors are most worried about. The Globe and Mail is privately owned and therefore not required to release financials.
Other newspapers are reporting growth in digital ad sales, but because that stream currently represents as little as 10 per cent of overall advertising revenue, the impact of growth in that segment contributes only minimally to companies' bottom lines.
Postmedia chief operating officer Wayne Parrish said the chain's paywalled papers, including the Ottawa Citizen and the Vancouver Sun, have seen a similar level of digital advertising revenue growth as those that offer unlimited free access, such as the National Post.
The company will put the rest of its papers behind paywalls in the next few weeks.
Postmedia aims to have 75,000 digital subscribers, including those with print subscriptions (which, he says, is also the measure the Globe uses) by September.
Growing subscribers at the chain's dailies will be more difficult than at niche papers like the Wall Street Journal or flagships like the New York Times, but Parrish believes Postmedia's plan to invest in content will help convince readers to make the switch.
"We think if the quality content is there, that there's certainly opportunity for metro papers as well."
Unlike some of its peers, the Globe created premium paid content to sit behind the wall before it was erected, which distinguishes it from its Canadian competitors, Crawley said.
"If you're going to look generally at what's happening to paywalls, you have to sort out the wheat from the chaff," he said.
"All (Postmedia is) doing is putting up a paywall just simply to grab some cash; Sun Media has done the same."
Sun Media could not be reached for an interview for this story.
Newspaper paywalls are still in their early days. Even newspapers that are successful will have to focus on cutting costs until their business models evolve to allow for a healthy level of investment in journalism, Cruickshank said.
Parrish holds no false hopes that paywalls are enough to save the industry's broken business model.
"Paywalls are not at all a panacea in any shape or form, but they have the potential, and I stress potential, to be part of the overall revenue solution."
Adam Shine, a media analyst at National Bank, believes the next few months will help paint a better portrait of the feasibility of newspaper paywalls in Canada.
"The sustainability of paywalls and the willingness of consumers in general to pay for newspapers will remain dependent on the quality of the content," Shine said.
He added that paywalls are not the only innovative business model for Canadian newspapers, pointing to La Presse's decision to buck the paywall trend with a design-conscious, advertising- supported daily news app.
"The publisher has taken an alternate route that appears destined to reduce print subscriptions," he said of the Montreal paper.
As newspapers take tentative steps toward a next-generation revenue model, publishers face a Catch-22 in shrinking the legacy costs of their newsrooms, Davis said.
Investments in reporters, investigative resources and international bureaus are needed to produce the quality content that attracts advertisers, he said, while slashing at the cost of quality leaves papers with little to distinguish them from a free news source.
"Who's going to pay for that content that's going to be repurposed online?"
Popular in the Community