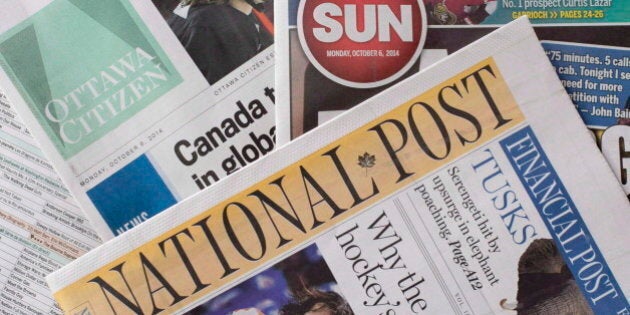 Canadian newspapers overwhelmingly supported Stephen Harper's Conservatives in the past two elections, much more so than they would have if they had reflected public opinion, a new study finds.
It was "roughly three times [Harper's] standing in opinion polls at the time," Carleton University Prof. Dwayne Winseck wrote in the report.
In the 2015 election, things weren't quite as monolithic, but 71 per cent of all newspapers endorsements still went to Harper. Seventeen of 23 newspapers that endorsed a candidate endorsed the Tories, the study found.
Postmedia came in for criticism after running full-page, front-page negative ads for the Tories across its newspapers the weekend before the Oct. 19 election.
The analysis came in the context of a new report aiming to assess whether concentration of media ownership in Canada has increased over the past three decades.
The report says it has. It notes that the arrival of new media hasn't lessened media concentration in Canada. In fact, the new digital media platforms are more concentrated than the old, the study says, pointing to the dominance of brands like Facebook, Google and Netflix in their respective fields.
But the report gives Canada's uniform newspaper endorsements as an example that control of traditional media remains a concern to this day.
"Whilst we must adjust our analysis to new realities, long-standing concerns also remain alive," the report said.
The issue of newspaper endorsements was particularly contentious in the most recent election. Perhaps most controversially, Postmedia and Sun Media newspapers (now part of the same company) ran full-page, front-page ads for the Conservatives the weekend before the election.
The issue of how newspapers determine endorsements came into the spotlight with reports that Postmedia CEO Paul Godfrey ordered all the major newspapers in his chain to support Harper's Conservatives, a decision believed to be linked to the resignation of prominent journalist Andrew Coyne as the National Post's editorial and comment editor.
Godfrey argued that determining political endorsements is the owner's prerogative.
"Since God made babies, I think [endorsement editorials] were always made that way, and if anyone thinks otherwise, I think they were dreaming in Technicolor," he said, as quoted at the Globe and Mail.
In an unusual move, John Honderich, CEO of Toronto Star parent company Torstar, took Godfrey to task on his assertion.
"No one can dispute the tradition of an individual publisher or owner calling the election shots for their local paper. Godfrey did that regularly when he was publisher of the Toronto Sun," Honderich wrote.
"But to dictate the choice across an entire chain – and nation. That is an entirely different tale."
As is common with online news sources, The Huffington Post does not endorse candidates, though its blog contributors often take strong partisan positions.