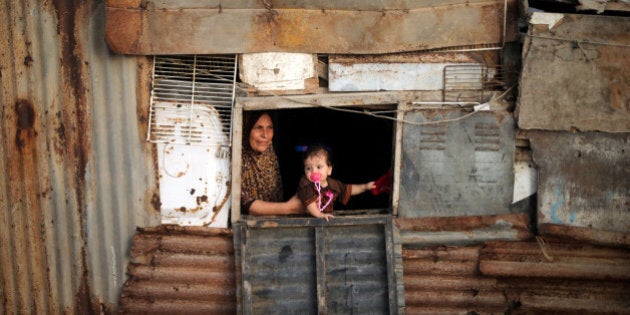 Canadians might find it disquieting to have members of Parliament cry, "Shame!" when the government announces $20 million in aid for education and health. Yet this is exactly what happened when Minister of International Development Marie-Claude Bibeau, announced the restoration of Canadian humanitarian aid for Palestinian refugees.
The fact that some members of Parliament would behave so outrageously is a testament to the prejudice and misinformation that swirls around the United Nations Relief and Works Agency (UNRWA) -- the UN agency administering Palestinian refugee aid.
Canada actually has a decades-long history of supporting UNRWA -- a history that was only recently interrupted by the Harper government. So the Trudeau government's resumption of funding is a reconnection with Canada's former humanitarian tradition. It also puts Canada in very good company: every other G7 nation also donates yearly to UNRWA.
Anyone who thinks Palestinians refugees enjoy their status is grossly mistaken.
UNRWA was founded in 1949 to provide aid to Palestinian refugees who were expelled or fled their homes following the creation of the state of Israel in 1948. When it began operations in 1950, it was responsible for the wellbeing of 750,000 Palestinian refugees. 66 years later, those refugees and their descendants under the care of UNRWA number over 5,000,000.
Canada was one of the countries that voted in support of the partition of Palestine in November, 1947 -- the decision which created the first generation of Palestinian refugees. Rightfully, Canada and the other Western nations have an ongoing responsibility to see that a long-term solution is found for Palestinian refugees.
Some people wonder why Palestinians are still refugees after 66 years. There are three reasons. First, contrary to international law, Israel has always refused to allow Palestinian refugees to return to the homes they left behind in Israel proper. In turn, neighbouring countries like Jordan and Lebanon refused to naturalize the Palestinian refugees, viewing such a move as acquiescence to Israel's refusal to readmit them. Finally, no third country has offered to resettle Palestinian refugees en masse.
Anyone who thinks Palestinians refugees enjoy their status is grossly mistaken. Palestinian refugees in Lebanon are forbidden from working in 73 different professions; in other countries, their rights to property, employment, and civil participation remain highly circumscribed.
Worse, any time there is political instability, the Palestinian refugees are the first to pay the price. Ask the 300,000 Palestinian refugees who had to flee Kuwait after the First Gulf War; the 30,000 Palestinian refugees who lost their homes in the Nahr al-Bared refugee camp in northern Lebanon in 2007; or the 100,000 Palestinian refugees who fled Yarmouk refugee camp in Damacus over the past two years.
Without serious attention, more political and humanitarian crises are bound to arise.
Yet there they sit, refused by Israel, refused by their host countries, and with no place else to go. As such, the Palestinian refugee issue is one that is with us until there is an Israeli-Palestinian accord. In the meantime, UNRWA provides services that the refugees' host countries deny them. Education is 54 per cent of UNRWA's budget, followed by health services at 17 per cent, social services at nine per cent, and so on.
Michael Bell, former Canadian ambassador to Israel, pointed out that even the Israeli government supports international funds for UNRWA, fearing that more nefarious influences could potentially fill gaps left by an underfunded UNRWA.
But the West is playing Russian roulette with Palestinian refugees. Without serious attention, more political and humanitarian crises are bound to arise. Many recognize the precariousness of the plight of Palestinian refugees, foremost the refugees themselves. They demonstrate against cuts to UNRWA not because the agency offers "handouts," but because it offers hope for their children, and an alternative to more radical responses to the impoverishment they face.
Funding to UNRWA is a stop-gap measure -- one that has been in place far too long. Canada and the West should get serious about forcing Israel and the Palestinians into meaningful negotiations to create a long-term, just and viable solution for Palestinian refugees.
Barring that, Canada has a central role to play for Palestinian refugees as chair of the Refugee Working Group -- an international organization established through the 1993 Oslo Accords, and mandated to find workable solutions to the challenges facing Palestinian refugees. That's right: the world is waiting for Canada to bring people together, pound the gavel, and start the discussion for Palestinian refugees.
So rather than hollering "Shame," about humanitarian funding for refugees, members of Parliament should be crying "Shame," for Canada's failure to do more for one of the world's most vulnerable populations.
Follow HuffPost Canada Blogs on Facebook