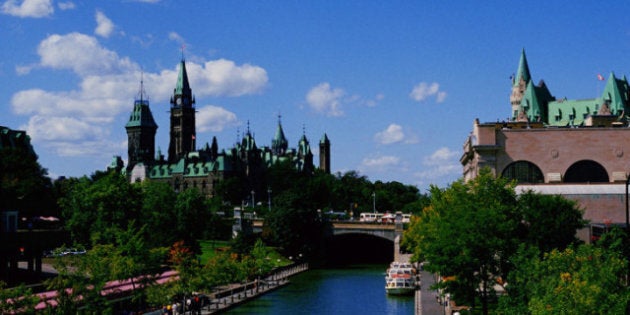 Canada's combined federal and provincial net debt will pass $1.1 trillion at 11 p.m. ET on October 3, according to a recent calculation. But while some observers are sounding the alarm bells about the country's balance sheet, others say Canada's fiscal situation is not nearly as bad as it may seem.
The approaching debt milestone was flagged on Monday by the Canadian Federation for Independent Business (CFIB), which is calling for more aggressive belt-tightening measures to address the deepening fiscal hole.
"It's time for governments across Canada to get more serious about controlling and reducing debt," Laura Jones, senior vice-president of research and economics, said in a press release. "Being blasé about debt is the road to Greece and it's not fair to our kids because today's debt is tomorrow's taxes."
Noting that provincial and federal net debt has increased by $100 billion -- or 10 per cent -- in the last a year and a half, the CFIB estimates that total debt has surpassed $31,850 per person.
Per capita debt is highest in Quebec and Ontario, where it has hit $38,725 and $35,550 respectively, and lowest in Alberta and the Yukon, where it has reached $14,700 and $14,900.
But according to Chris Ragan, an expert in monetary policy at McGill University, when it comes to government debt, "It is misleading to look at the total amount."
Much more relevant to Canada's fiscal well-being, says Ragan, is the debt-to-GDP ratio, which he describes as "fairly low."
"If you look at debt as a fraction of GDP, what you're doing is you're scaling it to the size of the economy," he says. "GDP is basically the tax base of governments. So if you look at debt as a fraction of GDP you're getting an indication of the government's ability to service that debt."
But Ragan says that an even more illustrative ratio is Canada's net government debt-to-GDP ratio, which accounts for existing financial assets. For 2010, he puts that figure at 44 per cent.
"We will be adding to our debt this year, but GDP has gone up," says Ragan. "So I think what we're going to be seeing is a [net] debt-to-GDP ratio that is probably close to stable maybe rising very gradually over the next few years, up to about 45 per cent."
Canada's current net debt-to-GDP ratio is less than half of what it was in the mid-1990s, when fear of hitting the so-called debt wall prompted drastic spending cuts.
"What we knew at that time was that debt-service costs were becoming very large, and financial markets were starting to pull a Greece on us," says Ragan. "They were starting to wonder, how the heck are we going to pay this back?"
The fiscal tightening and economic growth that followed brought Canada net debt-to-GDP ratio from 92 per cent in 1996 to less than 40 per cent in 2008.
"There was a dramatic turnaround," he says.
Though the CFIB did acknowledge in its release that net debt is not as high as it has been in the past, Ragan says he is concerned about using rising debt levels to justify tough austerity in the current economic climate.
"If they conclude from this that governments should start clamping down and raising taxes or cutting spending, I think this is probably a bad time to do that. Right now we have a recovery that's looking pretty sluggish," he says. "Governments should be back on track toward balance, but you don't want to do it too aggressively."