When Henry Kissinger wrote recently that the power structures in the world are changing quickly and that the Western concept of order prevalent since the end of the Second World War now stands at a turning point, he threw the gauntlet down to nations like Canada. We had, after all, helped to construct that international architecture by being founding partners in numerous global bodies like the United Nations and the World Bank.
If we do indeed stand at such a turning point, one would hope for a federal government that would position us to be part of that new world order. But, along with other nations, Canada appears to be increasingly placing an emphasis on its domestic concerns and casting off a more robust role in international affairs. Maybe that's acceptable for other nations, but Canada, a soft power with a smaller population, it was actually in international influence where we captured the global imagination.
Yes, the Harper government has opted to take on some of the responsibility of confronting ISIS by placing some of our soldiers in harm's way, but it's actually in other areas where we could have the greatest impact.
The continued decline of this country's foreign aid budget, especially in those areas most in need of the assistance, has gone by largely unnoticed, except by other nations who have noted Canada's lack of imagination and depth in a humanitarian sector where we once excelled. Diplomatically, we are losing much of the "bench strength" we once possessed, as senior and able diplomats transition out of public service due to the lack of government engagement in the more vital files.
The Canadian government denies all this repeatedly, as governments are prone to do, but those many areas where this country once was a steady player are increasingly being recognizing for our absence.
The recent article by Chris Simms, in the Lancet, is only the latest of numerous observations concerning how Canada seems to have lost its way in a globally delicate world. Noting how Canada was once perceived as an "exemplary global citizen" in previous decades, Simms nevertheless concludes:
"During recent years, Canada's reputation as a global citizen has slipped, in recent months more precipitously than ever before, and in new directions."
In fields as varied as climate change, public health leadership, and freedom of information, he catalogues how our better days were in the past. Two issues specifically are called out in the article.
The first involves the muzzling of scientists, especially those cautioning the federal government concerning their present approach. Quoting from a 2013 survey of some 4,000 federal scientists, Simms speaks of how 90 per cent of their number feel they are not allowed to speak freely about their work, and 86 per cent of them felt that they "encounter censure or retaliation" for speaking to the media. The article points out that the present government's fixation with "sovereign self-interest" is removing Canada from the rostrum of global leadership where it once had its own special place.
Simms seems especially concerned with the Harper government's record on First Nations issues. This has been an historical problem in Canada, but the government's recent "tightening the flow of information" and the defunding of some key agents for First Nations advocacy has clearly tarnished our image internationally. When the Canadian government recently used the UN's forum on Indigenous rights as a bully pulpit to hammer away at the organizations expansive Declaration on the Rights of Indigenous Peoples - the only nation to do so - a gasp ran through the vast gathering as delegates demonstrated shock and dismay in such a reversal of this country's historic participation and support of such venues.
We lead the world in our decline of forests, remain serious laggards in the global struggle against climate change, and have yet to show any serious leadership in the next round of negotiations over the succession plan for the Millennium Development Goals (MDGs).
When it comes to Canada's reputation in the world, it can be described as a death by a thousand cuts. Single issues might be overlooked -- a purpose utilized effectively by the Harper government -- but for serious international observers the sum total of the various measures from pulling back from global commitment represents a serious problem.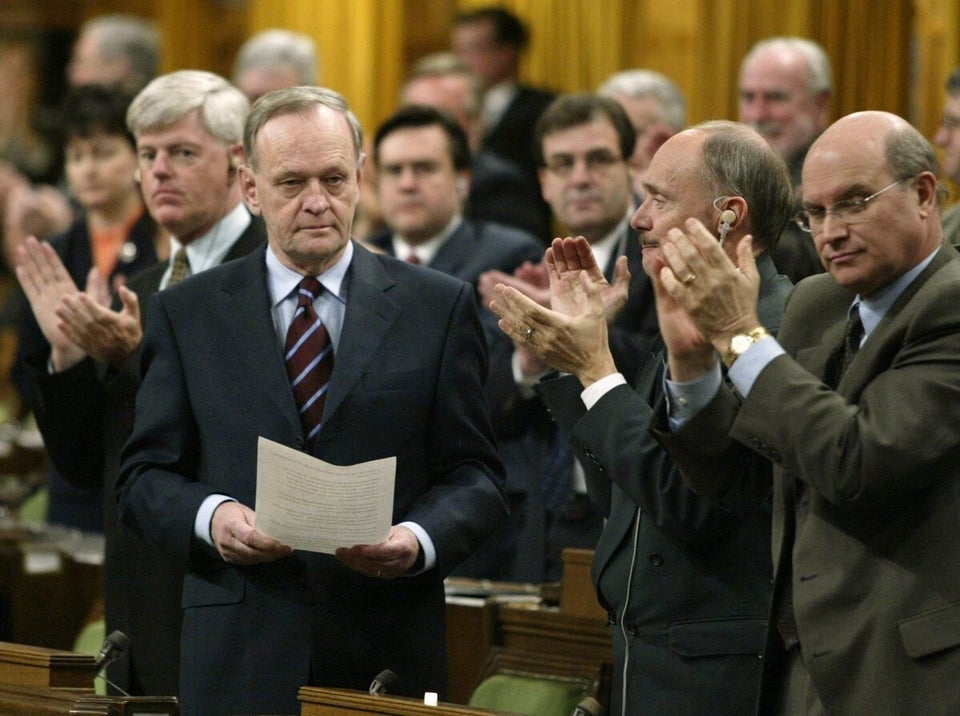 What Leaders Said About Iraq In 2003
Popular in the Community