Canada's economy is set to follow the U.S. off a cliff if it holds the same pattern America's did in the mid-2000s.
The Great White North's dependence on real estate investment reached a record high this year — just like it did in the U.S. in 2005, before it started dropping for years, global banking firm Macquarie noted in a report this week.
It said that 2016 could represent a "peak housing" year for Canada, and that activity in the sector could start declining afterward.
Economists with the firm looked at how residential investment trended as a share of the U.S. economy between 1991 and 2005. Then it looked at how such investment has trended in Canada from 2001 up to the present.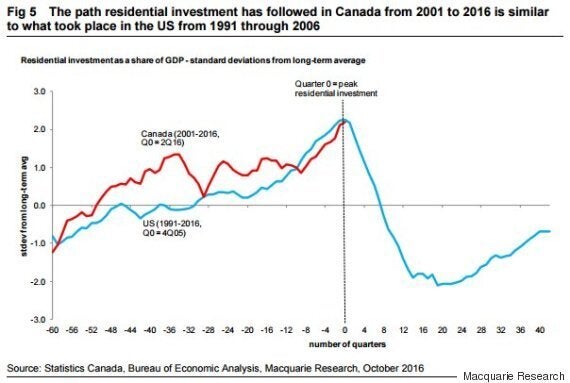 The graph above shows a pattern of growing dependence on residential investment in Canada, not unlike that seen in the U.S. over a similar period.
Much of the growth in Canadian residential investment has come from "brokers' commissions and other ownership transfer costs" — again, just like in the U.S.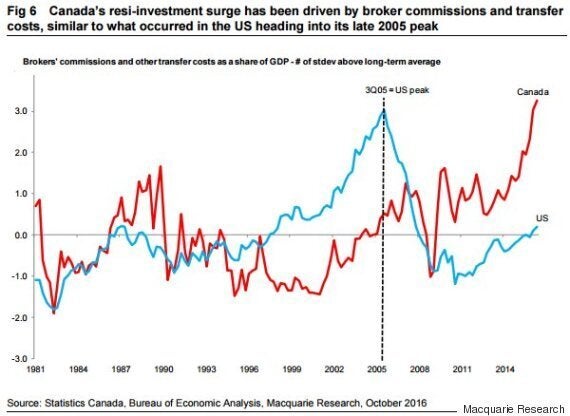 But those aren't the only alarming signs that Macquarie noted for Canada's economy.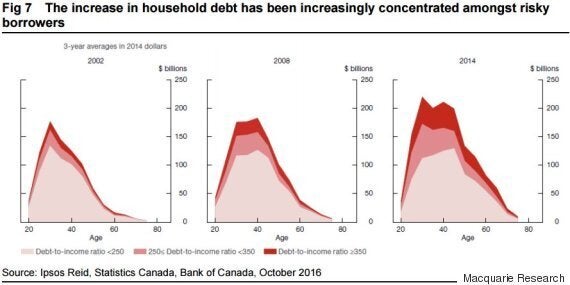 It also remarked that a growing share of mortgages have loan-to-income ratios of over 450 per cent.
And that suggests homebuyers are borrowing way more than they can pay back.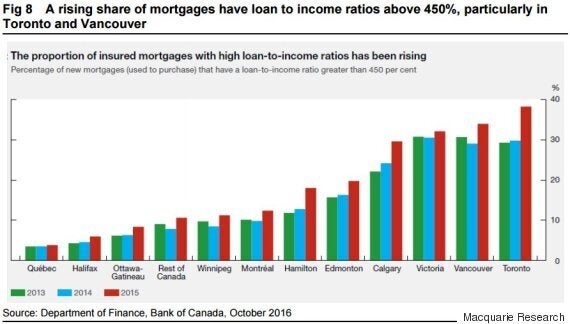 The rules include a stress test to make sure insured borrowers can afford their mortgages if interest rates go up.
Macquarie said these changes are likely to "slow housing and create headwinds for Canadian economic activity."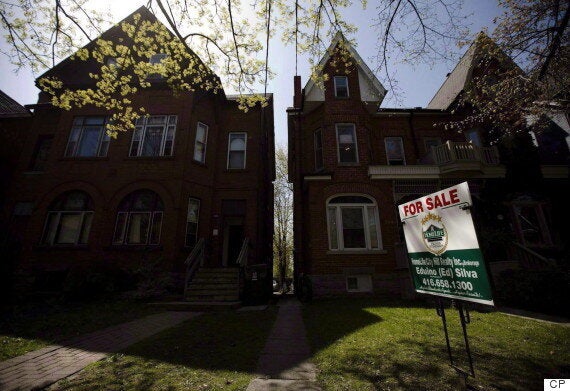 But the firm saw promising signs for Canada's economy thanks to factors such as federal infrastructure spending, which is expected to support GDP growth of 1.8 per cent next year and 1.7 per cent the following year.
Macquarie also saw some hope in Canada's energy sector, which is set to see an end to capital expenditure declines, it said.
The industry is, however, headed for a $10-billion loss in 2016, it added.