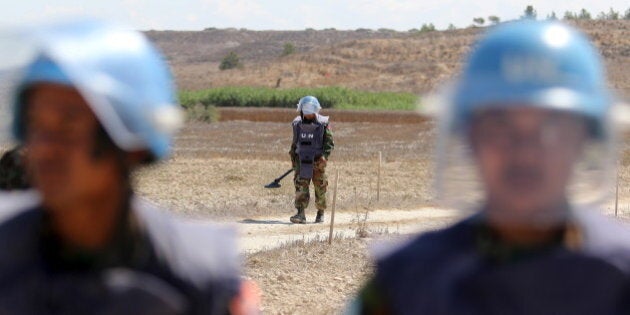 Over the years, 3,400 peacekeepers have lost their lives serving under the UN flag, 128 of them last year alone. Since 1948, 71 peace operations have been established.
The UN's deployment of peacekeepers has never been greater, with approximately 122,000 military, police and civilian personnel serving in 16 missions around the world. In fact, the UN deploys more troops abroad than any other entity, including the United States government.
Nevertheless, the supply of uniformed personnel from Troop Contributing Countries has not kept pace with demand. Five UN Missions (Central African Republic, Darfur, Mali, Sudan and South Sudan) are staffed at levels significantly below the troop levels mandated by the UN Security Council.
With the system over-stretched, U.S. President Obama convened a Leaders Summit at the UN last September. More than 50 heads of State and government, including many western governments, made pledges of additional personnel and equipment, and also committed to modernize UN peace operations.
Also at the UN, three expert review processes have addressed different aspects of the UN's efforts to maintain peace and security:
Although organized independently, each with a mandate to review different aspects of the UN's peace and security machinery, these three stock-taking exercises have also given rise to a new vision of a better coordinated, system-wide response to threats to international peace. "Sustainable peace" is the term for this emerging framework that is intended to reflect a more integrated approach, linking the UN's activities ranging from conflict prevention, mediation and conflict resolution, to peacekeeping operations, post-conflict peacebuilding and long-term development.
It's an approach that makes sense, conceptually. However, efforts to achieve policy coherence across the UN system have typically been realized more in words than in deeds. Bridging bureaucratic silos isn't easy. One looks hopefully to the leadership that a new Secretary-General may provide, once (s)he takes office in January 2017.
Last September's Obama-led UN Peacekeeping Summit took place while Canada was in the midst of an election campaign. Canadian officials were understandably absent.
But when it comes to UN peace operations, the fact is that Canada has been missing in action for a very long time.
Re-engagement in peace operations should be viewed as part of a broader new "sustainable common security" framework for our international engagements.
For over four decades Canada was the world's leading peacekeeping nation. However, since the early 1990s Canada's personnel commitments to UN Peace Operations have steadily declined -- at a time when the UN's demand for peacekeepers was steadily increasing. The chart below, prepared by Dr. Walter Dorn at Canadian Forces College, illustrates Canada's declining personnel contributions, from a high of over 3,000 in the early 90s to less than a hundred military and police personnel today.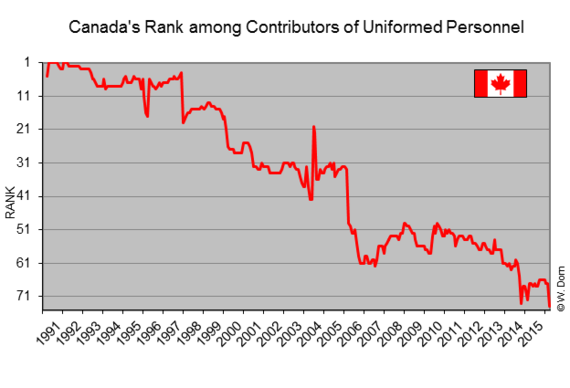 The new Trudeau government has brought a change in tone, a more active Canadian engagement in multilateral organizations, and a promise to strengthen Canada's commitment to UN peace operations. Understandably, this new Canadian approach was lauded by the UN Secretary-General during a three-day visit to Canada in February.
Re-engagement in peace operations should be viewed as part of a broader new "sustainable common security" framework for our international engagements.
'Sustainable Security' shifts the emphasis toward the long-term impact and consequences of our policies, as well as the underlying causes of insecurity and conflict. And 'Common Security' (which helped to arrest the momentum of the last Cold War) acknowledges our interdependence and mutual vulnerability. A common security approach relies to a greater extent on the machinery and diplomacy of international cooperation; there is less reliance on the competitive pursuit of national security at the expense of others.
For a country like Canada, peacekeeping made sense for over four decades, and it makes even more sense today. Canada has no immediate threats to its territory and, as an outward-looking trading nation, has a built-in commitment to a stable, rules-based international order.
But those of us who have waited a long time for Canada to make a significant return to UN peace operations will have to wait a while longer. Six months into a new government, Canada's rank among uniformed troop-contributing states has reached an all-time low -- 73rd place.
The views expressed in this blog are those of the author, and do not necessarily reflect the positions of CCIC or its members.
Follow HuffPost Canada Blogs on Facebook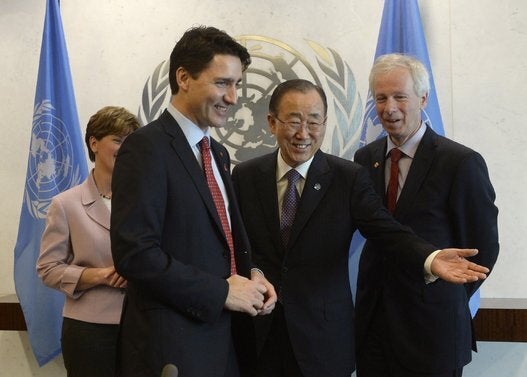 Trudeau At The United Nations