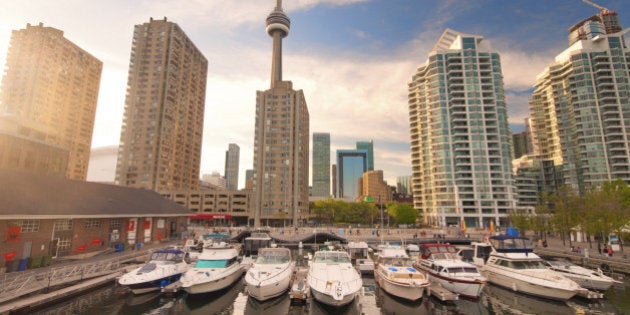 Canada is seeing its population of super-rich grow faster than the U.S., and Canada's super-rich are getting faster than their American counterparts as well, at least this year.
That's according to the second annual Ultra World Wealth Report from UBS and Wealth-X, which says the number of "ultra high net worth" (UHNW) individuals in Canada swelled to 5,305 in 2014, up 6.5 per cent from the year before.
An "ultra high net worth" individual is defined as having $30 million U.S. in net worth or more, not including their primary residence.
"Despite generally mediocre macroeconomic indicators, such as slow growth in employment and GDP, Canada's UHNW individuals have managed to capitalize on the gains seen by businesses in the natural resources industry this year," the report said.
Overall, Canada ranks eighth in the world when it comes to the number of super-rich. The U.S., Germany and Japan are the top three, in that order.
Relative to population, the U.S. still has more ultra-rich than Canada, but U.S. ranks aren't growing as fast. There were 69,560 ultra-rich people in the U.S. this year, up 6.2 per cent from 2013.
The total wealth held by these Americans amounted to $9.6 trillion U.S. this year, up 6 per cent from the year before. Canada's super-rich grew their wealth somewhat faster, by 6.7 per cent. Between them, they now hold $635 billion in U.S. dollars, or $714 billion Canadian, at current exchange rates.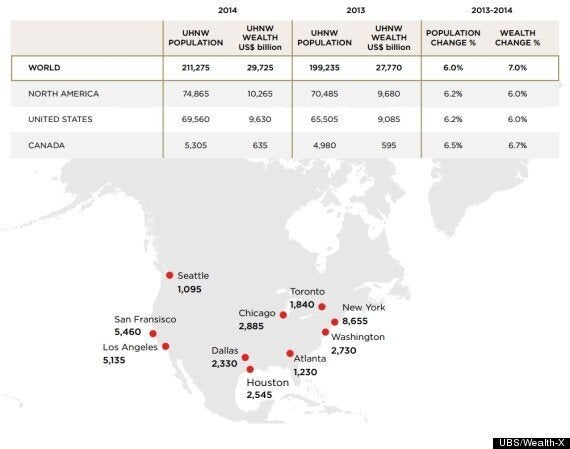 Some other interesting takeaways from the report:
Fully 73 per cent of super-rich Canadians are self-made, while only 13 per cent inherited all their wealth. But Canada has the oldest average age among the super-rich, and the report expects that soon larger numbers of Canadians will be inheriting wealth.
Thirty-five per cent of super-rich Canadians made their wealth through resource industry, such as mining and oil and gas.
Metals and mining is the larger part, accounting for the wealth of 23 per cent of super-rich Canadians, while oil and gas accounted for 12 per cent.
Super-rich Canadians hold a "relatively low proportion" of the country's wealth, below 10 per cent. That's because the people just below the super-rich -- the "high net worth" individuals -- are also seeing their wealth grow.
New York remains the world capital of rich people, with 8,655 UNHWs.
London (6,815) and Tokyo (6,185) are second and third.
San Francisco's super-rich population (5,460) has now surpassed that of much larger Los Angeles (5,135), a sign of the growing economic power of Silicon Valley.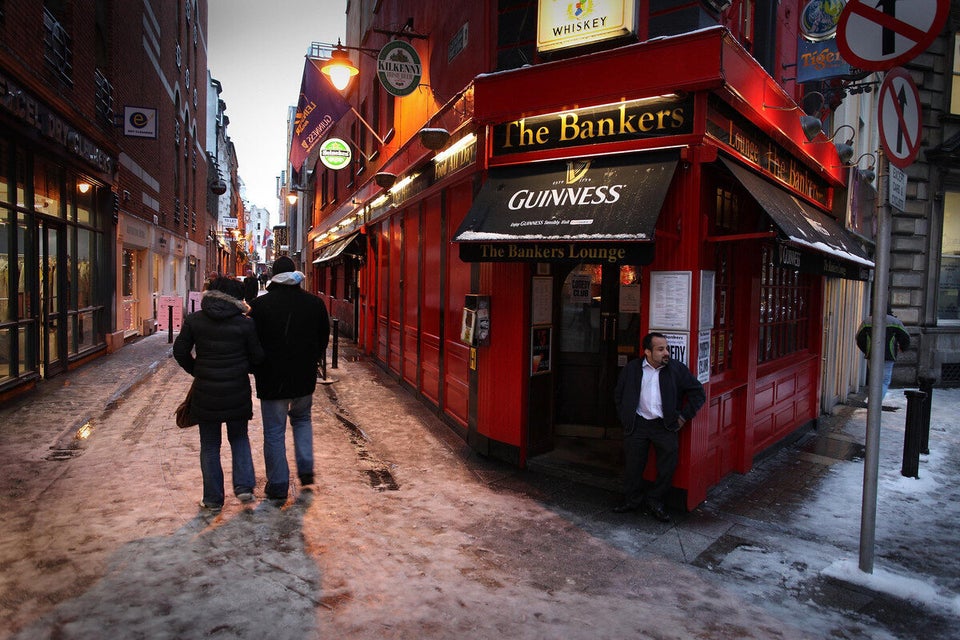 World's Most Prosperous Countries
Popular in the Community