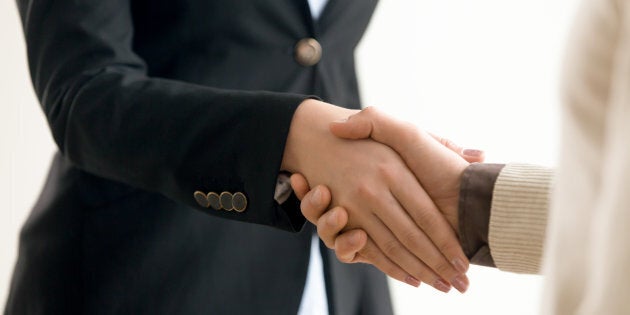 Canada's red-hot job market smashed all expectations in November, adding 79,500 jobs at a time when the experts predicted the economy would be slowing.
Canada's unemployment rate dropped right through the 6-per-cent level, registering 5.9 per cent, down from 6.3 per cent the month before. It's the lowest since February, 2008, Statistics Canada said Friday morning.
The consensus among economists had been for an increase of 10,000 jobs in November, and for the unemployment rate to reach 6.2 per cent.
Watch: The top jobs in Canada for 2017
The job market added 49,900 part-time jobs in October, and 29,600 full-time ones.
Canada's economy has been showing signs of losing steam in recent months. StatsCan reported on Friday that the economy grew 0.4 per cent in the third quarter of this year, less than half the 1-per-cent growth seen the quarter before.
However, that slowdown has yet to materialize in the job market.
"The Canadian labor market appears unstoppable at this point, with a twelfth consecutive month of job gains," TD Bank senior economist James Marple wrote in a client note.
"During the last 40 years the unemployment rate has only been (marginally) lower in one month — December 2007 when it hit 5.8 per cent."
StatsCan says Canada added 390,000 net new jobs over the past year, a very strong showing amounting to a 2.1-per-cent increase in total jobs. That's faster than population growth.
In fact, the number of full-time jobs has increased by an even larger number — 441,000 in the past year, StatsCan said, for the strongest pace in 15 years. That was offset by the loss of 51,000 part-time jobs.
Ontario joblessness lowest in 18 years
"The lion's share of national employment growth in November was recorded in Ontario, with 44,000 more people employed, mostly in wholesale and retail trade as well as in manufacturing," Statistics Canada said.
Ontario's jobless rate fell to 5.5 per cent, the lowest level since 2000, StatsCan said.
British Columbia added 18,000 jobs in the month, and its jobless rate remained at 4.8 per cent, the lowest among the provinces. Quebec added 16,000 jobs, and its 5.4-per-cent unemployment rate is the lowest since on record; the province has never seen jobless rates this low in comparable data going back to 1976.
TD's Marple suggested that the strong job numbers mean the Bank of Canada will be more open to interest rate hikes in the coming months.
"The Bank of Canada may choose to hold off next week, but the next rate hike is likely not more than a few months away," he wrote.