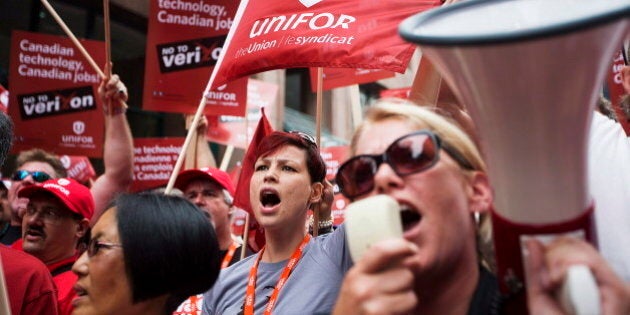 A majority of Canadians — 56 per cent — hold favourable views of unions, and an even larger majority opposes "right to work" laws backed by some Conservatives, a new survey finds.
The Harris/Decima survey, carried out for the Canadian Association of University Teachers (CAUT), found 70 per cent of Canadians say unions are "still needed," compared to fewer than 30 per cent who say they are obsolete.
And by a two-to-one margin, respondents said everyone who benefits from a union's services should be required to pay dues to that union. That flies in the face of some Conservative politicians' push towards "right to work" laws, which allow union members to opt out of paying dues.
Check out the full survey results (story continues below)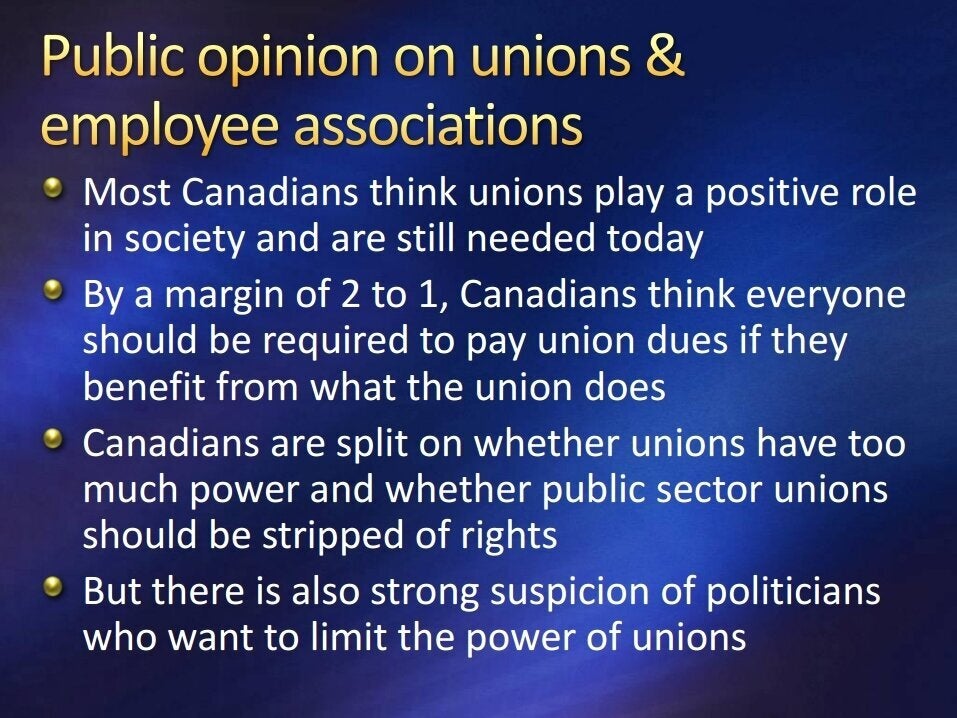 Canadians' Attitudes On Unions (2013)
But when it comes to unions' influence on Canada, public opinion is split. Some 45 per cent of respondents said unions have too much influence over government and business, with around 35 per cent disagreeing.
A recent Conference Board of Canada report warned that 2014 could be a year of labour strife in Canada. The report noted that half a million public sector workers will be involved in collective bargaining next year.
The Tories' changes give the government greater control over which public sector workers can and can't strike, and gives them more influence over arbitrators, to ensure their decisions line up with government objectives.
The Harris/Decima poll found 42 per cent of Canadians say the government should not be allowed to impose contracts on public sector workers. Forty per cent say the government should have that right.
The poll was carried out by telephone and sampled 2,000 Canadians between Nov. 7 and Nov. 18, 2013. It's considered accurate within 2.2 percentage points, 19 times out of 20.