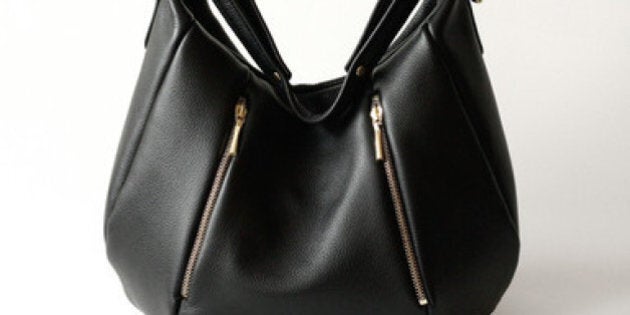 If you've ever put on a necklace, hat, purse or scarf and thought, "This completely transforms my outfit," you've probably learned to appreciate the power of accessories.
Accessories have traditionally played second fiddle to clothing but how unfair is that? Luckily, the rise of the arm party (thanks Leandra!), statement jewelry and "it" bags have ensured they get their well deserved moment in the sun.
In Canada, we have a growing crop of talented homegrown designers who make sure we're always decked out in outstanding jewelry, well-crafted handbags and wonderfully unique hair accessories.
Here are just a few of our favourite Canadian accessories designers you need to know:
Jon de Porter is passionate about making high quality jewelry with reasonable price points. If you've ever been hesitant to wear pearls, de Porter's collection will prove that they aren't just for first ladies and Julia Child. The Montreal-born and Toronto-based designer's classic pieces can be found in all their glittery glory at Kleinfeld Hudson's Bay.
One look at Opelle's sleek leather handbags and you'll be a lifelong convert. Each of their bags are crafted in small batches and overseen by Opelle's designer, Toronto native Amy Malcolm. Opelle's collection also includes sophisticated "grownup" backpacks, clutches, totes and this adorable little bucket bag we're currently coveting.
Designer Scott Irvine is the handsome face behind Canadian accessories brand, Brave Leather. Irvine spent the better part of Brave's fledgling years hawking his leather goods on the street, but those days are long gone. Today, Brave sells belts, bags and leather jewelry for men and women in dozens of retailers across Canada. Their designs are modern and edgy without entering into overly trendy territory -- a recipe for a lasting investment piece.
Canadian shoe designers are virtual unicorns. Luckily, we have Abel Muñoz. The Canadian footwear designer flies under the radar while producing practical, stylish footwear for women. His designs mirror Italian classics with Muñoz's own personal twist we've grown to love.
Chances are you don't know Morgan Mallett (yet). You might not even know the Vancouver-based designer's jewelry label, Design + Conquer. If you're looking for something totally outside the box, Design + Conquer might be just what you've been searching for. Mallett's jewelry has an interesting dichotomy, reminiscent of the '80s but also decidedly futuristic.
WANT Les Essentiels de la Vie
A name like WANT Les Essentiels de la Vie better deliver the goods and indeed they do. Designers Byron and Dexter Peart offer functional high quality travel accessories with Scandinavia's signature minimalist aesthetic in mind. Take a quick peek at their e-commerce website and you may as well surrender your credit card. Be prepared to spend a little more than a couple hundred dollars for Grade A quality leather and master craftsmanship.
Jewellery by Karen McFarlane
Karen McFarlane takes costume jewelry to a whole new level with her line, Jewellery by Karen McFarlane. If you've grown tired of your run-of-the-mill statement necklaces, you'll be glad of this introduction. The Ontario-based designer creates Oscar worthy costume pieces ranging from cocktail rings, chandelier earrings and Victorian style collar necklaces like you've never seen before.
Bridal accessories are Erin Fitzpatrick's bread and butter. The Toronto-based accessories designer caters to the modern bride with ultra feminine headpieces and bridal belts handmade by the designer.
It may be March but Canadians know better than to declare winter officially over. Gloves are still a necessity and we couldn't think of a better place to find a quality pair than Canadian label Quill & Tine. Designers Richard Choo and Simon Ip even created a line of touchscreen-friendly gloves because even winter can't halt our smartphone dependency.
Headmistress founder Jill Wood has been satisfying vintage lovers and fans of boho chic for years. Her quaint floral crowns used to be her signature but the brand has grown significantly, now offering hats, sun visors, vintage fur, bridal accessories and belts.