Companies headquartered in Canada are the second-most trusted in the world, behind only companies headquartered in Sweden, according to a survey from public relations firm Edelman.
Businesses from countries known for their economic prowess (Germany, Switzerland, Japan) topped the list, while businesses from developing countries (China, Russia, Brazil) ranked near the bottom.
Seventy-five per cent of respondents said they trust Canadian businesses, compared to 62 per cent who expressed faith in U.S. businesses and just 31 per cent who said they trusted businesses from Mexico, which bottomed out the list.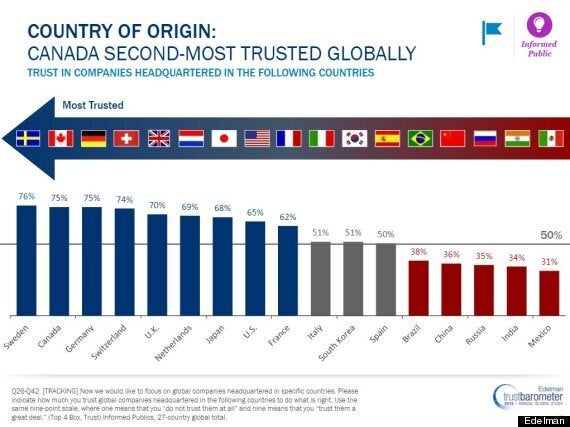 Overall, the world has less faith in its businesses today than it did a year ago, Edelman said in a report.
"For the first time since the end of the Great Recession, trust in business faltered in the last year, signaling the finale of an era of recovery for business," the report said.
The number of "truster" countries -- where a majority of people express faith in business, government, the media and NGOs -- reached a record low in the annual survey. Only six of the 27 countries surveyed counted among the "trusters."
Canada was a "truster" nation until recently, with the number of people expressing faith in the country's institutions falling below 50 per cent in the latest survey.
Only 47 per cent of Canadian respondents said they trust business, down 15 percentage points from the previous year's survey.
Those are "some of the lowest levels ever seen in this country," Edelman said in a statement. Canada saw the largest drop in trust in business of any of the 27 countries surveyed.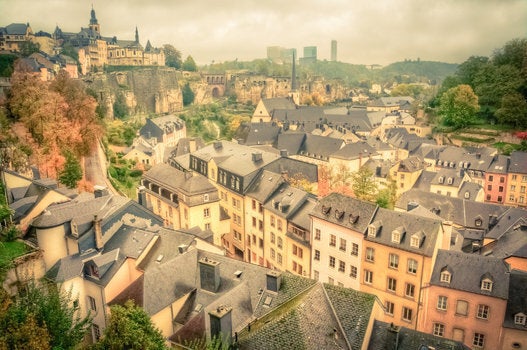 World's Most Competitive Countries, 2015