Is there anything better than a witty family Halloween costume or photos of cute kids grinning in their getups? Yes: celebrity versions of these things.
And this year, notable and famous Canadians and their kids rocked their Halloween costumes, and posted them online for all to see. Bless.
Here are some of our favourites.
The Mulroney Twins
John and Brian Mulroney's toothy grins stole the world's hearts when they were pageboys at Prince Harry and Meghan Markle's wedding in May. Ben and Jessica Mulroney's twins — grandsons of former prime minister Brian Mulroney and kids of Markle's best friend — insisted on dressing as Fortnite characters for Halloween, according to Jessica Mulroney's Instagram post.
Just like every other kid.
Jessi Cruickshank
We believe every costume is adorable and there are no winners when it comes to Halloween, but this costume is hands down the winner of Halloween. Canadian television personality Jessi Cruickshank's "Seinfeld" family Halloween costume deserves all the applause. Her twins Rio and Diego are twinning as beloved characters Jerry (omg that ruffled shirt) and George.
Céline Dion
Okay, so they're just wearing goofy teeth and not dressed up per se, but we love seeing silly pics of Canadian songstress Céline Dion with her sons, so we had to include this one. "Don't eat too much candy, it's not good for your teeth!" Dion jokes in her Instagram post.
Watch: Celebrity's kids cutest Halloween costumes. Story continues below video.
Prime Minister Justin Trudeau
Once again, the Canadian Prime Minister's Halloween costume didn't disappoint. Justin Trudeau was dressed as a detective, his wife Sophie Grégoire Trudeau was a zombie bride, nine-year-old Ella-Grace dressed up as a unicorn, her brother Xavier, 11, wore a scary mask, and little Hadrien was a knight (under his snowsuit, of course #CanadianProblems).
Jason Priestley
The actor and director best known for his role as Brandon Walsh on "Beverly Hills, 90210" posted a pic with his daughter Ava, who appears to be dressed as a zombie. We're ... not quite sure what Priestley's costume is, but his wife Naomi has similar makeup on her Instagram, where she calls herself the "Crown Princess of Unicornia." So we'll go ahead and assume we're in the presence of royalty.
Jillian Harris
The detail on this family costume by Jillian Harris, HGTV's host of "Love it Or List it Vancouver" (and a former "Bachelorette"), is astounding. Harris, along with her two young children Leo and Annie, and fiance Justin Pasutto, are a picture-perfect version of "Alice in Wonderland." Even the dog is in on it.
Jacob Tremblay
The child actor blew audiences away with his performances in movies "Wonder" and "Room," and he makes a pretty convincing Star-Lord, too.
The Rock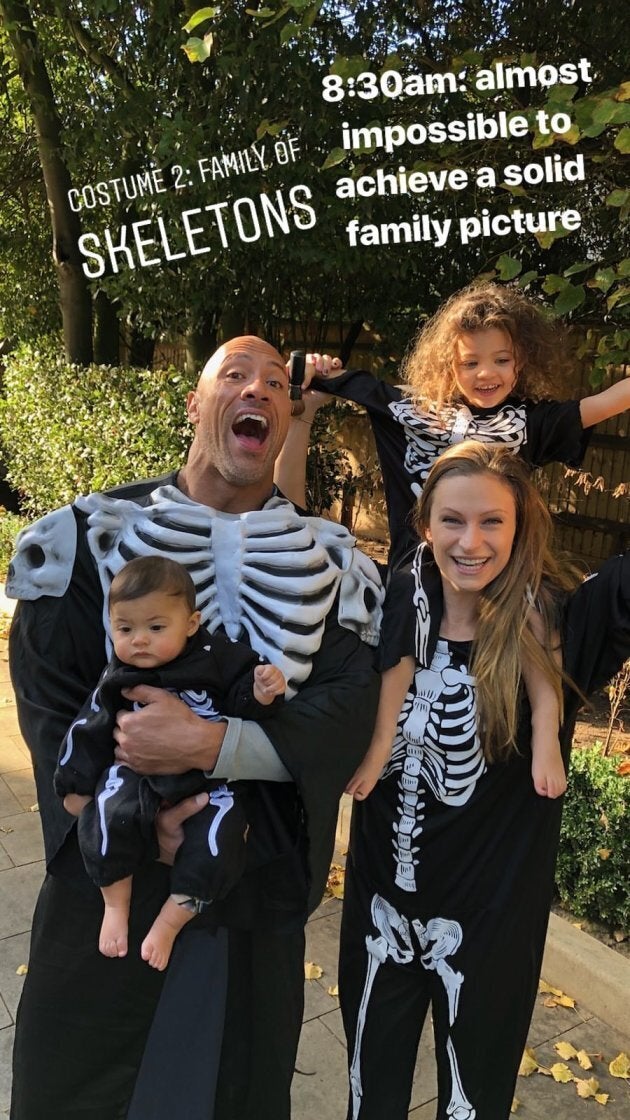 Caroline Ouellette
Little Liv Chu-Ouellette was born into hockey royalty, since her moms are Olympic legends — and former competitors — Caroline Ouellette and Julie Chu. Ouellette had to spend Halloween away from her family this year, but posted this adorable photo of Chu and Liv.