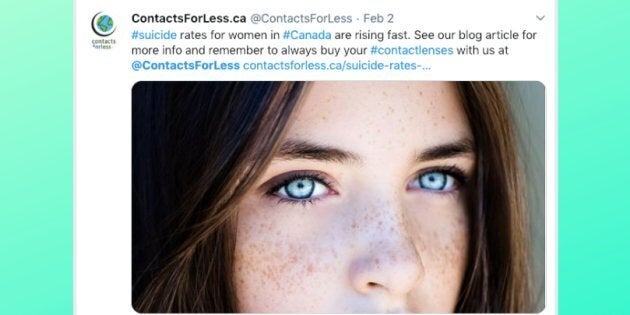 An "awful" tweet that linked rising suicide rates among women and a Canadian company's contact lens products has been followed up with a "very irresponsible" response, say social media experts.
Written for the Twitter account of Contacts For Less, located in New Westminster, B.C., the first tweet dated Feb. 2 reads, "#suicide rates for women in #Canada are rising fast. See our blog article for more info and remember to always buy your #contactlenses with us at @ContactsForLess" and includes a link to their website.
It was also retweeted by the company, and then deleted shortly after HuffPost Canada requested a comment, and following backlash online.
A second tweet on the company's Twitter account, also deleted shortly after, said, "It is a sad day when other contact lens companies who give nothing back and make millions of dollars in profit are unscathed, but we donate our money to prevent suicide and are attacked. Only on Twitter do you see such craziness."
Several of the people who criticized Contacts For Less for their insensitivity were blocked, including HuffPost Canada.
"I find this lack of empathy to anyone who was offended very irresponsible. They seem to have very little understanding of the issue and no regard for how personal this issue is for some people," said Kelly Farrell, director of Teach Me Social, which helps small businesses build an online presence.
"To brazenly say in a tweet that people should buy contacts from brand x just because they donate to a specific cause tells me that they have no respect for their followers. Followers on social expect to be wooed, not sold to. It's the basis of all social media marketing these days."
When reached for comment on Monday, a Contacts For Less employee acknowledged that while the tweet was poorly written, it's up to Twitter users to find out more about the company's message.
"The whole thing about it is they probably don't understand what our mission is and why we're doing it," said a customer service employee who identified herself as Valerie. She said Twitter users could learn more about the company's message by reading their blog, not linked in the tweet.
"I get the message wasn't written properly. Of course it's going to come off as very odd on social media."
The reason for the tweet is that Contacts For Less is trying to raise awareness about suicide rates, anti-bullying and how these issues impact women, said Valerie.
A single tweet can make the difference between someone asking for help or suffering alone, said Ryerson University psychology Prof. Gavin Adamson, who specializes in social media.
"That's just awful," Adamson said in an email about the tweet. "It isn't just a matter of being politically correct. Writing sensitively about mental illness can make the difference for some people seeking out services or not, between treatment, or not, or recovery, or not.
"Where suicide is involved we should be especially mindful that some evidence suggests that some messages may cause cantagion. In other words, they may motivate acting on suicidal thoughts."
Nobody else from Contacts For Less has returned HuffPost's requests for comment.
Contacts for Less is an online company that sells contact lenses at a discounted price and donates some of its profits to charitable organizations. The Canadian Association for Suicide Prevention is featured this month, according to Contacts For Less's website.
Before the tweet was deleted, Twitter users had plenty to say about it, with 197 comments and far less tweets or likes.
this is a horrible choice for an ad campaign. what's next? "we must not forget the horrors of the holocaust. oh, and please buy our contact lenses"

— Steve Ricketts (@SteveRickettsSP) February 4, 2019
Adamson said while he applauds Contacts For Less's efforts in other messaging surrounding mental health, the tweet gets an F grade.
Other Twitter users have made big blunders in recent months, including Ontario Chamber of Commerce president Rocco Rossi, who on New Year's Eve tweeted he was celebrating the "1-percenter way." The tweet came just before the now-cancelled minimum wage hike was set to kick in.
Rossi later apologized and deleted the tweet.
Over the weekend Liberal MP Adam Vaughan faced criticism when he tweeted people should "whack" Premier Doug Ford, which he said was in reference to the game whack-a-mole. He later apologized.
This story has been updated Tuesday to include recent tweets by Contacts For Less, and other users, and comment from Kelly Farrell.
Watch these other scandals that have erupted online