It expressed deep concern about the number of condos still under construction in a number of Canadian cities.
This dashboard from the RBC report shows warning signs right across the board (look at the bottom row):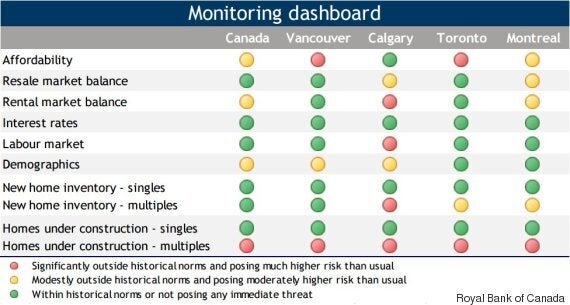 The bank is mainly concerned that condos are being built without being sold, and therefore presenting the risk of a housing correction.
It found high levels of condo construction right across the country.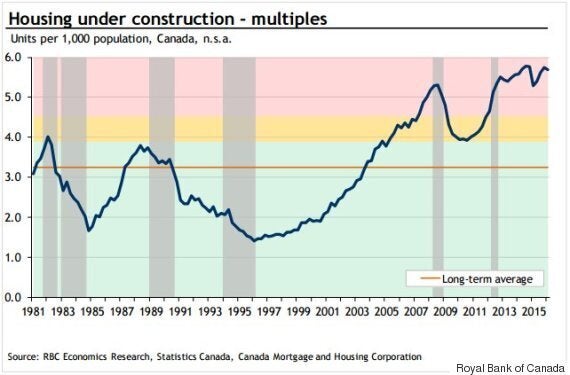 The graph above shows that Canada had 5.7 multi-unit dwellings being built per 1,000 people in the first quarter of 2016. This was just off an all-time high of 5.8 units per 1,000 people that was hit in 2014.
The "high risk zone" is defined as 4.5 units or more.
In the report, RBC economists Craig Wright and Robert Hogue acknowledged that new condos are coming about as a result of policy changes to limit urban sprawl.
But they also said the prospect of several condo completions in various cities still presents "above-average absorption risks" — meaning they could drag down the housing market if no one buys them.
Toronto was particularly worrying: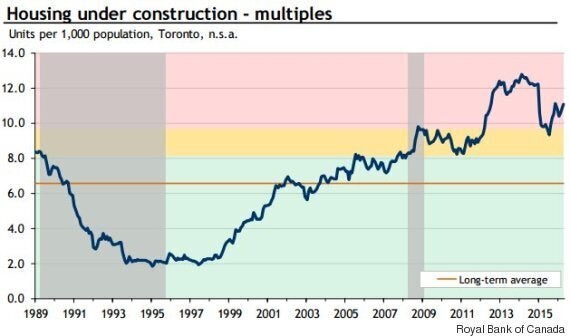 While the 6ix's real estate market has, so far, been able to absorb all the new units being built, there is still a risk of too many being available at one time.
Flooding the market with unsold units could mean that property values drop as a result, RBC said.
But Toronto wasn't the only city that saw concerning condo construction trends. Vancouver had them too: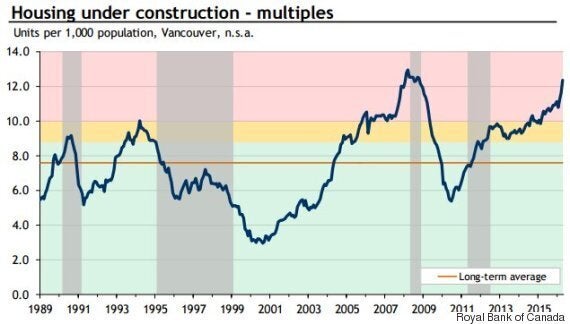 RBC noted that condo construction in Vancouver rose to historically high levels in 2015, "signalling greater-than-usual risks to the future balance of the market."
Montreal also had economists worried: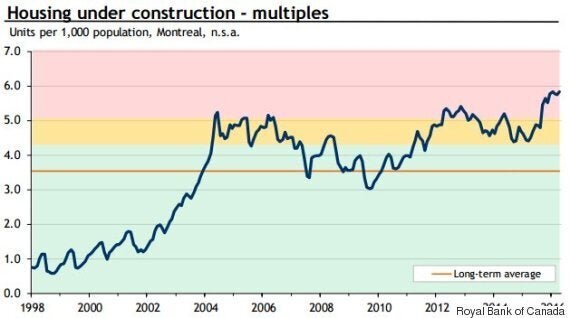 Developers kept building condos in the city last year despite a surplus of units already being available, RBC said.
"This resulted in the number of such units currently under construction rising to decades-high levels in recent months," the report reads.
"The main concern is that the already well supplied condo market may struggle to absorb future increases of completed units."
RBC isn't the only organization that has presented concerning statistics regarding the housing market recently.
Sales activity in Toronto and Vancouver may have "topped out," Canadian Real Estate Association (CREA) president Cliff Iverson said earlier this month.
Sales didn't grow in Toronto at all in April after dropping 1.8 per cent in March.
They were also down one per cent in Vancouver, after a drop of 0.3 per cent the previous month.