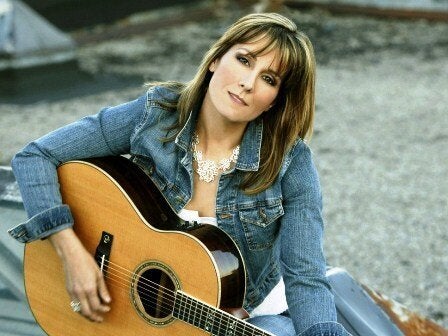 Author Joan Kelley and Canadian country superstar Michelle Wright have something in common: in the midst of busy lives in the public eye, both women volunteer with World Vision Canada. Joan's recent conversation with Michelle sheds light on many aspects of the world renowned singer-songwriter's life, including her deep love for children overseas in desperate need.
JK: You were born in small town Ontario. How did this shape the person you have become?
MW: I'm a little uncomfortable talking about myself and the person I have become. But I would say that being raised on the farm in small-town Ontario taught me a work ethic that has been very important in this career that I have chosen. Focus and hard work are essential.
JK: When you were a kid, did you dream about the huge international success that you now enjoy?
MW: Like most kids, I would stand in front of the mirror singing into my hairbrush and pretending I was a singing star. I probably started dreaming the dream after I spent a few years on the road playing the clubs six nights a week, sorting out if it was something that I really wanted to do and watching to see if people responded to how I sang. It seemed that I was on the right path because one thing would lead to another. I started to dream the big dream and imagine that anything was possible. Many nights when I would be playing to an empty club, I would imagine that there were thousands of people there. There is power in seeing it and believing it.
JK: Your parents were both country performers. Did they encourage you to become a performer?
MW: My mother and father separated when I was very young, so my father was not involved. But my mother, who was also a country singer on a local level, was very supportive. She lent me the money to buy my first sound system, and the van which the band and I traveled in. We slept on the speakers in the back going from town to town for several years. My mother also helped me find the money to record my first album. I don't know what would have happened without her love and support.
JK: Currently, you live in Tennessee. How often do you get back to Canada and what do you like to do when you come home?
MW: I get home several times a year. Performing in Canada is always so great because the fans are fantastic. Canada has been very good to me. I wouldn't have survived in this business without the support of my country. I also cherish the time I get to spend with my family when I come home. I have a very close, loving family.
JK: Around the world, what is your favorite place to perform?
JK: Can we talk about World Vision? What is your involvement and how did that come about?
MW: I am very involved in the Child Sponsorship program. My first mission with World Vision was to Africa. When you see first-hand the challenges children face in developing countries, it will change you forever. I knew I had to figure out a way to help somehow and World Vision has given me that opportunity.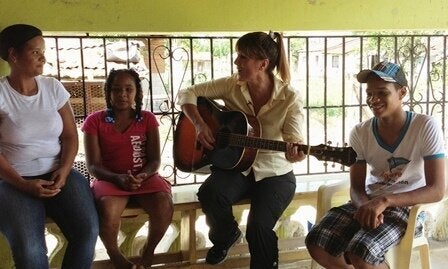 JK: You've travelled with World Vision to remote areas in Zambia and Honduras, and you sponsor children from both countries. What is it like to actually know people from the communities where your sponsored children live?
MW: My husband and I have sponsored children that I met while there. I wanted those children that I held in arms to know that I did not forget them when I returned home.
JK: Are there some stories you'd like to share about people you've met while traveling with World Vision?
MW: I will always remember the grandmother that I met when I was in Africa. She and her grandchildren were starving but when she stood up to greet me, I knew that I had just met the strongest women I had ever known. Every day, she had to get up and figure out a way to find food for her grandchildren. How she even got out of bed is beyond me. Of course she didn't have a bed, just a mat on the ground inside her hut. It absolutely broke my heart to see the struggle that was her reality every day. I knew she didn't need my pity, she just needed some help.
JK: You have been recognized for other charity work that you do, including an award for international work on behalf of Special Olympics, fundraising efforts for the hospital in Chatham Ontario where you were born, flood relief, supporting food banks and more. Do you think people in the public eye have a responsibility to lead by example and show that individuals can make a difference?
MW: I'm not sure that I feel that others have that responsibility but I do feel that I have a responsibility. It's important to find the balance between taking care of your own needs while also making sure that as a human being on this earth, you are also helping those that are less fortunate then you. I know that without a doubt, simply reaching out and helping when and where you will make a real difference in someone's life.
JK: Getting back to music, what can we look forward to hearing from you next?
MW: I'm always writing and looking for songs for my next album. That's what I do. I love to make music.
JK: As far as charity what is the next thing you will be supporting?
MW: I look forward to a continuing my work with World Vision. I believe in what they're doing.
JK: A lot of musicians look to you as a mentor. Any advice for up and coming artists?
MW: I could write a book about that, or I could simply say "Get out there and find a way to play music, make music, make connections, or build a team around you and just keeping doing it. Something is either going to happen or it isn't. If something starts to happen then you take the next step and so on and don't forget to have fun."
JK: From all of your fans, including me: thank you for sharing with us. Keep up the great work!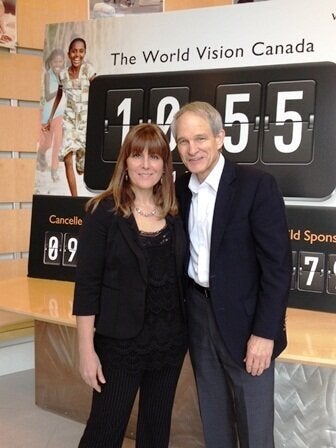 Michelle with World Vision Canada President and CEO Dave Toycen.