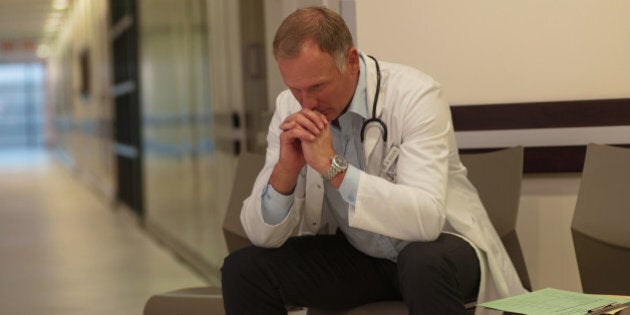 Is it helpful to patients and families if hospitals and clinicians apologize when they make a serious error that leads to injury or death? That idea, which to most of us would have a pretty obvious answer, was explored the other day on CBC's The Current. There is considerable literature supporting the apology concept when things go wrong in healthcare, and it has been extensively adopted in some European countries, where it has been linked to fewer malpractice lawsuits. But in Canada, the idea is about as far away from being widely accepted as free parking is at hospitals.
Patient Protection Canada has heard from families across the country and beyond about their horrible hospital experiences. Almost none ever received an apology. That cold, hard reality is backed up by my own experience involving the lengthy hospitalization of my elderly mother a few years ago.
At the large teaching hospital in Toronto where she spent some three months -- mostly in intensive care -- negligence soon led to her developing ventilator-associated pneumonia. In the hospital's major trauma unit, where the nurse-patient ratio is one-to-one, she was left lying flat on her back while in a coma and on life support. When I discovered her, with no nurse in sight, pools of fluid were overflowing from her mouth and her gown and bedding were completely soaked. If that was not bad enough, a few days later the hospital administered a dangerous combination of Seroquel (a drug with a known connection to sudden cardiac arrest) and an opioid to put her into a deep sedated state. Within two hours, she stopped breathing and suffered a cardiac arrest.
Fortunately, she was revived, which would never have occurred had we caved into the hospital's strong pressure to sign a do-not-resuscitate (DNR) order only days before. The brain damage caused by the cardiac arrest left my mother permanently disabled.
Abuses of DNR orders by medical staff have featured prominently in family experiences. The consequences of poorly informed, medically imposed or hurried decisions can be irrevocable. That's why, in 2013, Patient Protection Canada called for changes in the law to govern the process by which DNR orders are typically obtained. But even compliance with existing laws might have prevented the tragic death in 2008 of Douglas DeGuerre at Sunnybrook Health Sciences Centre, Canada's largest teaching hospital.
Doctors there illegally imposed a DNR order against the family's stated wishes and did nothing to intervene when Mr. DeGuerre suffered a cardiac arrest. Their actions drew the wrath of Ontario's Health Professions Appeal and Review Board. In 2013, the Supreme Court of Canada rejected the claims of doctors at Sunnybrook that they had the right to overrule family wishes and withhold life support measures in the case of Hassan Rasouli.
After my mother's cardiac arrest, more incidents followed, each one taking her to the brink of death again. On a couple of occasions, only the intervention of her family prevented catastrophe, such as when nursing staff in the cardiac intensive care unit ignored loud alarms from the monitor that showed her vital signs plunging. Her nurse had gone off to surf the Internet for free grocery coupons, while the family was left to frantically find a doctor who immediately issued orders to stabilize her.
Despite raising a number of questions and concerns about these and other matters, and never even hinting at legal action, no apology was ever forthcoming from this major hospital.
When she was transferred to a smaller hospital closer to her home in Muskoka, another three months of utterly incompetent care left my mother severely malnourished with painful pressure ulcers that were never reported as required. Life-threatening errors were constantly made with her medication. We discovered that an assistant in the hospital's pharmacy was dispensing medication without any double-checking by a pharmacist, in breach of professional protocols for patient safety.
Basic procedures to prevent aspiration pneumonia were repeatedly ignored, which soon left my mother struggling with that life-threatening condition.
We were told on a daily basis that my mother's demise was imminent. The hospital almost made that a certainty with the botched care she was receiving, which one nurse supervisor admitted, in a rare moment of candor, would not have occurred if she had been the mother of a prominent figure. Two-level care in Canada? Many who have experienced the healthcare system wonder if that has not been the reality for some time.
Despite all these breakdowns being documented in my mother's medical chart, which we had to pay hundreds of dollars to obtain, and after years of questions to get to the bottom of what happened, the hospital's CEO would not recognize that even a single mistake was made and insisted instead that all care was "appropriate."
And astonishingly, even against the backdrop of these incomprehensible failures, medical records reveal a senior nurse complaining that the family's refusal to consent to a DNR order was one of the reasons for the delay in freeing up my mother's hospital bed.
A hospital that refuses to acknowledge and learn from its mistakes is one where no patient can be safe. When we told this hospital that its actions had left us with no alternative but to make the public aware of these shocking shortcomings in care and supervision, the board hired a large Toronto law firm. Not only did we not receive an apology, but we were slapped with a notice of legal action for defamation instead. It came from a $500-an-hour lawyer paid for with public healthcare dollars, no less. Only the intervention of the Canadian Civil Liberties Association dissuaded the hospital from proceeding to court. This was the first time ever that the CCLA had intervened in a hospital matter like this.
A healthcare system that can produce these kinds of perverse outcomes, and too often resorts to covering up the truth, presents an unacceptable risk to patients and families.
Where's the apology to Canadians for that? And what is being done about the culture that allows it to happen?