Spooked by the announcement of U.S. tariffs on Canadian lumber, currency traders are dumping the loonie, sending it down to its lowest point in 14 months.
The Canadian dollar shed more than a cent as news of the tariffs spread overnight. It was trading around 73.5 cents U.S. at 11 a.m. ET, its lowest level since February, 2016.
The Trump administration announced on Monday the first batch of duties on Canadian lumber, averaging 20 per cent. The U.S. International Trade Commission will have to rule on the tariff, something that may not happen until 2018. But in the meantime, U.S. customs will collect cash deposits from Canadian lumber exporters.
"It's likely that the reaction today is on fear that the lumber duties are the tip of the iceberg, showing that despite cozy talk between Trudeau and Trump, the U.S. is willing to flex its muscles to show a protectionist 'win,'" wrote CIBC economist Avery Shenfeld.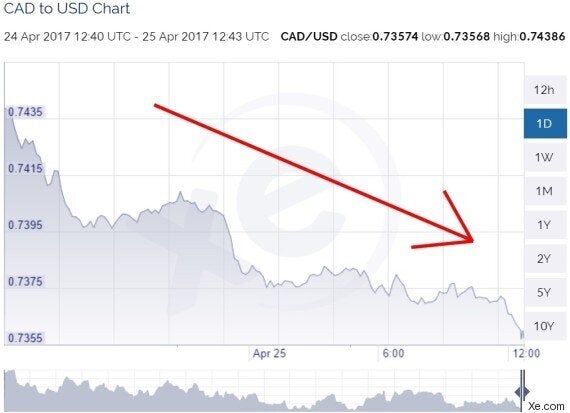 The tariffs did not come entirely as a surprise; in fact, lumber producers may have priced in the lumber duties in advance. Bank of Montreal economist Alex Koustas noted that Canadian lumber prices jumped 25 per cent in February "as Canadian producers worked through the mental math and established de-facto tariff pricing."
That may help explain why the shares of Canadian lumber producers affected by the tariff producers' shares were up on Tuesday.
Shares of Western-based Canfor rose 9.46 per cent, West Fraser 8.5 per cent, two per cent and Norbord 1.3 per cent. Quebec-based producer Resolute (TSX:RFP) was flat while Tembec (TSX:TMB) was down 1.67 per cent.
Hamir Patel of CIBC World Markets anticipated that most Canadian lumber companies would get a boost because the duties were not very punitive as some had feared. They were in line with estimates and what was initially imposed in 2001.
Koustas noted that Canadian lumber accounts for 30 per cent of U.S. lumber demand, "meaning consumers (voters) will have to pick up the tab on any duties for some time."
While the tariff announcement sent a shock through the loonie, most economists agree it will be the outcome of upcoming NAFTA talks that will ultimately determine the Canada-U.S. trade relationship.
"The U.S. has played tough on softwood before, so this is not a new file for Canada-U.S. trade frictions," Shenfeld wrote. "More telling will be how the broader NAFTA talks go, and in the immediate future, a Trump tax reform proposal due this week that we expect will reject a border adjustment tax."
— With a file from The Canadian Press
Popular in the Community