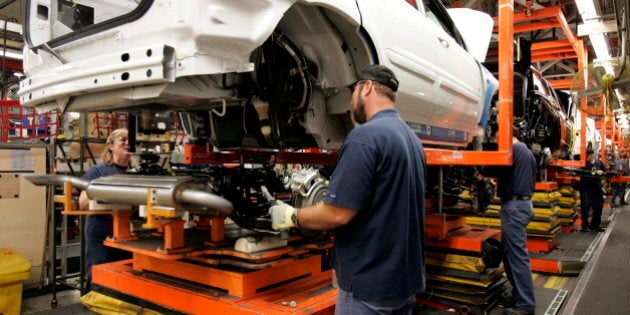 Canada's manufacturing sector has finally recovered from the financial crisis and recession of 2008-09, and all it took was a collapse in oil prices, and a significant reduction in the factory workforce.
Manufacturing sales reached $53.1 billion in January, Statistics Canada reports, up 2.3 per cent from the month before. That's an all-time record high, beating the last peak seen in July, 2008, says National Bank Financial economist Marc Pinsonneault.
"The depreciation of the Canadian dollar explains some of the recent gains. But volume sales were also strong, reaching a post-recession high," Pinsonneault noted.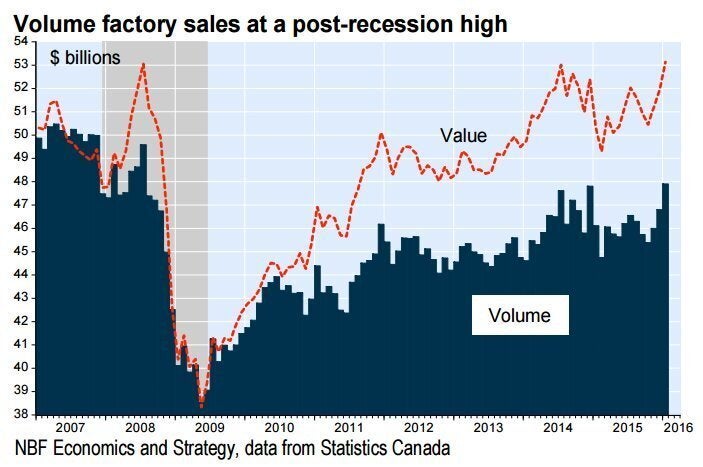 Economists had been predicting for some time that the collapse in oil prices, and the decline of the Canadian dollar that followed, would eventually be good news for Canada's long-struggling manufacturing exporters.
But there is one way in which Canadian manufacturing has not rebounded: Jobs. Canada's manufacturing sector employed 1.94 million people in July, 2008; when sales returned to that level this February, the sector employed only 1.73 million, a reduction of some 210,000 jobs, or nearly 11 per cent.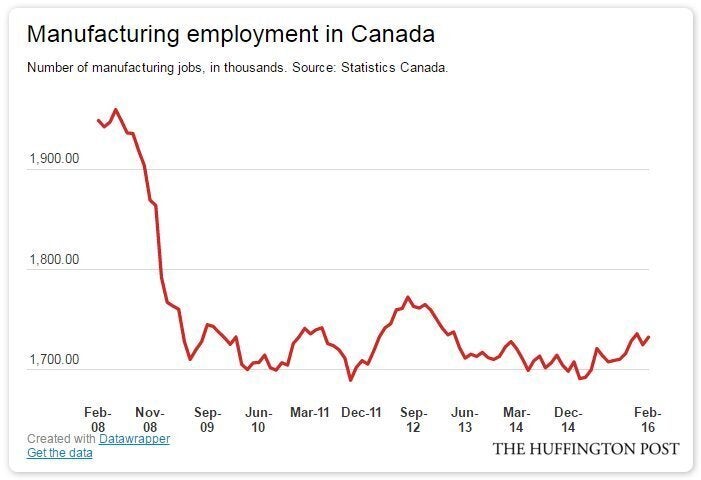 Still, with manufacturing now showing a solid rebound, economists are turning more optimistic on hiring and economic growth.
"If economic activity in Canada continues to stabilize, the late 2015-early 2016 increase in the unemployment rate should reverse over the remainder of this year," PNC FInancial economist Bill Adams wrote in a client note.
TD Bank economist Warren Kirkland says most of the upside from a falling loonie is yet to be seen. Ontario and B.C. will see the most benefit from the low dollar, but "other provinces should share in the spoils also."
Two provinces that won't share in the spoils are Alberta and Saskatchewan, which Kirkland says will experience "continued weakness" due to the oil downturn.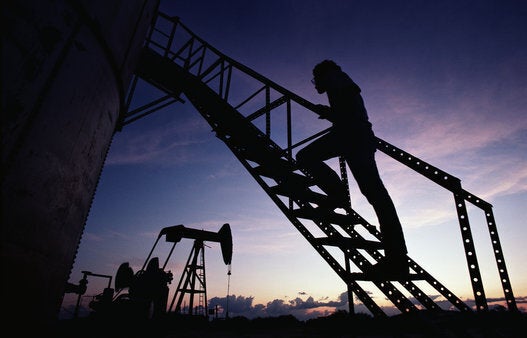 Wage Gains In Canada, By Industry (2015)