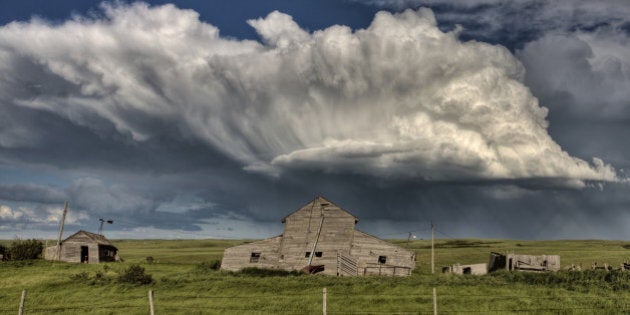 We have a romanticized idea of farm life and the farmer's markets we're exposed to are merely a novelty at best-- it is for the sake of simplifying the often times complex nature of running a farm and being a farmer in our current economical climate.
One of the voices of the concern come from Morris Gervais, a second generation farmer who runs Barrie Hill Farms
From 1968-1969, the farm started out growing tobacco. Then the Gervais family transitioned into fruits and vegetables completely, adding blueberry bushes and asparagus planting in the 1980s. In a joking and mildly self-deprecating manner, Morris adds "In the first 10 years, our farm was causing cancer, and now we're curing it."
During our visit, we spoke about the economics of asparagus.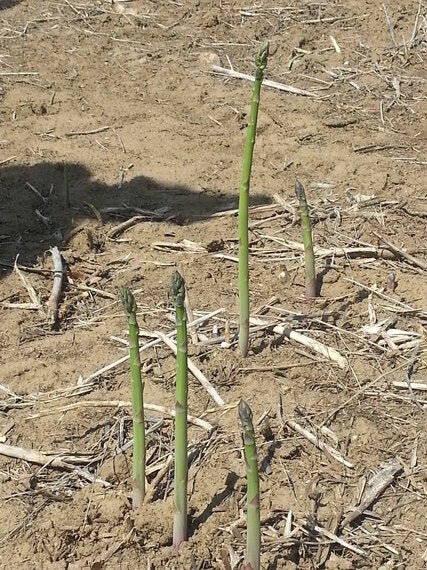 Two decades ago, Morris says 2000-4000 pounds of asparagus per acre was a great harvest for one season.
But in the late 90s, demand began to rise. Fortunately, in 1999, the University of Guelph developed and released a new seed strain called Guelph Millennium. It is all-male hybrid that is more tolerant to cold than other breeds. As a result, farmers could attain greater yields of asparagus. Today Morris harvests at least 6000-9000 pounds per acre in one day vs. half a season.
Ontario produces more asparagus than the rest of Canada combined, with 90 growers alone in the province; this amounts to 3500 acres worth of asparagus to harvest from. It is a $25 million dollar industry.
Due to asparagus farmers investing in this kind of research and breeding, initially, it was a success story.
But circumstances quickly changed.
In 1994, the North American Free Trade Agreement was enacted which gave Central and South American countries duty-free access to US markets for fruits and vegetables.
As a result of the Agreement, cheap food production and labour rose heavily -- causing many processing plants to close down in the U.S. and Canada. Gervais says high volume is easy to achieve in places like Peru because the climate there is consistently hot and dry. They water and harvest the crops for 6 weeks then they shut down irrigation.
By manipulating the water, they are able to have twice the production per acre of land. Combine this with cheap labour where the wage is $1-2/ hour and you're in business.
Meanwhile in Canada, the weather is always variable and crop growth ebbs and flows right along with the seasons, so production has to halt in the wintertime.
20 years ago, Morris never had to worry about this type of competition. While there's currently a demand for local Ontario products, he wonders how long will it be until people cannot pay what it takes to have local because the imported products are so much cheaper.
At this point, the response you typically hear is, "I support local because it's fresher and tastes better. It didn't travel far to get to my table." However, this belief is a fallacy. Morris says the competition can cut, chill, and ship overnight into US and Canadian market because they have the financial means -- they are 'big money' operations: high volume, fast production, low wages. Not only that, the produce can taste just as good, if not better. It's a stark, new reality.
While labour is cheap in countries like Mexico and Peru, it is the biggest production expensive for Gervasis. Despite advances in technology, asparagus is still hand cut and picked. Mechanization is difficult for this type of crop. The growth is variable; only those who know the signs of maturity, know which ones to harvest first. Ironically, his most seasoned employees are outsourced from Mexico via the Seasonal Agricultural Worker Program.
Morris explains, "I'll hire students-- but they leave within a few months; whereas for the Mexicans I hire, they consider it a lifelong career. For instance, Francisco has been with us since 1989; all of them set their lives aside for 6 months to work in Canada. With all of their earnings, they can put their children through college.
They know how to care for the crops, run farm operations, and work odd hours, if needed. Canadians would not want to do that -- they want a life outside of work... the ones who come back each year are reliable and dependable." And return they do, they're given a fair wage, health care benefits, prescription drugs, and inspected housing.
Although Morris is proud of the path he chooses to run his farm, he's worried that he will one day price himself out of the market.
I asked if Morris has a contingency plan should the cost of running his business become too great for him to continue. "Well, the next crop I would grow would be a row of houses." He then added, "The other alternative would be to sell the land and hope it doesn't get Greenbelted.
"There used to be support from the government but not in Ontario anymore. It would be great if they offered agricultural subsidies to assist with our operations considering they say they love local. But instead we're turned away and asked to innovate... you have to be really stubborn to stay in this business."
"The whole system known is built for fast production. But it's always been consumer driven. They must be the ones to demand local and only local food. But I don't have time for farmer's markets; if you want to support Ontario farmers like us, come directly to the source- our farms- for your produce."
Developing relationships with the people who grow our food is imperative; it will act as a strong catalyst to thrust these issues into the spotlight and help us find ways to keep Ontario farms alive and thriving.
Follow HuffPost Canada Blogs on Facebook