Canada Day is nearly upon us and as a result, we think it's necessary to go through some of the country's biggest fashion hits. From denim-on-denim to plaid flannels to We The North T-shirts, Canadians have been rocking unabashedly Canuck style for decades (#NeverChange).
Just like Canadian food and music, these iconic trends are very much ours. Loved and worn by Canadians throughout the years, here's a list of our favourite Canadian "uniforms" that we'll wear with pride.
1. The Canadian tuxedo
When Levi's designers heard the hotel didn't consider denim high-class enough, they created a custom-made denim tux for the famous singer and dubbed it the "Canadian tuxedo." Since then, this fashion statement has stuck with us, and we're not mad about it.
2. Roots sweats
If you're an '80s baby, you've probably spent your entire childhood living in these comfy sweats. Today, with the athleisure trend at its prime, not much has changed.
The Cooper Beaver — Roots' mascot — and the Roots name continue to be internationally recognized as one of Canada's iconic brands.
3. Varsity jackets
4. Hudson's Bay Point Blanket Coat
In 1922, the Hudson's Bay Company introduced the Point Blanket Coat. Although available in a multitude of patterns, the four-colour stripes remained the most popular, becoming universally identified as the "HBC coat" and recognized as a Canadian symbol throughout the 1960s.
Inspired by the iconic stripes, HBC introduced the "Hudson's Bay Company Collection" in 2009 — an aspirational lifestyle brand featuring home decor, fashion apparel and seasonal items.
5. Team Canada mittens
These maple leaf-emblazoned mittens became an instant bestseller for HBC after the nation watched Team Canada enter the 2010 Olympic Winter Games wearing the exact same red mitts. Since then, these mittens continue to be a must-have winter accessory. Go Team Canada!
6. Canada Goose jackets
There's only one way to survive a winter storm and that's with a Canada Goose jacket. Yup, this Canadian-made goose down jacket is internationally hyped for its ability to withstand extreme below-negative temperatures and sharp winds. And who can forget the brand's on-screen debut in the 2004 films "The Day After Tomorrow" and "National Treasure"?
7. Plaid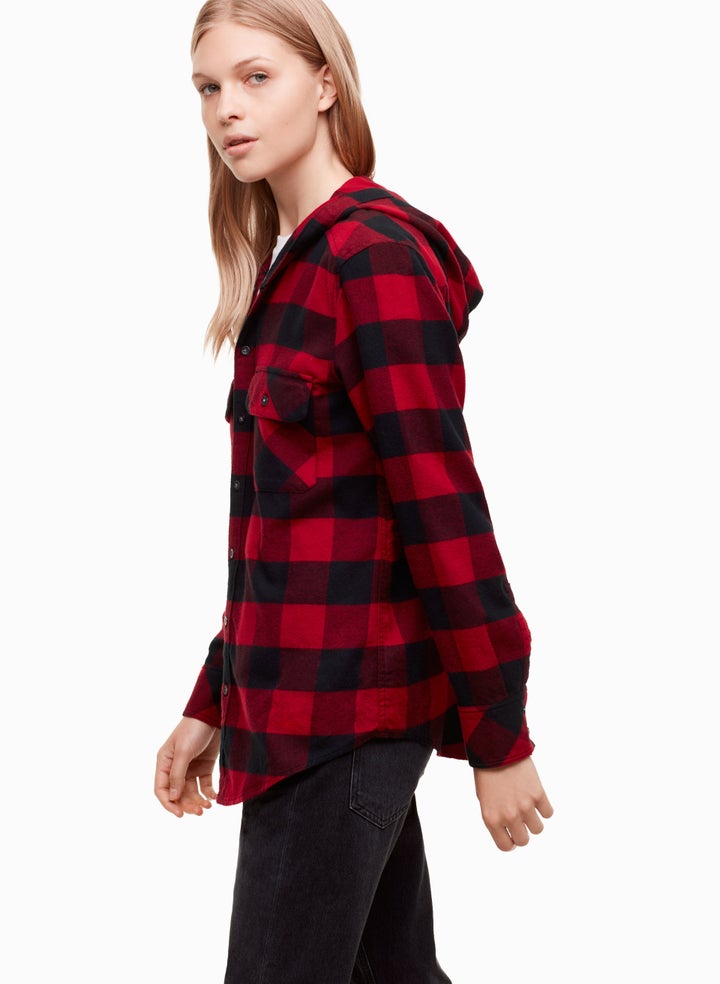 8. Pillow boots
Who can forget the era of the Cougar Pillow Boot? Right after the Canadian footwear brand launched these tan-coloured boots in 1974, they quickly became a Canadian staple. Despite its marshmallow-y appearance, these leather boots are known for their warmth and durability.
9. Hockey jersey
Whether you're team Maple Leafs, Canucks, Canadiens, Flames, Oilers, Jets or Senators, there's one thing that we can all agree on: hockey is our sport. Only in Canada is it socially acceptable to wear a hockey jersey at least once a week.
10. Toques
No need to worry about hat hair when you can just throw on a toque! Not only are these hats necessary for warmth during the colder months, but toques continue to be the holy grail of Canadian winter fashion.
11. Raptors T-shirts
Even though hockey is our thing, basketball is arguably the sport that truly brings this country together. In 2014, the Toronto Raptors launched their super successful "We The North" campaign, which is all about the team's national pride for being the only professional Canadian basketball team.
With new slogans like "North Over Everything," we expect to see a lot more fans repping the Raptors and the North every Canada Day.
Popular in the Community