The Canadian Forces are able to go to a foreign, hostile land like Afghanistan and realize unparalleled feats. In an environment described by DND as "volatile and challenging", the Canadian Forces' key achievements so far touch all spheres of activity: Training and mentoring, security, education, health, economic development, humanitarian assistance, governance, regional diplomacy. In another mission following the devastating 2010 quake in Haiti, our Canadian men and women in uniform provided search and rescue, medical care, humanitarian assistance, and security and engineering services to the devastated country.
Before this impressive list of accomplishments, one wonders: Is there anything our Canadian militarycan't do?
Um. Well. It turns out there is a challenge the military cannot meet. It's recruiting women and minorities right here at home.
There was a time when sought-after ranks of Canadian military were reserved for "pure" white men of European heritage. In 1939, recruits to the then-called Royal Canadian Navy had to be "of pure European descent and of the white race." The Royal Canadian Air Force demanded candidates who were "British subjects and of pure European descent." There was no structure or will to welcome Francophone recruits. French-Quebecers were given narrow roles confined to the troop level The "colour bar", as it was then called, left visible minorities who wanted to serve their country with a single option: the army reserves. As for women, they weren't barred unequivocally.
Through the years, the Canadian Forces have remained disproportionately white and male, even as our nation has accepted gender diversity, bilingualism and multiculturalism from coast to coast.
The idea to promote equal opportunity in the military took hold a number of years ago. A mandate was set to adopt Mulroney's Employment Equity initiatives as part of the Canadian Forces' effort to better reflect Canada's population and society. A show of sociocultural maturity, the Forces were to come full circle.
The percentage of new female recruits enrolled in basic training has fallen from 16 per cent to 13 per cent between 2008 and 2011.
The representation of visible minorities in the Canadian Forces hovers around the 3 per cent mark. The anemic increase of 1 per cent from 2008 to 2011 is quite embarrassing.
The number of aboriginals in the Canadian Forces has grown less than a quarter of a percent from 1.96 per cent in 2008 to 2.16 per cent 2011. You need a magnifying glass to see this "increase".
In a stunning admission of failure, the military has opted to point fingers. They claim the current goals are "unattainable". The National Post reveals that Canadian military officials will lower targets related to the number of women and visible minorities in uniform.
In a string of lame excuses, the defence department audit says the targets were calculated wrongly, that the targets were "imposed" on the Canadian Forces, that the goal set for the fairer sex "is unattainable without the imposition of significant measures."
Oddly, the calculations for recruiting Aboriginals were deemed "achievable" by defence officials. Is it because they are closer to meeting this particular recruitment objective?
Bunting to the UK and Australia's weak numbers, the Canadian Forces suggests setting new goals to match lesser-performing military role models. Looking at the successful diversified recruitment strategies of our American neighbours would further underscore the CF's uncharacteristic under-performance. Therefore, the Canadian military sidesteps those comparisons altogether.
CANADIAN FORCES: SCUTTLING AND RETREATING?
There's an old adage: "If at first you don't succeed, try to lower the bar so that you can pass it try, and try again."
By lowering the targets, the Canadian Forces are essentially giving up on including the majority of the people they claim to be defending. Women, visible minorities and Aboriginal Canadians are just as capable as are those from the "traditional" recruiting pool -- young, white men from rural communities, as Royal Military College professor Christian Leuprecht put it. Furthermore, as the responsibilities the Canadian Forces take on run the gamut and far exceed the stereotypical combat roles, there is no physical reason these target groups can't find a place in our forces.
The Canadian Forces that Canadians are so proud of don't scuttle and retreat on a promise. They re-evaluate their methods, review their course of action, and re-engage in the process with greater vigour and dedication.
UNTAPPED RECRUITMENT STRATEGY
The Canadian Forces have a proud history of successes. Its winning streak doesn't have to end now.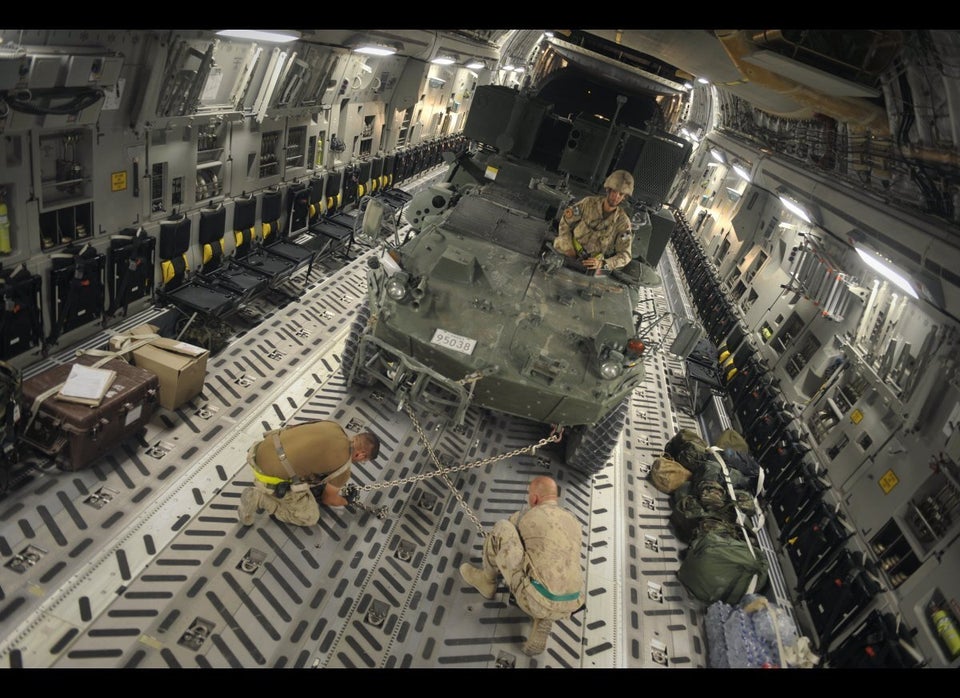 Canada's Biggest Military Deals