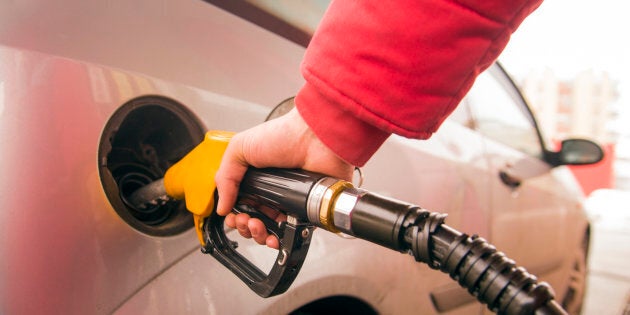 Canadians will experience the highest gas prices they've seen in years in 2018, according to a newly issued forecast, but the strong economy means demand for fuel will also hit a record high.
"We anticipate that consumers will see gas prices that will be higher than 2017 ... with a yearly average of $1.19 per litre, the highest since 2014," gas price comparison site GasBuddy says.
January will be the easiest month on households' gas budgets, with prices averaging $1.13 per litre nationally, while September is forecast to be the priciest month, at $1.24.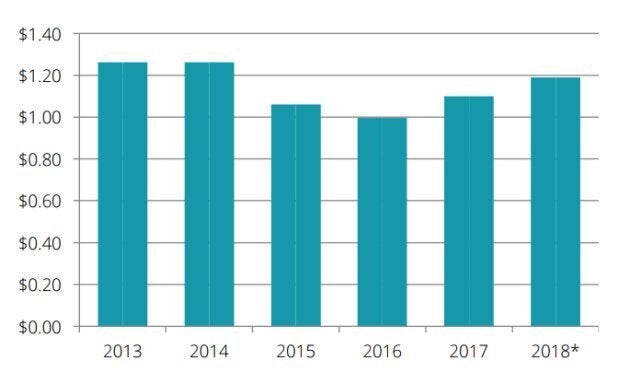 But as is always the case, prices will vary widely from market to market. Vancouver, Montreal and Victoria will have the highest costs, all above $1.38 per litre on average.
Charlottetown, Regina, Saskatoon and Winnipeg will see some of the lowest prices, all below $1.29 per litre on average.
"Circumstances beyond Canada's control, including a surging U.S. dollar versus a weaker loonie, increasing U.S. fuel demand and growing exports, will put a premium on what Canadians will pay at the pumps in 2018," GasBuddy's senior petroleum analyst, Dan McTeague, said in the forecast.
"We estimate pump prices will therefore rise an average of 5 cents a litre across the country."
The "primary factor" behind the increase is OPEC's November, 2016, decision to cut oil production, GasBuddy says.
"That decision curbed excess supply and began soaking up brimming global inventories of crude oil, at the same time boosting oil prices, which was the major reason for OPEC's decision."
And oil prices have been climbing. West Texas Intermediate, the benchmark for North American oil prices, started the year off trading at around the US$60-a-barrel mark, its highest level in two-and-a-half years.
GasBuddy notes that forecasts are calling for record-high oil demand around the world this year, with consumption exceeding 100 million barrels per day for the first time ever.
"Direct moves by governments to increase fuel taxes, as seen in California in November or carbon taxes introduced in Alberta and Ontario in 2017, also add to the prospect of higher prices for fuel in the year ahead," the report noted.
Adding to the pressure for Canadian drivers is the ability of U.S. oil refineries to export their product. The U.S. lifted a decades-long ban on oil exports in late 2015, and exports of petroleum products have soared since then, the GasBuddy report noted.
U.S. refineries now have the option of selling their oil outside the North American market, and that "reflects a new price challenge for Canadian drivers," the forecast said.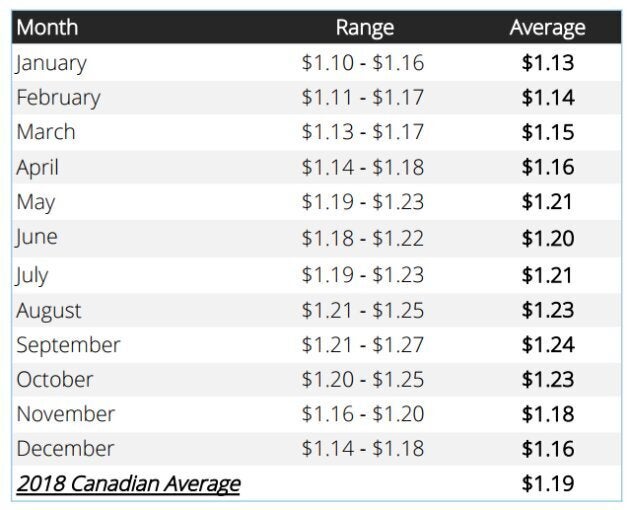 One thing that might help out Canadian motorists is record-high oil production in North America, GasBuddy notes. U.S. shale oil production is expected to hit a record 10.2 million barrels of oil per day, while Canada's oil production is expected to hit a record high of 4.2 million barrels.
That could "effectively neutralize" OPEC's plans to push oil prices even higher, GasBuddy said.
But higher gas prices are not entirely due to external factors. GasBuddy expects Canadian demand for gasoline to hit a record high this year.
"A stronger economy that affords motorists more disposable income matched with greater vehicle fuel efficiency will continue to incentivize Canadians to take to the roads and quite possibly lead to a fourth consecutive year of increasing demand for fuel," the report said.
Popular in the Community