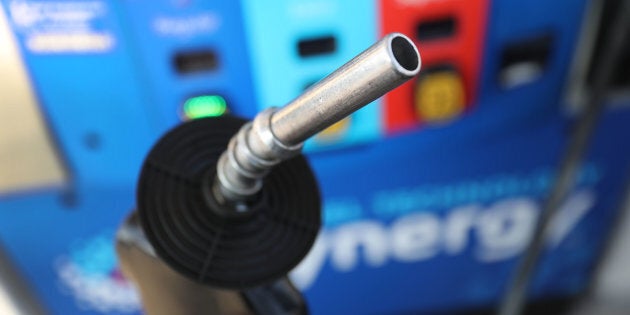 Canada's gas prices are likely to hit their highest levels in a decade this summer, according to a prominent industry analyst — and the situation could be made even worse if Alberta follows through on its threat to reduce oil supplies to British Columbia.
Analyst Dan McTeague of GasBuddy.com predicts gas prices will hit a 10-year high this year, thanks to a lower Canadian dollar and rising global oil prices.
McTeague notes oil prices are $16 a barrel higher than they were at this time last year, and he predicts prices will spike to above US$70 a barrel "at least for a while" this year.
West Texas Intermediate oil hit US$67 a barrel on Wednesday, its highest level since late 2014.
"The world is getting its oil fundamentals back in balance, and supply and demand are looking a lot closer," McTeague told HuffPost Canada.
Watch: Alberta calls out B.C. after Trans-Mountain pipeline expansion suspended
The average gas price nationwide on Wednesday was $1.282 cents per litre, according to GasBuddy, up 17.4 cents in a year.
Traditionally, "when oil prices have gone up, the loonie has always responded (by rising), so it provided a shield for fuel prices," McTeague said. "That's no longer the case."
He estimates that the loonie's decline over the past year has added an additional 14 cents per litre to the price of gasoline.
Alberta-BC oil war could have major fallout
McTeague said he "shudders at the thought" of what could happen if Alberta's government follows through on legislation to limit the amount of oil flowing to British Columbia.
The provinces have been at loggerheads over the planned and federally-approved expansion of the Trans-Mountain Pipeline, and the conflict ramped up this week when pipeline builder Kinder Morgan said it is suspending work on the expansion until May 31, and may cancel the project if it doesn't get regulatory clarity on the pipeline.
If Alberta slows oil shipments to B.C., "you'd be starting at $2 a litre" for gas in British Columbia, McTeague said, "if you can find gas, if you can find diesel."
The average gas price in B.C. was $1.41 per litre on Wednesday, though in recent weeks it had been selling at a record high above $1.50 per litre.
There would be "significant disruption" in the market, as the current existing Trans-Mountain pipeline supplies all of the gas and diesel needs for British Columbia's Lower Mainland, including Vancouver, McTeague said. Vancouver Island, as well as inland cities like Kamloops and Kelowna, would also face a gas crunch.
"There are no alternative sources and they don't have the facilities or the infrastructure" to get oil from other sources, McTeague said, adding he thinks B.C. has much more to lose in this scenario than Alberta.
The conflict could also lead to higher gas prices across Canada, McTeague said, because it would lead to a lower Canadian dollar, and that in turn would make global oil prices — and other commodities — more expensive for Canadians.
"Everyone would be affected by this, even those who don't drive," McTeague said.
Alberta's proposed legislation is expected to be debated next week.