Trump escalated his trade dispute with Canada, announcing Monday an initial duty of up to 24 per cent on Canadian softwood lumber, with more expected later this year.
The Canadian government's tactic? To highlight details of their friendly trade relations with Asian countries, instead.
They didn't stop there, releasing several other graphics outling just how much business is being done with China.
People following along on Twitter applauded the government for throwing a bit of shade Trump's way.
But it's not just big talk from the Canadian government.
On Tuesday, International Trade Minister Francois-Philippe Champagne was in Beijing with a coterie of Canadian softwood lumber industry players in his entourage. Well aware of the latest escalation in the dispute, he said his visit to China would help find much-needed new markets for Canadian wood.
"This is caused by a protectionist industry in the U.S.," Champagne said in an interview. "My answer to that is we are looking at all sorts of options to obviously support our industry."
Champagne said Canada's pitch is resonating in China because softwood is an environmentally friendly building material that can satisfy a need for more housing without increasing greenhouse gas emissions.
"There's an imperative in China to have more green building material. That's exactly what we're here for," he said, adding Canada and China are teaming up to battle one of the greatest challenges of our time: climate change.
"On the issue of softwood lumber, the prime minister refuted the baseless allegations by the U.S. Department of Commerce and the decision to impose unfair duties," the statement said. "The two leaders agreed on the importance of reaching a negotiated agreement, recognizing the integrated nature of the industry between Canada and the United States."
With files from The Canadian Press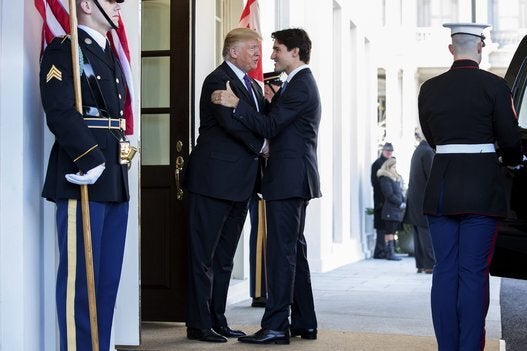 When Trudeau Met Trump