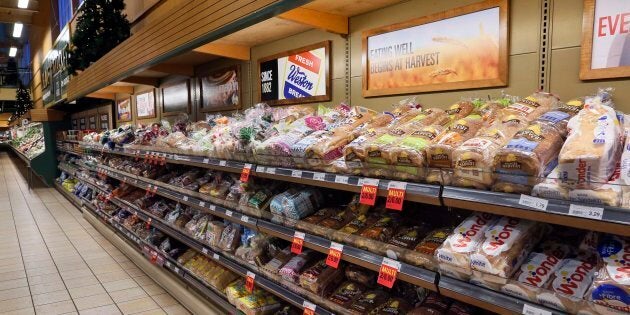 The way Canadians buy food is changing rapidly, and that could mean some hard times for the country's traditional food retailers.
"The bloodbath is here," wrote Sylvain Charlebois, dean of the faculty of management at Dalhousie University and a prominent expert on food retail, in an email to media this week.
"Despite posting decent financial results this year, top line sales have been quite a challenge for our grocers so far. Coupled with a somewhat weak food inflation rate, sales at major food retailers are tumbling faster than Niagara Falls."
According to Statistics Canada, sales at supermarkets and grocery stores dropped a hefty 3.1 per cent in May, the fourth decline in the past five months. (Those numbers include online sales, but only at traditional grocery retailers. Food sales at Amazon, for instance, would not be included.)
May's drop in retail "could be enough to force grocers to close almost 30 decent-sized stores and put nearly 2,000 people out of work," Charlebois wrote.
Shoppers are changing how they buy food, and an increasing number are ordering non-perishables online, "thanks to what is now known as the Amazon effect," Charlebois wrote.
"Canadians are deserting the old model and seeking something new, at a much faster rate than expected. ... This is what disruption looks like in food distribution."
But it's not just a shift to online shopping. Food sales at convenience stores have risen by 6 per cent in the past year, and specialty stores have seen food sales grow by more than 10 per cent, Charlebois noted.
"In other words, the major chains are seeing their customers flee as food demand is becoming more fragmented."
Grocery purveyors are reacting to the change. Wholesaler Costco announced this month it's launching grocery delivery in southern Ontario, with plans to expand to other parts of the country. Loblaw last year announced it's teaming up with Instacart, bringing grocery delivery to some of its food retail chains in Toronto and Vancouver.
The newly competitive grocery landscape has an upside for consumers (and a downside for retailers): low food price growth.
"Almost everything is now cheaper than it was in January" at grocery stores, Charlebois noted. "Of the more than 45 items in our typical food basket, half cost less than they did at the beginning of the year. Round steak, pork chops, bacon, chicken, pasta, and even eggs are all less expensive."
While that's good news for consumers, it's bad news for grocery stores, which "will need to continue to innovate and accept the fact that 'business as usual' in food distribution is strategically suicidal," Charlebois wrote.
"Canadians are deserting the old model and seeking something new, at a much faster rate than expected. ... This is what disruption looks like in food distribution."Sylvain Cherlebois, Dalhousie University
However, some food items have seen price spikes due to the tariffs Canada introduced on some U.S. imports, in retaliation for the Trump administration's tariffs on Canadian steel and aluminum.
"Tariff-stricken categories like ketchup and orange juice have seen prices go up in June by 4 per cent to 5 per cent," Charlebois wrote.
He says the effect of the food tariffs has already been felt, and there won't be much upward price pressure going forward.
"Retail prices won't change much as a result of current tariffs, but that may change if things escalate," he wrote in an email to HuffPost Canada.
Loblaws sees price pressure ahead
Not everyone agrees. Galen G. Weston, the CEO of Loblaw Companies Ltd., predicted this week that there will be further price pressure due to the tariffs.
"We see a very strong possibility of an accelerating retail price inflation in the market,'' he told analysts on a conference call Wednesday.
"We don't think it's going to be meaningful, you know, super significant ... but it certainly will be higher than what it is today.''
Loblaw recorded an 86 per cent decline in profits for the second quarter of this year, due to a number of unfavourable items including an acquisition expense at its Choice Properties division.
Net profit dropped to $50 million from $359 million a year earlier, the company said.
Same-store sales — a key measure of the health of a retailer's operations — rose 0.8 per cent. Same-store sales at its Shoppers Drug Mart locations were up 1.7 per cent.
— With files from The Canadian Press