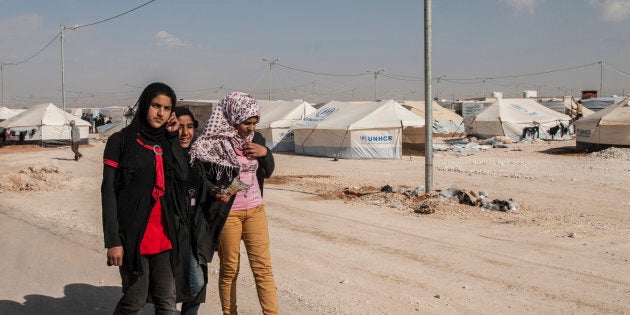 Prospects seem grim for the world's 22 million refugees.
The world is aware of the problem. What it lacks is solutions and the consensus to act on them. That's where Canada comes in. With little media fanfare, the World Refugee Council held its first meeting last week in Geneva. Created by a group of Canadians and chaired by one of the country's political heavyweights, former cabinet minister and statesman Lloyd Axworthy, the group is on the hunt for innovative solutions to the global refugee crisis.
Though inspired by a UN initiative, Canada is running the show outside of the international body.
"There's only so much that can be achieved within the UN system, and there's a real appetite for innovative thinking," says Carleton University professor James Milner, research advisor to the Council.
Among many ideas, the team will examine new ways to apply technology and engage the private sector to support refugees — like the Elevate Initiative. This program, supported by Canadian businessman Frank Giustra's Radcliffe Foundation, helps Syrian refugee women in Jordan become entrepreneurs. Women receive business training, and are supplied with basic consumer goods to sell at an affordable price in their communities. Or Radcliffe's Ascend Initiative, which pulls together corporate giants like Coca Cola and Microsoft to take care of needs like housing and social programs for refugees in Greece, taking financial pressure off the struggling Greek government.
Programs like this help refugees become self-sufficient, while making an economic contribution in their adopted homes. In this case, refugees are no longer seen as a burden, but a benefit, explains Council member Jessie Thomson, Director of CARE Canada's Humanitarian Assistance and Emergency Team.
"We have to think about engaging refugees themselves in their own well-being," adds Paul Heinbecker, former Canadian ambassador to the UN and deputy chair of the Council.
In typical Canadian fashion, diversity aids creativity. The 23-member Council considered gender balance (with 11 women and 12 men), and members from the global North and South. Four Councilors have been refugees themselves. Private sector representatives like Per Heggenes, CEO of the IKEA Foundation, bring business insight to the table. There's even a youth representative — Tunisian blogger and activist Aya Chebbi.
Those differing perspectives will create balance as the Council tackles the most pressing issue: the inequality faced by developing nations who bear most of the burden of caring for refugees. While Canada, the US and European countries face tens of thousands of refugee arrivals, countries like Jordan and Uganda are dealing with millions. Eighty-six per cent of refugees are sheltered by developing countries.
Over the next year, the Council will travel around the world, meeting political and business leaders as well as refugees, with a report set to be released in 2018. Then the Council will use the political clout and international respect of its "heavy hitters" like Axworthy, Heinbecker, and former Tanzanian president Jakaya Kikwete to build global consensus for its solutions.
We're proud to see Canadians step up and do what we do best: bring people together to solve the world's greatest challenges.
Craig and Marc Kielburger are the co-founders of theWE movement,which includes WE Charity, ME to WE Social Enterprise and WE Day. For more dispatches from WE, check out WE Stories.
Follow HuffPost Canada Blogs on Facebook