Shad: "Fam Jam" is a song inspired by a Jay-Z lyric, and old West African tune from my childhood, and a desire to celebrate the immigrant/refugee experience in all of it's complexity. The last verse details some of my story as a first-generation Canadian, specifically the common challenge of trying to reconcile two distinct cultural/national identities within the same story. While that particular aspect of my journey is articulated clearly in the last verse, tucked away in the 1st verse are a few lines that speak to a new and growing dimension of my experience and concern as a Canadian.
"Since we out here, since they made reservations for First Nations and they never made reparations/ The Natives probably relate more to immigration/ so this for y'all too.../"
Lately I've felt an increasing desire to gratefully acknowledge the First peoples of this land by engaging more thoughtfully and compassionately with what I consider to be the most important issue of justice in this country, namely the dignity and well-being of our Indigenous brothers and sisters.
A couple of weeks ago, I happened to meet a young man named Steven Kakinoosit outside of Britannia Secondary School in Vancouver. I had just finished playing basketball there and was walking home when I saw this young man standing in the playground, talking about Aboriginal history and rights. He was speaking articulately and passionately, but even more striking was the fact that he seemed to be speaking to no one in particular; simply hoping to share his message with anyone within earshot who might be willing to listen. Impressed and curious, I stopped by to hear him. Eventually a small group formed, a conversation started -- where I discovered that Steven was the young leader of Idle No More for B.C. -- and I have since been able to meet up with him a couple more times to chat.
In our meetings, Steven has been kind enough to invite me to learn more about his culture and his work with Idle No More. I wanted to invite him in turn to share this space to speak briefly on ways that Non-Indigenous Canadians like myself could ally well with people like Steven in the work they are doing in their communities, which is truly for the benefit of all Canadians, including newcomers.
Steven Kakinoosit: As brother Shad was saying, I was talking to a small group of people at Britannia Secondary School about the Indigenous experience here in Canada, which sparked Shad's interest and lead to more conversation. Since then we have been collaborating on finding ways to bridge the gap between the Indigenous and Non-Indigenous communities.
One of the greatest ways we have found is Hip-Hop music and culture. If one takes the time to look, they would see that the Indigenous community and the Hip-Hop community both share a lot of the same experiences. This can go a long way to start the work to bridge that gap, and Shad's new video (and the lyrics found within it) is just one of a number of ways this can be accomplished.
Another way is to go out and educate our non-Indigenous brothers and sisters on what the facts are about our experience as Indigenous people: high rates of poverty, gang affiliation, and crime, lack of jobs, and a plethora of other facts and figures that speak to our experience.
We can also start to bridge the gap through Idle No More, by really making all people understand that we are not standing against the government because of how they treat us as Indigenous people, we are standing for the rights and well-being of all Canadians. More information and opportunities to support can be found at: http://www.idlenomore.ca/.
Shad: While "Fam Jam" is rooted primarily in my own experiences as a first-generation Canadian, I hope the spirit of the song will resonate with others, including my Indigenous brothers and sisters to whom I'm very grateful for the gift of this land. I hope "Fam Jam" can in fact be a song of celebration for anyone -- from First peoples to newcomers -- who desire and actively seek to build a more hospitable and just nation.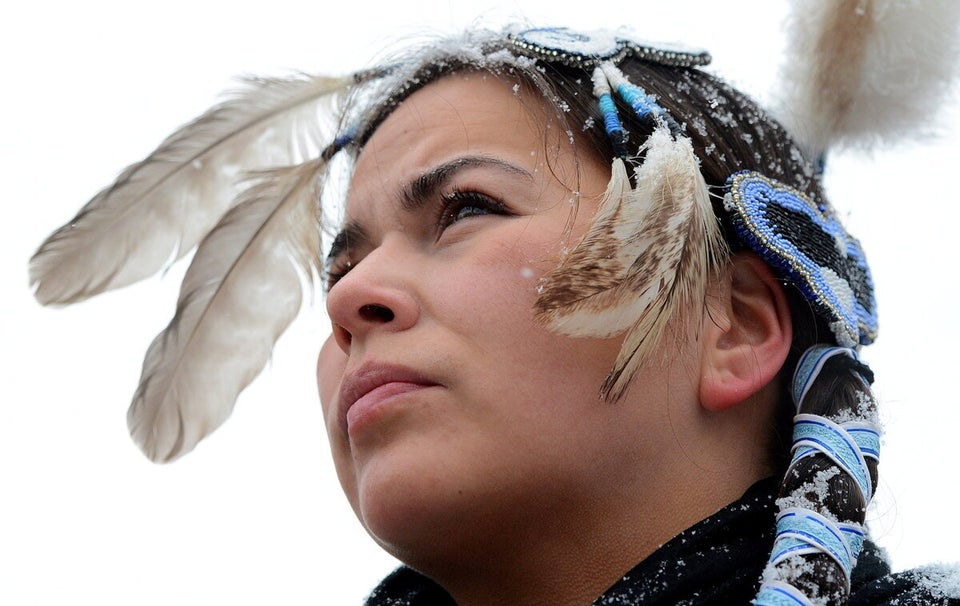 Idle No More: In Photos