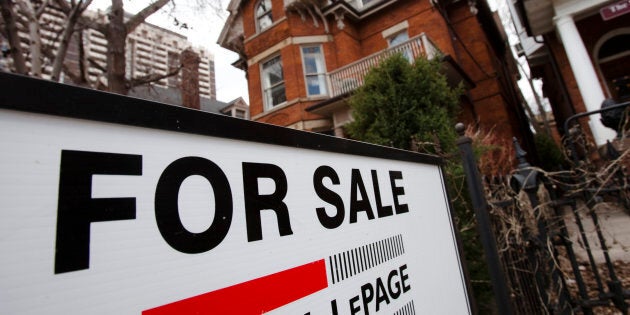 What a difference a few months makes.
Earlier this year, Greater Toronto was seeing record house price growth and sales. Now, in the wake of new provincial rules meant to improve home affordability, real estate investors appear to be bailing on the market — and taking their money with them.
Data from the Canadian Real Estate Association (CREA), released Monday, showed the amount of money that exchanged hands in Toronto's housing market dropped by 33.7 per cent compared to the same month a year earlier.
In June of 2016, there were $9.55 billion-worth of transactions in Toronto's market; by June of 2017, that had dropped to $6.33 billion.
Sales fell by an even larger 37.7 per cent, helping to push down nationwide sales by 6.7 per cent in June, CREA said. It was the largest drop Canada's housing market has seen in seven years.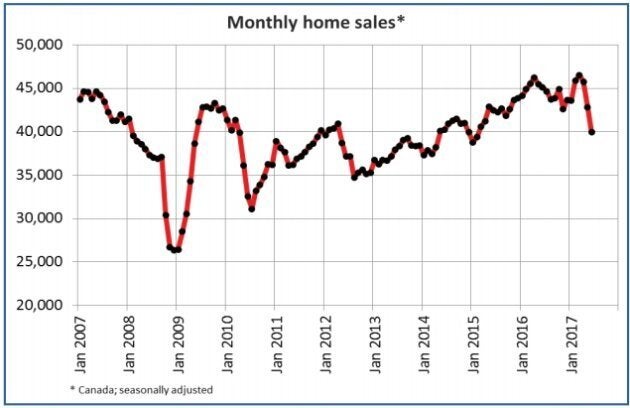 At least some of that appears to be due to real estate investors pulling back. According to data compiled by real estate portal BuzzBuzzHome, investment-related inquiries into Ontario real estate fell by 72 per cent from March to June of this year.
"At the same time, multi-family inventory in the pipeline increased 2.6 per cent quarter-over-quarter, suggesting possible oversupply problems," BuzzBuzzHome said in a report.
Ontario introduced its Fair Housing Plan on April 20, bringing into place 16 policies aimed at making housing more affordable. Among them is a 15-per-cent non-resident speculation tax, or foreign buyer tax as it has been commonly called.
What's Going On In Housing?

Our weekly newsletter delivers the news and analysis you need on Canada's housing market. Sign up below and don't miss an issue.
Toronto's slumping market is leading to outright price declines. The average sales price for all housing types in Toronto was $793,915 in June, down nearly 14 per cent from a peak of $920,791 in April.
Nationwide, house price growth has slowed to nearly nothing. The average price of a home in Canada in June was $504,458, up 0.4 per cent or about $2,000 from June of last year.
Buyers now have the upper hand
TD Bank economist Diana Petramala noted that the ratio of sales to new listings in Toronto has fallen from above 60 per cent to below 40 per cent.
"According to this metric, Toronto has now fully moved from sellers' territory to buyers' territory," Petramala wrote in a client note.
She also noted that the recovery in Vancouver's housing market, following last year's foreign buyers tax, appears to have "petered out."
Sales in the Greater Vancouver area fell 4 per cent from May to June, and are down 29 per cent from their peak in February, 2016.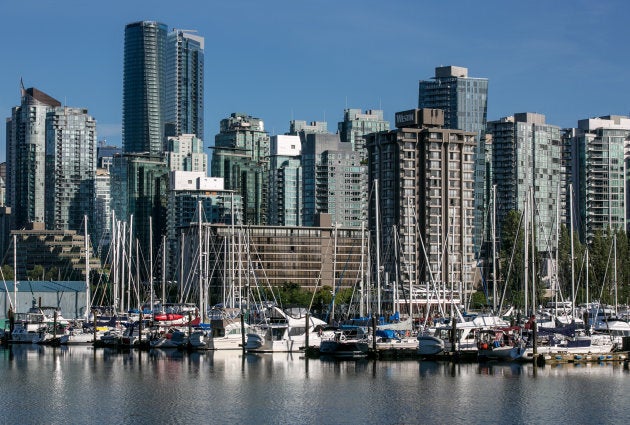 "The Canadian housing market is now in its third month of what is expected to be a soft landing," Petramala wrote.
"The weakness was triggered by changes to provincial and federal housing policy, but it will ultimately be higher interest rates that help solidify it. Mortgage rates have moved in tandem with the Bank of Canada rate hike last week and will likely to continue to edge higher with three additional rate increases expected by the end of next year."
Petramala forecasts that nationwide house prices will grow 6.5 per cent this year, but will decline by 2 per cent next year.
"Much of that weakness will be concentrated in markets in Ontario and B.C., where households are particularly sensitive to higher mortgage rates given the stretched affordability," she wrote.
Elsewhere in the country, a strong economy will help home sales and prices to trend higher, Petramala said.