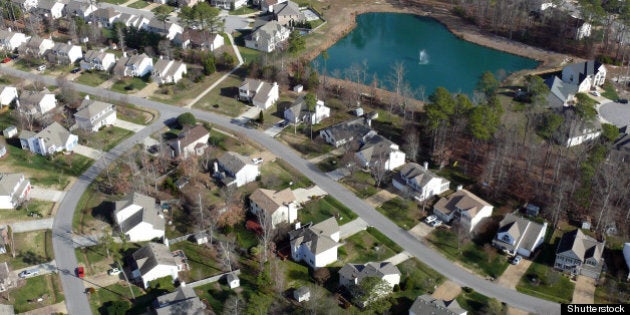 Canadians complain about the price gap between U.S. and local stores, but here's the biggest price gap of them all: housing.
According to an analysis from BMO Capital Markets economist Doug Porter, Canadians now pay 62 per cent more for housing than Americans.
"A 62 per cent gap is simply not sustainable for long," Porter wrote in a note to clients.
Until about 2006, Canadian and U.S. house prices tracked each other closely for at least 25 years, Porter wrote, but that all changed with the bursting of the U.S.'s housing bubble. House prices in the two markets have been moving in opposite directions for much of the past six years.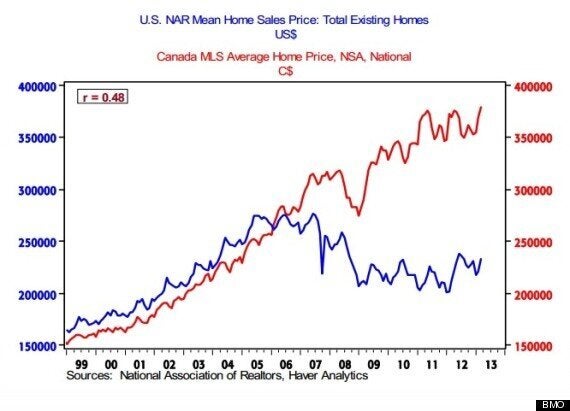 That's a much higher price gap than for most goods. Depending on which estimates you believe, prices in Canada run between 11 per cent and 23 per cent higher than prices in the U.S., largely due to the strength of the loonie in recent years.
But the house price gap isn't the result of shifting currencies — it's the result of two very divergent housing markets.
U.S. house prices peaked and began to fall in 2006, while the Canadian market remained stable and continued to grow, expanding even faster when the Bank of Canada dropped rates to rock-bottom levels in early 2009, as the financial crisis unfolded.
The result is that, by early 2013, the mean U.S. house price had fallen to $233,000, while the average house price in Canada had grown to $378,000. Too bad you can't cross-border shop for a home. (Or can you?)
Porter says the housing price gap won't last forever.
"The good news is that we believe that most of this yawning gap will be closed by a rebound in U.S. home prices," he writes. "After all, it's U.S. affordability that's off the charts now."
That U.S. bounce-back has already begun: The mean house price in the U.S. grew nearly 10 per cent in the year to March, 2013, to $233,000, and housing starts have seen a strong rebound in recent months.
But if you believe some of the more bearish voices in Canada's housing market, the gap could also be closed by falling house prices north of the border.
Either way, though, this is one price gap that is likely to shrink soon.
Popular in the Community