Canadian households have seen the sharpest rise in debt of any G7 country, the Parliamentary Budget Office says in a report that warns Canadians may be facing a debt crisis in the next five years.
The PBO said the ratio of debt to household disposable income has grown to 171 per cent, "the highest level recorded since 1990."
That number is significantly higher than recent estimates from Statistics Canada, which had the debt ratio at slightly above 164 per cent.
"Among G7 countries, Canada has experienced the largest increase in household debt relative to income since 2000," the PBO said. "Households in Canada have become more indebted than any other G7 country over recent history."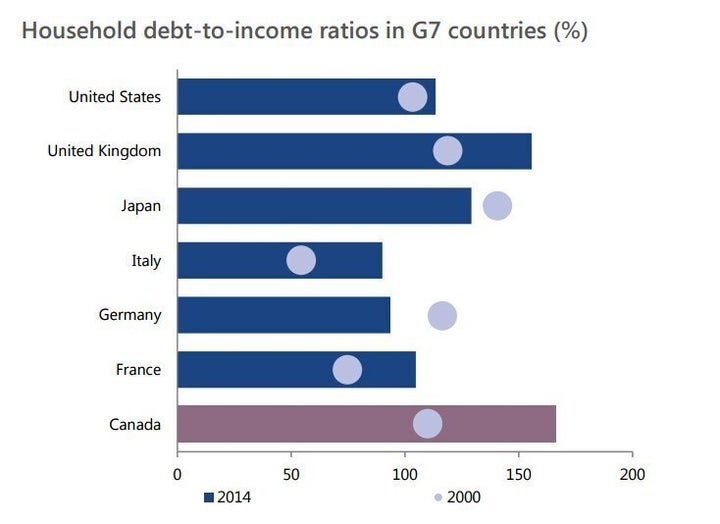 On household debt, Canada has gone from being middle of the pack to leading the G7. (Chart: PBO)
Citing Bank of Canada research, the PBO said the increase in debt was due to "low interest rates, higher house prices and financial innovation."
But it warned that it sees the end of historically low interest rates by 2020.
"Household debt-servicing capacity will become stretched further as interest rates rise to 'normal' levels over the next five years," the report said.
As that happens, the percentage of income Canadians spend covering their debts will rise to a record high of 15.9 per cent, the PBO said, from 14.1 per cent today.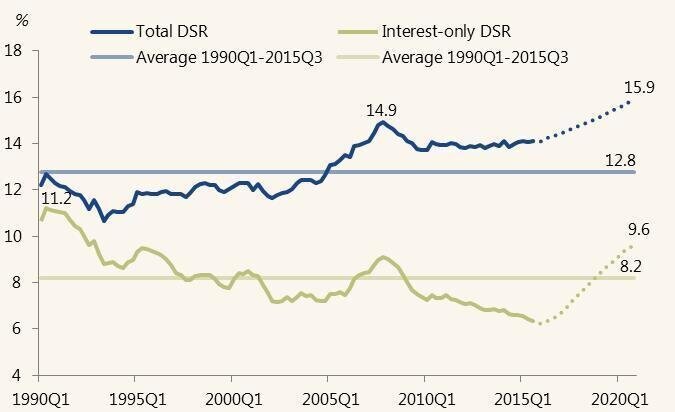 DSR: Debt service ratio, or the percentage of income a household has to spend to cover its debts. The PBO sees Canadians' debt costs rising to record highs by 2020. (Chart: PBO)
"Based on PBO's projection, the financial vulnerability of the average household would rise to levels beyond historical experience," the report said.
This in turn would make Canadians "more vulnerable to negative shocks to income or to interest rates," the PBO said, citing Bank of Canada research. And that, in turn, would have a "negative impact on financial institutions."
Popular in the Community