The situation in Canada looks similar to that in the U.S. before its housing bubble burst in 2008, says Moody's Investor Service — but Canada's banks would be better able to withstand the shock of a price downturn.
The report from the ratings agency is the latest sign the financial elites are growing seriously worried that a housing bubble and a consumer debt crisis is brewing in Canada, and are now willing to entertain the notion openly.
Moody's tested a scenario in which house prices fell by 35 per cent in Ontario and British Columbia, and by 25 per cent elsewhere. It found that the direct losses to banks would be nearly $18 billion.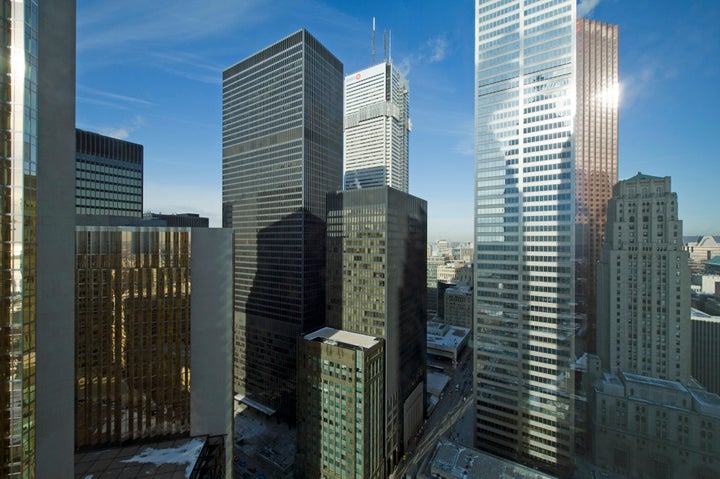 The headquarters of Royal Bank of Canada, Bank of Montreal, CIBC and Scotiabank can be seen in the Toronto skyline. (Photo: Victor Korchenko via Getty Images)
"While Royal Bank of Canada would suffer the largest absolute loss under Moody's severe stress scenario, CIBC's capital is most at risk owing to its operational focus on Canadian retail lending," the ratings agency said.
Though market analysts consider a 35-per-cent house-price decline to be disastrous, it's worth noting that if one happened today it would only bring back Vancouver house prices to last year's levels, and Toronto prices roughly to where they were two to three years ago. House prices are up some 30 per cent in Vancouver and roughly 15 per cent in Toronto over the past year alone.
That rapid growth has strained homebuyers in Ontario and British Columbia, Moody's noted.
"Over the past decade, Canada's mortgage debt outstanding has more than doubled, with the index of house prices to disposable income increasing 25 per cent in the same period; faster than comparable [developed] countries. The country's household debt levels have tracked closely with this increase, raising concerns of overvaluation and over-extended borrowers."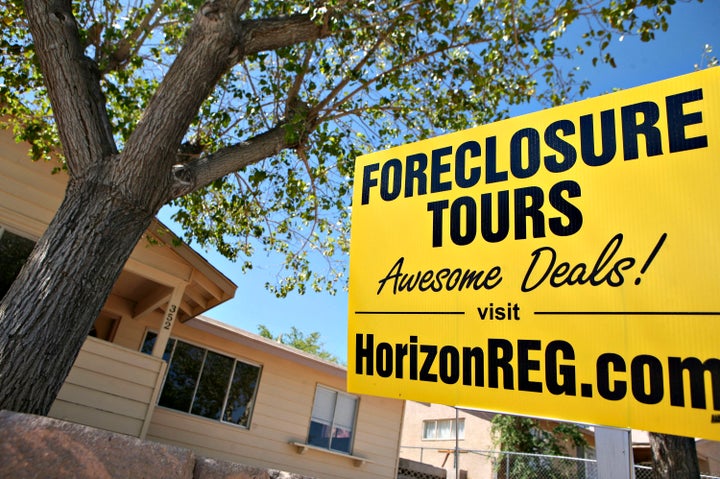 Still, even a rewind to prices from a few years ago would hit the banks, Moody's said. But it wouldn't lead to the sort of widespread financial destruction seen in the U.S. after the bubble there burst, because there are "significant structural differences" between U.S. and Canadian banking.
Additionally, the CMHC directly guarantees $700 billion of Canadians' mortgage debt, Moody's noted. Statistics Canada's latest numbers show there is nearly $2 trillion in mortgage debt in Canada today.
Finally, Moody's noted, lenders here don't lend specifically to sell off the mortgages as securities, a practice that was blamed in part for the U.S. housing crash.
Consumer debt crisis warnings
Moody's is not the only financial institution that's taking the possibility of a major housing correction in Canada seriously.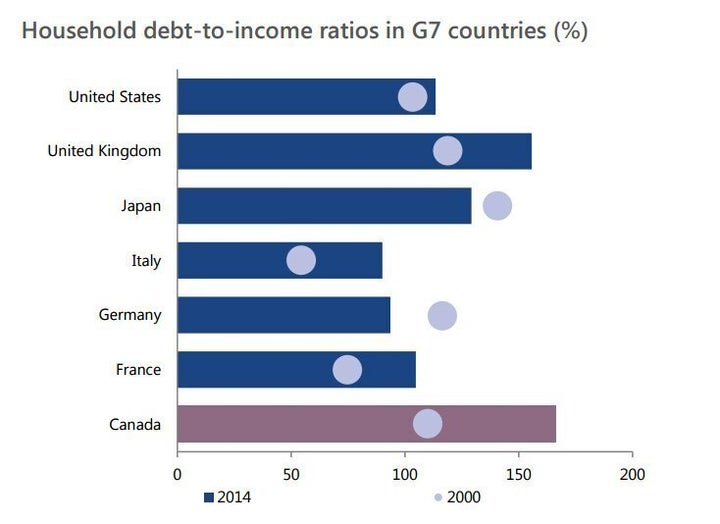 "Among G7 countries, Canada has experienced the largest increase in household debt relative to income since 2000," the PBO said in a report issued in January.
"Households in Canada have become more indebted than any other G7 country over recent history."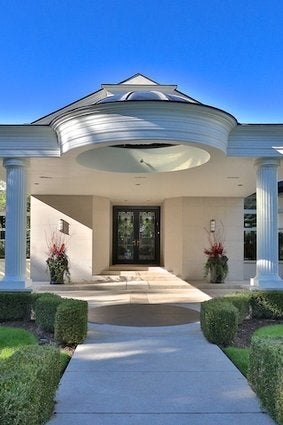 Prince's Toronto House For Sale
Popular in the Community