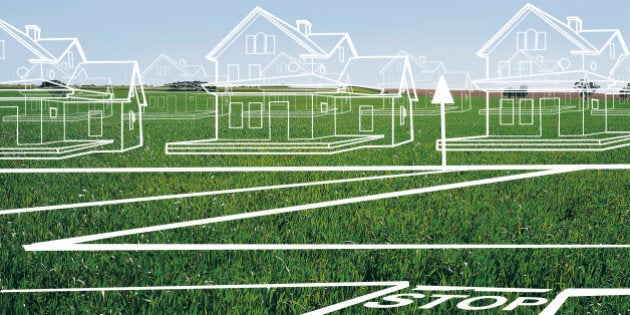 Canada's big banks say the country's correcting housing market is in a "soft landing," and has avoided the collapse many analysts have been predicting. But there's one group of people who seem to disagree: Real estate developers.
Three of Canada's largest housing markets have seen a severe drop in residential land investment, a sign the housing market is in a "major slowdown" that could last years, a real estate analysis firm says.
RealNet reported this week that purchases of land for new housing all but collapsed in Calgary, Toronto and Vancouver, which the firm suggests is a sign developers believe Canada's long-running housing boom is at an end.
Toronto saw a 51-per-cent decline in residential land investment in the first half of this year; Vancouver saw land investment drop 30 per cent and Calgary saw it drop 52 per cent in the same period, the study said.
The RealNet study links the health of land investment to the long-term health of the housing market, as buying land is the first step in the development process.
Canada's big bank economists have recently argued that the housing market has settled into a "soft landing" following the tightening of mortgage rules in the summer of 2012, and that fears of a housing crash were overblown. But the RealNet data would suggest that a correction in the housing market is yet to come.
But the upshot of a slowdown in land investment is that it will mean fewer homes coming on the market in coming years, which in turn could help drive prices up and help a slowing housing market.
And market analysts say interest rates will rise even further as a result of another round of mortgage rule tightening from the CMHC, Canada's government-run mortgage insurer. The agency announced this week it is capping the amount of guarantees it will offer banks on mortgage-backed securities. That will make it harder for banks to come up with the cash for mortgages, and therefore will probably mean higher rates for homebuyers.
BMO Capital Markets noted that, while housing starts this year are down 10 per cent from last year, they are still higher than "household formation" — that is, developers are still starting construction on more homes than there are people to populate them.
For this reason, TD Bank economist Dina Ignjatovic wrote that even the current lower level of housing starts "is unlikely to be sustained for much longer."
Vilner pointed out that the heavy amount of condo construction visible in cities like Toronto and Montreal are actually the legacy of headier days a few years back.
"The cranes you are seeing now are for residential land deals that closed a couple of years ago," Vilner said.
"There's not going to be a major correction back to the high-flying land acquisitions of 2011 or the first half of 2012 because there's still a huge amount of inventory to sell off," he told the CBC.
Popular in the Community