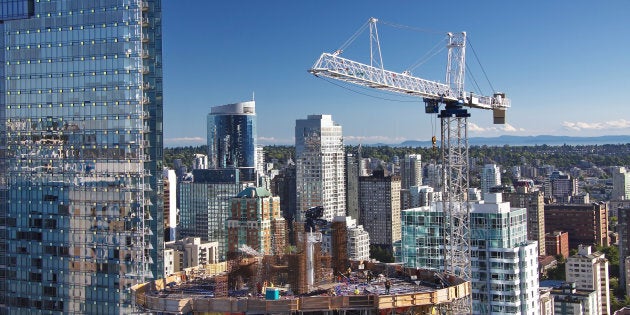 Could it be that Canada's policymakers have successfully engineered the "soft landing" in the housing market that they had been hoping for?
Some experts are saying yes, declaring the Canadian housing market healthy again after a weak first half of the year that had some people worried about a major downturn.
Home sales across the country rose by 0.9 per cent in August, the fourth consecutive monthly gain, the Canadian Real Estate Association (CREA) reported on Monday.
The nationwide average price of a home sold in August was $475,500, up 1 per cent in a year.
Although there are huge variations in regional markets (Toronto in recovery mode, Vancouver still in a slump), the overall market has stabilized, Bank of Montreal chief economist Doug Porter said.
"The key take-away is that the housing market is for now no longer a major source of concern for policymakers, especially with household borrowing decelerating notably," Porter wrote in a client note Monday.
After years of rapid growth, Canadian household debt appears to have stabilized. Statistics Canada data released last week shows the average Canadian household held $1.69 of debt for every dollar of disposable income in the second quarter of 2018, down slightly from the same period a year earlier.
The levelling-off of debt came as Canadians pulled way back on mortgage borrowing in the first half of this year. The value of new mortgages issued dropped by 33 per cent in the second quarter, compared to a year earlier, StatCan data showed.
In these countries, "valuations are very elevated, there has been a lengthy housing boom, debt levels are high and there is a significant share of floating (variable) rate debt," economist Adam Slater wrote.
Interestingly, CREA itself seems to have lost a little faith in the housing market with the latest numbers, with its chief economist hinting at the possibility of renewed weakness ahead.
"Improving national home sales activity in recent months continues to obscure significant differences in regional trends for home sales and prices," Gregory Klump said in a report.
"Moreover, recent monthly sales increases are diminishing, which suggests the recent rebound may be starting to lose steam."
But BMO's Porter said the stabilization in Toronto's housing market — sales up 8.5 per cent in August from a year earlier, average price up 4.7 per cent — is a sign that the tough new mortgage rules put into place this January, as well as the Bank of Canada's interest rate hikes, have cooled but not crashed the housing market.
"Toronto is very close to having a 'normal' market at this point," Porter wrote. "Policymakers could not have asked for a better outcome, achieving the proverbial soft landing — at least so far."