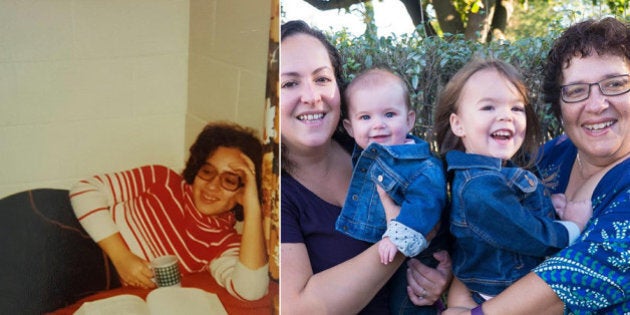 Canada is a nation composed mostly of immigrants. If you're not indigenous, then you or your family originally came here from another country.
In fact, 17 million people have immigrated to Canada since 1867. Some fled war or poverty, others just wanted more lucrative jobs. All sought a better life.
But Canada is cold in the winter. New immigrants can feel isolated. Many support other family members on a single salary.
Their children are also faced with some interesting questions about their cultural identities, clashing with their parents over values. Many struggle to redefine themselves later as adults more comfortable with their backgrounds. But most respect their parents and are grateful for the lessons they taught them.
Here are six stories of Canadian immigrants and their kids.
JYAN NATH AND RAGINI KAPIL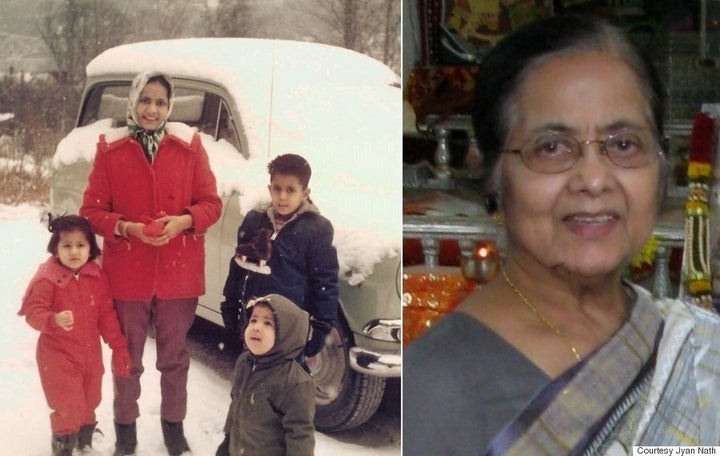 Jyan Nath with her three children, Ragini, Rajeev and Amrit during a winter in Nelson, B.C., with Ragini in the foreground. Jyan in a recent photo. (Photos courtesy Jyan Nath)
When Ragini Kapil's fourth-grade class was studying India, her teacher pointed out the country on a map and asked where her family was from.
The child of Indian parents from Fiji, who had moved there from the tropical nation in 1962 when she was 18 months old, Kapil spent most of her childhood trying to latch on to white culture as much as possible.
"I never perceived or identified myself as being ethnic," she says.
She isn't technically a second-generation Canadian, but moved here at such a young age that she has no memory of living in Fiji.
Her parents, both teachers, gave Kapil and her siblings a very westernized childhood. They spoke English at home and cooked many western-type dishes alongside Indian food. She took piano lessons and sang in the choir.
When Kapil was 10 or 11, she started cooking whatever she saw on TV, North American standards like mac and cheese and a Butterball turkey. When friends came over, she'd made sure that "Canadian" food was around.
"I felt very isolated growing up in a way, because I would hide my heritage."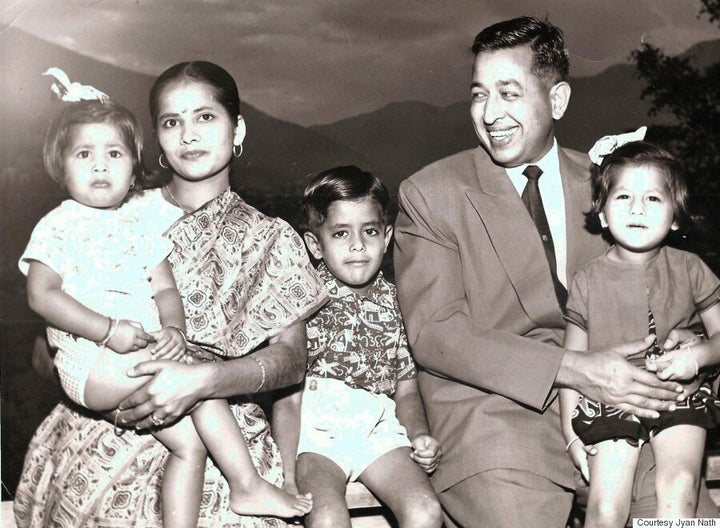 The Nath family soon after arriving in Canada. (Photo courtesy Jyan Nath)
But her parents still had certain practices that she only realized when she got older. They were more protective than her friends' — she wasn't allowed to go on field trips or have a paper route. Marks were very, very important. Stepping on a book at home was verboten.
Kapil married an Indian guy, but contrary to what many of her peers thought, she wasn't marrying into her culture because he was Punjabi. She understood North American culture better than she did his.
"I know intuitively how to make spaghetti sauce, but if I make Indian curry, I have to look at a recipe."
KRISTA HOLMES AND VALERIE LOPES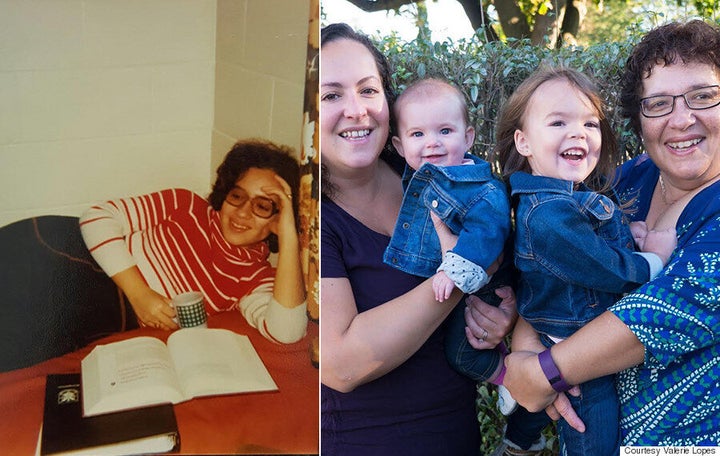 A young Valerie Lopes at Queen's University in the 1970s; Lopes, her daughter Krista Holmes, and Holmes' two children in a recent photo. (Photos: Courtesy Valerie Lopes)
When Valerie Lopes started university at Queen's in Kingston, Ont. 40 years ago, she was miserable.
A trust fund from her grandfather had allowed her to come to Canada from Guyana to study. While the 17-year-old didn't have to face a language barrier — Guyana's official language is English — she desperately missed her gigantic, close-knit family and the community work that made her so happy.
But she stayed here, settling in the Toronto area. She married a fellow Guyanese, who she has since divorced, had three children and works as a professor and the director of teaching and learning at Seneca College. And while she says that she has no plans to ever move back, the homesickness has never gone away.
"I live with a constant guilt that I don't spend more time in Guyana," she says.
She thinks that she has channelled that guilt, and the regret that her parents never had much time with their grandchildren, into an intense need to stay close to her kids and to help them out.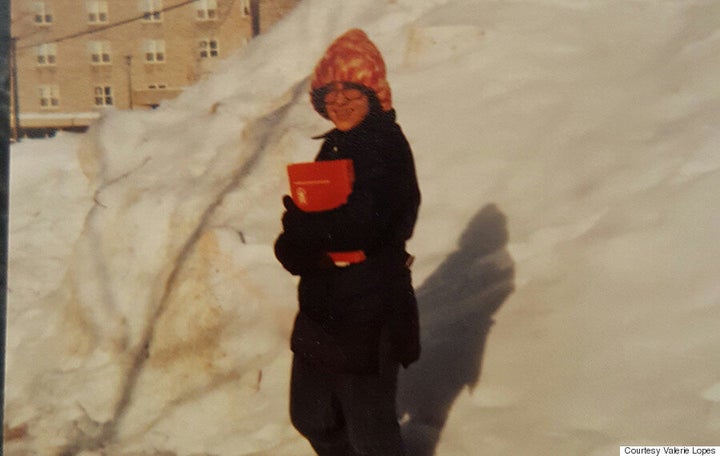 Valerie Lopes at Queen's University in Kingston in the 1970s. (Photo courtesy Valerie Lopes)
But her oldest daughter Krista Holmes, who is now in her 30s with two young children of her own, never felt that same homesickness.
From age 16, Holmes couldn't stay still. She went to Australia alone when she was 18 and has since visited six continents. She even worked for the Guyanese government for a few months.
"I never even thought I would settle [in one place]," she says. Meeting her husband changed that.
She said she thinks that her constant need to travel was hard on her mom. But she also thinks the exposure to her parents' culture was what made her so interested in the rest of the world.
She's also grateful for the variety of food she ate growing up. Guyanese cuisine includes dishes like curry, roti, a brined pork dish called garlic pork, and even pastries. Holmes cooks her family's food at home and says her husband loves it.
Now Lopes, Holmes and her two younger brothers are as close as Lopes was to her family when she was young.
Holmes jokes that she has to ask her mom what she has planned for the day, instead of asking her to come over to help with her kids.
"I know mom will come over always, even if she has plans."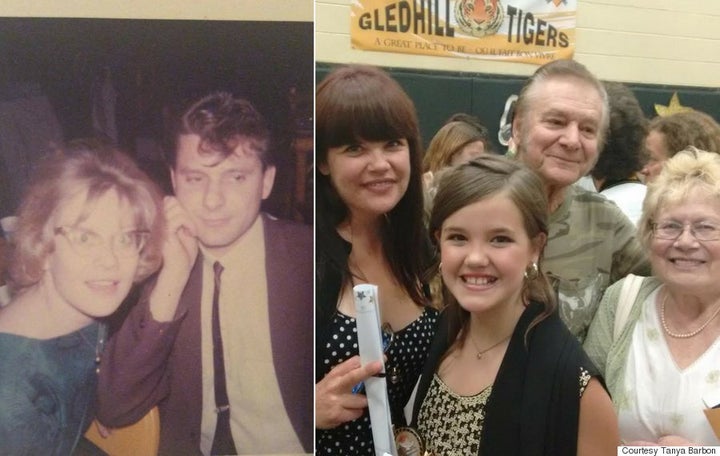 Annikki and Bruno Barbon as a young couple; the Barbons with Tanya and her daughter in a recent photo. (Photos courtesy Tanya Barbon)
Annikki and Bruno Barbon are not homesick. They moved from Finland and Italy, respectively, to Toronto in the 1950s, both seeking an escape.
Bruno, 20, was afraid he'd be drafted into the military and Annikki, 21, the youngest of 11 children, wanted to have a life of her own.
The two met on a blind date. Neither spoke each other's first language, but they both knew English. Now they've been married 51 years.
While the couple wanted to get pregnant, biology had other ideas, and they adopted Tanya.
Tanya is now a consultant who lives in Toronto, and says she's a better person because both her parents moved here from somewhere else. Their experience inspired her to take two of her past jobs, teaching English as a second language and working with children with learning disabilities.
"I have my sense of compassion, or empathy, or a need to want to slow down and help out."
"Maybe it would have felt like some kind of betrayal to just speak with me in one language." — Tanya Barbon
But while she grew up with practices from two cultural traditions — Italian food and Finnish saunas — neither Annikki nor Bruno taught her their languages.
"The attitude at home was that they had to teach English," she says. "Maybe it would have felt like some kind of betrayal to just speak with me in one language, because that would mean the other parents couldn't understand what was being said."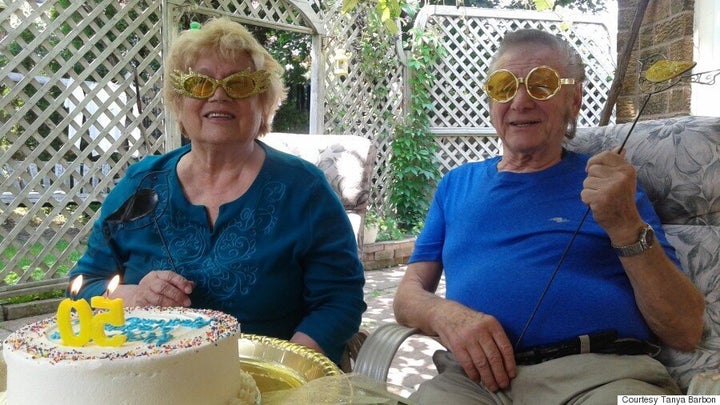 Bruno and Annikki Barbon at a party for their 50th wedding anniversary. (Photo courtesy Tanya Barbon)
They filled her childhood with activities, from bicycling and Girl Guides to piano lessons and ski trips, but her mother never understood why she wanted to go to the mall with her friends when she was a teen.
"It was always a resounding 'no, you're not doing that,'" Tanya says. "Looking back, that was the best thing that she could have ever taught me."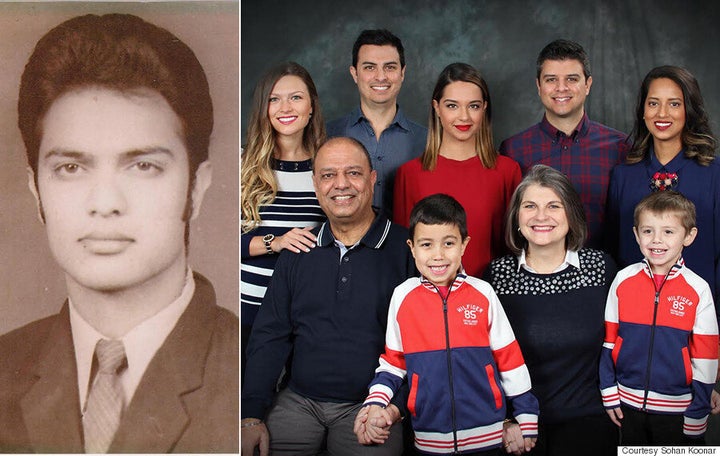 Sohan Koonar's Canadian passport picture from when he first immigrated. Koonar and his family in a recent photo. (Photos courtesy Sohan Koonar)
A trained physiotherapist, Sohan Koonar had a lot of options when he wanted to leave India in the early 1970s. He had job offers from multiple countries, but the then-Canadian prime minister, Pierre Trudeau, really impressed him.
"I came to Canada highly, 99 per cent influenced by Mr. Trudeau," he says.
He said that Indians who immigrated to other Commonwealth countries at the time were wary of racism, but he didn't figure that would be an issue in his new home.
The day after he arrived in Saint John, N.B. in 1973, completely on his own, he was already on the job at Saint John General Hospital.
Story continues after video
He urged new immigrants not to be wary of smaller cities, saying Maritimers are the friendliest people he's ever met.
"My immigrant experience was extremely easy and inclusive," he says.
More than 40 years later, he has had a career in physiotherapy, patented a medical device, and published his first novel.
He's been married almost as long, to a Italian woman named Nadia. The two have three children — Sara, David and Michael, as well as two grandchildren.
"We let them be your typical Canadian kids without having to live in two different worlds." — Sohan Koonar
His daughter, Sara, is glad for her mixed identity. She said she thinks it made her more open-minded.
But while she grew up feeling both Sikh and Catholic, Italian and Indian, she says her parents were also eager to integrate.
"I think my parents both really embraced Canadian culture," she says.
"My dad is the biggest hockey fan, he knows more about the Maple Leafs than anyone I know."
She grew up around her dad's large, protective Indian family, who had all moved to Canada by the time she was five or six.
Sohan said raising children in Canada was different than in India — even next-door neighbours were often strangers. His worst fear was that his kids would get into drugs, but he thinks that having family around as well as embracing their friends kept them out of trouble.
Both sets of grandparents were disappointed that he and Nadia didn't teach their children Italian or Punjabi, but they had their reasons.
"We were both a secular and integrated to Canada couple so we let them be your typical Canadian kids without having to live in two different worlds," he says.
"It is hard enough managing one."
ANGELA GLOVER AND RONALD MILLER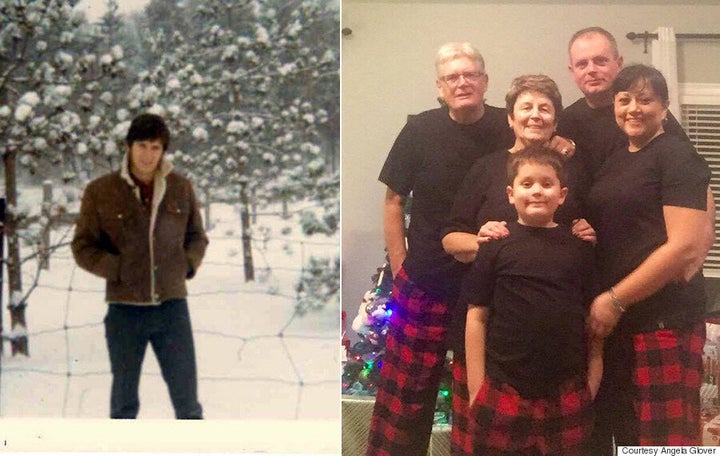 Ronald Miller during his first winter in Canada, 1969. Ronald, his wife, his son David, David's wife Shina and their son Alec, Christmas 2015. (Photos courtesy Angela Glover)
Scotland wasn't the best place for young people eager to find work in the trades in the late 1960s as heavy industries were starting to decline. This was bad news for Ronald Miller, who was trained to install machinery and power equipment. But he'd always fancied coming to Canada.
So in the spring of 1969, when he and his wife were both in their early 20s, they left and settled in Scarborough. They had friends there, which seemed clean compared to industrial Glasgow. Those friends helped them find an apartment. And within five days, he had work.
The couple moved around southern Ontario, to Whitby, Oshawa and Port Hope, and even back to Scotland for a few years. They had two children — Angela and David. Angela is a news media production specialist at Ryerson University in Toronto, and David runs his own business in Connecticut.
Miller says he's instilled in both of his kids the value of hard work.
"They know to succeed anywhere, you have to go to work every day, you have to do the best you can," he says.
He also taught them manners and respect.
But unlike some immigrant families who convince their relatives to move later on, the Millers are still on their own. Relatives on both sides remained in Scotland.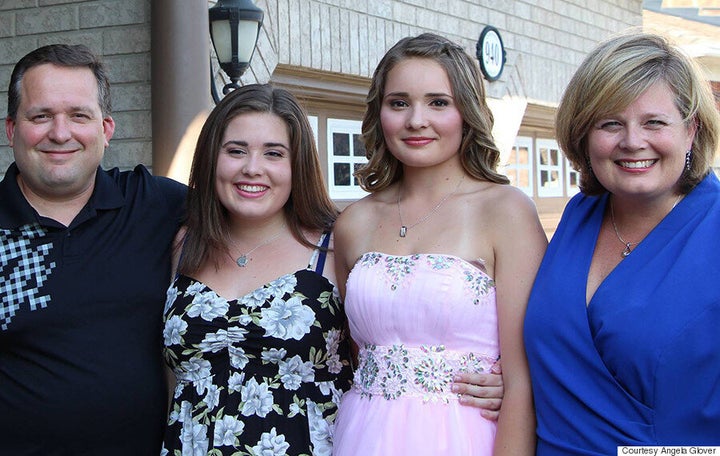 Angela Glover with her husband Christopher and daughters Ariana and Kaylee at Kaylee's eighth-grade graduation in June. (Photo courtesy Angela Glover)
However, he's glad they moved to Canada. Living here allowed him and his wife to provide their kids with experiences than they wouldn't have been able to otherwise, like taking them on vacations to Disney World.
"My children are getting the benefit of what me and my wife have worked toward."
Angela Glover is proud to be from Scotland. She has a strong connection to the country — her parents moved her and her brother there for a few years during their childhood and she went back to visit regularly until her first daughter was born.
She's quick to say that there aren't a lot of cultural differences between Scots and Canadians, at least not compared to some other immigrants, as well as no language barrier.
But she says her parents raised her with the same values that many new Canadians have — the importance of working hard.
She was also the first person in either of her parents' families to go to university.
"They always pushed us to recognize that we were capable of anything, as long as we were willing to work hard to achieve it," she says.
GUS-LYN PILUSO AND JOE PILUSO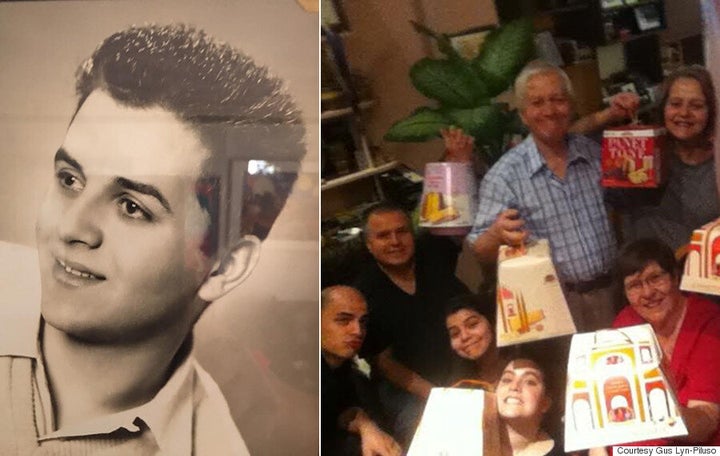 Joe Piluso during his first year in Canada. The whole family together at Thanksgiving. (Photos courtesy Gus Lyn-Piluso)
Gus Lyn-Piluso knows he's had a good life.
The 54-year-old, whose full name is Gaetano, is a professor at Seneca College in Toronto. So is his wife. Their daughter is about to finish her PhD.
But he says the reason he was able to get an education and pursue the career he wanted is his dad, Joe Piluso.
Joe, whose full name is Giuseppe, moved to Canada from Italy in 1953 to join his father in Toronto. He spoke zero English, but soon found work and friends.
He spent his career as a sheet metal worker, constructing major buildings in Toronto, including most of the big hospitals.
Joe had to support his two kids, his wife — although she later found work too — his parents, and several other relatives on one salary.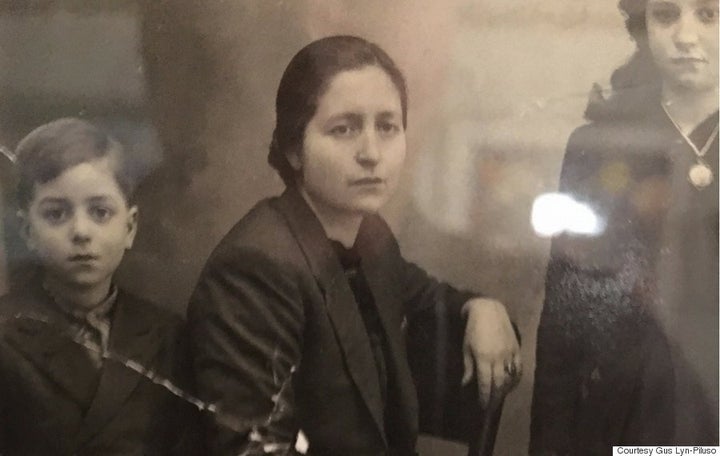 Joe Piluso with his mother in Calabria. (Photo courtesy Gus Lyn-Piluso)
"My dad did not want me to work with my hands," Gus says. "He was very clear, he's doing this bullshit job because he didn't want the rest of us to have to do something like that."
This is something that Joe confirms.
"All of the Italians used to say to the kids, 'you better go to school, because otherwise I'm gonna kill you, because I don't want you to do what I did,' because they all worked in construction, digging ditches and all that."
Although Joe identifies very much as a Canadian now, Gus says the culture of Calabria, the region of Italy where both of his parents were born and raised, pervaded his whole childhood.
"He was very clear, he's doing this bullshit job because he didn't want the rest of us to have to do something like that." — Gus Lyn-Piluso
Gus didn't speak English until he started watching TV around age four or five, he says, instead he spoke the regional dialect Calabrese.
The home was often packed with relatives his parents were sponsoring, and Gus remembers constantly having to give up his room.
His parents were also very protective. Joe arrived in Canada during a snowy, cold March, and his son says that sense of needing to stick together in this icy, strange place has kept them all very close.
They also taught him that every item had to be useful.
"We would joke that us Italian kids had to protect our hockey sticks, otherwise they'd be turned into tomato sticks."
Born And Raised is an ongoing series by The Huffington Post Canada that shares the experiences of second-generation Canadians. Part reflection, part storytelling, this series on the children of immigrants explores what it means to be born and raised in Canada. We want to hear your stories — join the conversation on Twitter at #BornandRaised or send us an email at bornandraised@huffingtonpost.com.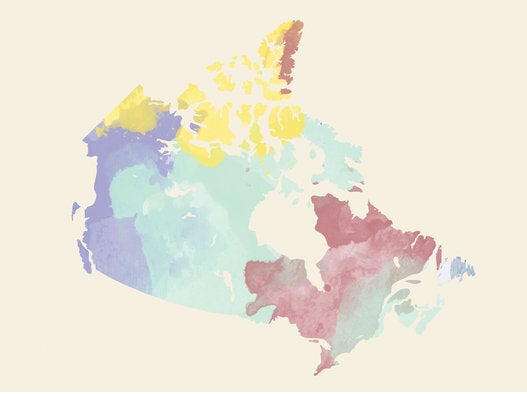 Who Are Second-Gen Canadians?