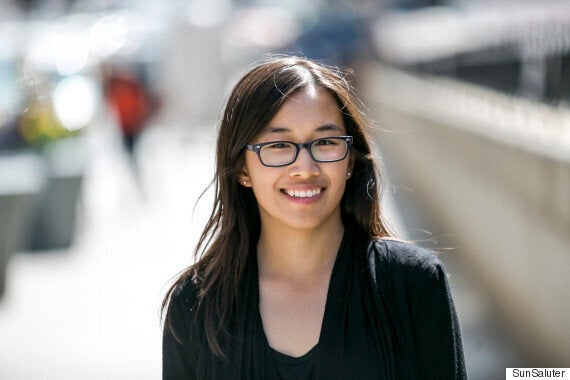 This article is part of a Huffington Post series, on the occasion of the site's 10th anniversary, looking at some of the people and issues that will shape the world in the next decade.
den Full holds as much promise and potential as her name implies, and her mission is to save our metaphorical garden.
At just 23, she's already an accomplished inventor who has dramatically increased the effectiveness of solar panels, landing her on Forbes' 30 Under 30: Energy list three years in a row. She was born to Chinese refugees from Vietnam in the oil-fuelled environs of Calgary, Alta., and by the age of nine she had built a solar-powered toy car.
"It could go from one end of my house to the other," she tells The Huffington Post Canada from New York, where she currently lives.
"I remember being so excited about the concept. It almost seemed like magic."
As Full got into engineering as a teen, she started noticing the influence of the oil and gas industry. A high-school trip to the Arctic – a "visceral, physical" experience where she saw climate change harming polar bears first-hand – sealed her commitment.
"It motivated me to pursue a better solution."
That solution is the SunSaluter, a low-cost device that makes solar panels track the movement of the sun using little more than three water bottles and gravity. This increases energy output by 40 per cent while producing clean water. As the water-filled bottles drip through a filter, they become lighter which adjusts the panel over the course of the day.
"The way I approach design is to develop the simplest solution possible, something that someone of any educational background, even if you didn't finish elementary school, can use," she says of the low-tech device that began as a science fair project.
Full got into Princeton but later received a Thiel Fellowship — a $100,000 award given to 20 students annually by PayPal billionaire Peter Thiel so they can take a sabbatical from school and get right to work making the world a better place.
An Indonesian friend she met at a science fair told her how much the SunSaluter could help remote communities so she decided to launch a non-profit organization focusing on the developing world.
As Full's invention began to spread, she discovered that by helping people charge more cell phones, lanterns and radios, she was actually helping them connect to each other.
"It's all about human relationships," she says. "Being able to listen to the radio and follow election news when you live in a very rural village and you're trying to get connected to the rest to your country, that's very important.
"[As is] being able to call your family when you're working in a high-pressure place like a maternity clinic."
Now that award-winning SunSaluter is producing power in 16 countries, Full's ready to invent new ways to make renewable energy more meaningful.
After all, as she realized when she conceived the SunSaluter, "this technology has the potential to help someone else and if I'm not the person to bring it into the world no one else will."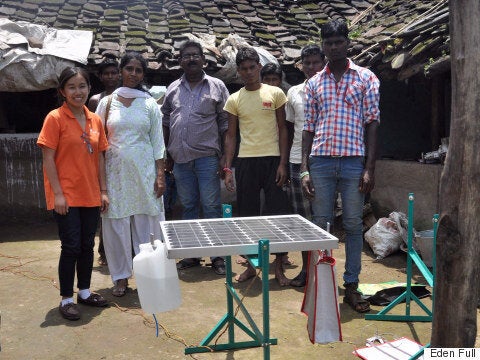 What do you personally hope to achieve the next 10 years?
I want to make cool things that make people's lives better. And I want to have a lot of fun while doing it. Who wants to save the world when you're sad and lonely? I'm happy and me being happy makes it possible for me to do happy things for other people.
What is the biggest challenge you had to overcome in the past year?
My life's trajectory has been different than some of my peers. Choosing to [leave university] can be difficult to explain to people. Focusing my time on this non-profit that doesn't pay me any money can be a difficult thing to grapple with. When you tell other people your story, they think you're crazy. When things are not going well, you think you're crazy.
Personal doubt can be challenging to overcome but what I've done to alleviate that is stay connected to people who really believe in what I'm doing. I'm always very grateful to my wife, my friends and family, my teammates.
Who has been the biggest role model in your adult life?
I haven't been an adult for that many years but my role models have always been my parents. I know this is such a cliché answer but it's really true. My parents came to Canada as refugees. They came to this country with nothing and they were able to build stability, learn to speak English, become computer programmers, become graphic designers. I think that's incredible.
I want to live my life with that kind of determination as well. I don't want to think that anything is over until I've succeeded. So if I'm in the middle of failing at something, I'm actually in the middle of trying to succeed. There's always another way, there's always another solution.
What living person do you most admire?
This is going to sound really cheesy, but I actually had a chance to meet Arianna Huffington a couple of years ago at an awards ceremony. She went onstage and gave a speech saying that some of the best things to happen in her life happened because of heartbreak.
Whether it's an emotional personal relationship or you're disappointed in the outcome of a professional decision, for me knowing that someone as successful as Arianna Huffington could go through difficult times personally and professionally and still come out on top — if she can do that then so can I. So can anyone else.
What advice would you give a young person trying to decide what to do with their life?
You need to make sure you are personally fulfilled before you can be professionally fulfilled. It's not just find your passion and go with it. Make sure that you pick your friends and your relationships carefully, so that you can focus on doing great professional work. It's definitely easier when you have your personal ducks in a row.
What is the cause or issue that you're most interested in seeing solved over the next 10 years?
Professionally, I care very much about energy poverty. It's an issue that I want to be working on for the foreseeable future. I've seen firsthand there are people who really want access to electricity. I feel very privileged and I want other people to have access to Google and learning and knowledge the way I do. That's a lot of what we try to do at SunSaluter and over the next 10 years I'd like to continue working on different solutions that might be able to tackle energy poverty.
Personally, marriage equality is a very important issue for me. I'm very grateful that a couple years ago DOMA was struck down and I'd like to see that equality for all 50 states, especially since the United States is the place that I see myself living.
What do you do to de-stress, recharge and stay balanced?
I'm on a rowing team and I'm also a coach now. There's a position called the coxswain, you're the only person facing forward so you have to tell them what to do. You have to coordinate the rhythm of the boat, the stroke rate, the direction. Rowing is how I found my voice and it has since become a way for me to de-stress.
It's also the only socially acceptable place for you to yell at people. It's a great way to blow off steam. Rowing lets me release all the energy that you can't release in a professional boss environment.
In the year 2025 we will...?
Hopefully realize the climate change is a very real, very urgent issue that needs to be dealt with right away and we'll all be putting money towards research and technologies and policies that will help to combat it.
What current trend do you think we will look back on in 10 years in total disbelief?
I definitely think that there's a glamourization of people tinkering with 3-D printing and the Internet of things. A lot of technology is being used to solve problems that are not real problems. I'd really like to see more effort being directed towards actually using these technologies for something good rather than just making something unnecessarily smart.
How much sleep you get a night and how important his sleep into your life?
Very important. If I don't sleep at least eight or nine hours I'm super grumpy and my brain is foggy. I can't do anything impactful for the world. Sleep is a priority for me, and I've also learned this lesson the hard way.
I spent much of my teenage years working on science fair projects in a constant state of sleep deprivation. I would be that kid who was napping in class because I was up working on something. You cannot compromise **state** for anything else. You don't want to live your whole life at 50 per cent, you want to live your life starting every day at 100 per cent.
What do you value the most?
Family is everything. I'm never going to be one of those workaholics who forgets about my family. Everything that you do is for the people that you love.
I've made the mistake where I've spent so many hours in front of the screen, in front of my computer, instead of actually interacting with real humans. But then I realize I missed out on a great experience, something very important, and it damages my relationships with people. That's something I'm not willing to risk.
Work can wait and if there is something important and pressing with the people that I love, then they should come first.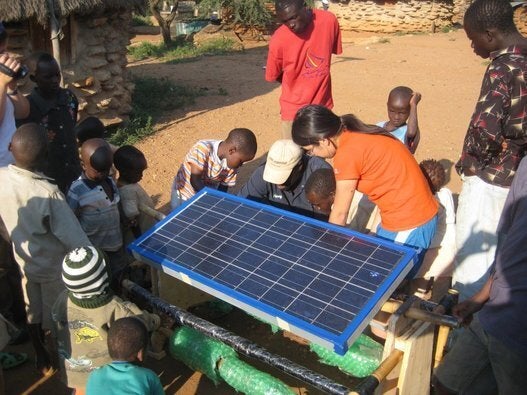 The SunSaluter