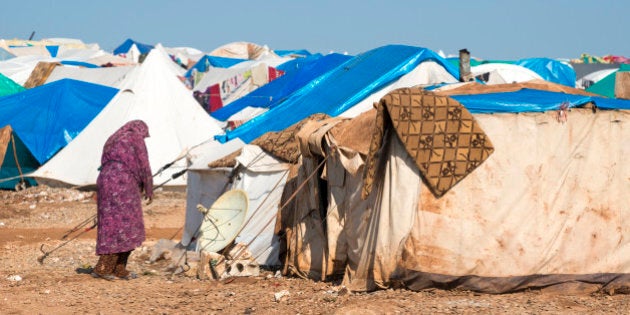 So why does Harper encourage Canadians to needlessly fear for their own safety?
While the Harper government attempts to placate and distract more liberally-minded conservatives by increasing its financial commitment to the humanitarian crisis, it maintains a strategy to persuade less-informed voters to take a generally guarded approach to refugees because this lends support to Harper's stated preference for religious minorities -- like Christians. The goal is achieved by encouraging an irrational fear that we will be putting our own safety at risk by "opening the floodgates" to Muslim refugees.
Conrad Black says Harper is appealing to the "stupidest section of our population" by suggesting we will be "overrun by suicide bombers masquerading as war victims." While his comment is crude and disrespectful, there is some merit to the suggestion that certain members of our society are more susceptible to messages of fear. Indeed, a culture of fear as it relates to immigration may even influence people to identify with conservative political values at a subconscious level, as demonstrated by one Cornell University study during the Ebola crisis.
Harper's expressed concern about security is familiar. It is similar to the approach of conservative Hungarian Prime Minister Viktor Orbán who suggests Europe's Christian roots are threatened by Muslim migrants, a message strengthened by Hungary's largely state-controlled media's proliferation of carefully selected news stories intended to portray refugees as villains rather than victims. Orbán's suggestion is, of course, utterly irrational given the numbers involved: even if Europe had to resettle all four million Syrian refugees they would be absorbed into a population of more than 740 million. Orbán's message only encourages hostilities in an already complex humanitarian crisis, but the message's theme does have the undeniable benefit of reinforcing his strongman persona, gaining him support in the polls.
Orbán is, however, warranted in his criticisms of the E.U.'s poor management of this crisis. Hungary and other transit nations have been left to fend for themselves; these nations have every right to feel abandoned and angry. Although there may not be any political value for Orbán to extend his criticisms beyond the E.U. states, he should however also call out others who have failed to assist, including Canada.
Front line countries have been overwhelmed for some time now. Turkey alone has almost two million registered Syrian refugees. The sheer sizes of the camps are awe-inspiring. Most refugees are unable to work and live in abject poverty. The resulting long-sustained desperation and frustration in these camps is what has caused the unregulated migration of refugees to Europe, and the current flow of undocumented refugees may well be a threat to the safety and security of Europeans as well as any visiting Canadians.
The Harper government's attempt to frighten voters should be recognized for what it is -- baseless propaganda designed to woo votes in the midst of an election. While there will undoubtedly be some undesirables in the refugee crowd, our immigration processes are perfectly capable of flagging and filtering out those risks.
Canadian lives will not be threatened if we let in Syrian refugees. The irony, however, is that the lives of Canadians and our European friends may well be threatened if we do not. The tide of undocumented refugees will continue to flow into Europe if we fail to provide an alternative exit to those refugees still struggling to survive in camps in Turkey and elsewhere in the Middle East.
Canada must reclaim its role as a world leader in responding to global humanitarian crises of this kind, and we must do so now.