It was supposed to be Canada's economic trump card: An export-led recovery, helped by a lower loonie, that would offset the shock of falling oil prices.
Well, it hasn't happened. In fact, the opposite has happened. The latest edition of RBC's Purchasing Managers Index, a measure of manufacturing output, has hit its lowest point on record, in a survey going back to 2010.
The PMI hit 47.5 in November, down from 48.6 in October, RBC reported. Any reading below 50 indicates that manufacturing is shrinking. Production levels declined for the fifth month in a row, the bank said.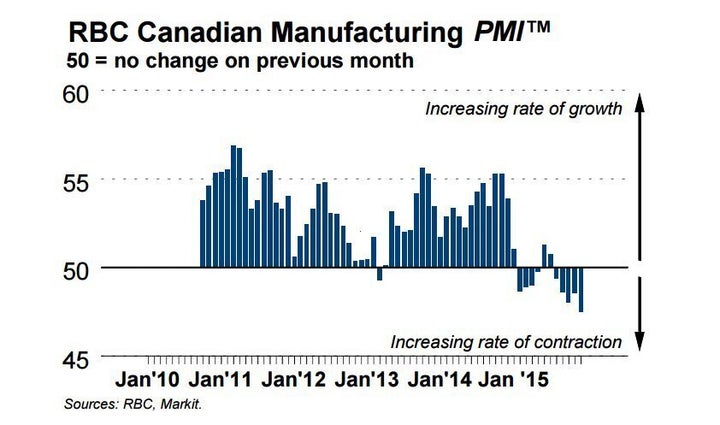 RBC's Purchasing Managers Index shows Canadian manufacturing is shrinking at an increasing speed.
"Weaker domestic demand and ongoing uncertainty in the energy sector continues to take its toll," RBC chief economist Craig Wright wrote. "Across Canada, Alberta and British Columbia experienced the sharpest deterioration in conditions, while Ontario continued to be a national bright spot, posting a sustained rise in output production."
The U.S.'s manufacturing sector is also shrinking, with a similar index of factory activity, released Monday, showing manufacturing south of the border at 48.6. That indicates contraction and is the lowest reading since 2009, when the U.S. was in the midst of the financial crisis.
Export-Led Recovery Just 'Wishful Thinking'
The manufacturing data follows a surprisingly bad reading on economic growth for the month of October. The economy was essentially flat that month, following a 0.5-per-cent contraction in GDP the month before. That has some economists wondering whether last year's supposedly brief recession is making an unwelcome return.
The economy "may never have escaped recession," David Madani of Capital Economics wrote following the GDP numbers. "While policymakers often claim that Canada's well diversified economy is coping reasonably well with the oil price shock, the facts show otherwise."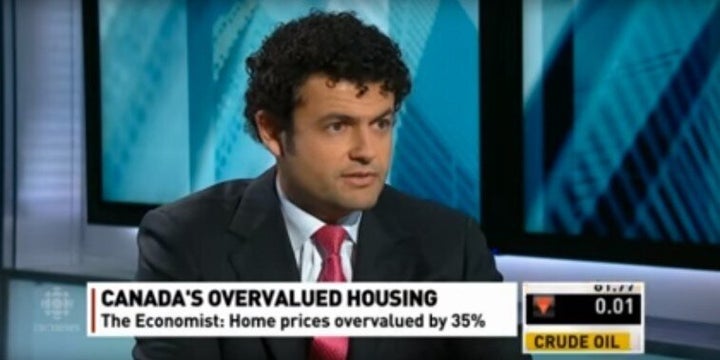 Capital Economics' David Madani, shown here appearing on CBC in 2015, has doubts that Canada truly escaped last year's recession.
Madani noted that Canada's economy was smaller in October than it had been at the start of the year. "With oil prices falling further and the fallout in business investment and employment spreading, economic growth prospects for 2016 are going from bad to worse."
He noted that the Bank of Canada "has pinned its hopes for growth on an export-led revival. But as we have warned before, this is simply wishful thinking."
Does this look like a recovery? Canada's economy had two solid months of growth this past summer, before returning to stagnation. (Source: Capital Economics)
Madani argues that Canada's competitiveness was eroded during the years of high oil prices and a high loonie, and that lack of competitiveness is "undermining manufacturing."
Not everyone agrees. Many economists argue it will simply take more time for the lower loonie to start helping Canada's economy. In a research note last month, CIBC economists Avery Shenfeld and Nick Exarhos estimated that it takes about two years for the impact of a lower dollar to be felt in the economy.
"The lion's share of the benefits are therefore still to be revealed," they wrote.
Popular in the Community